Photo courtesy of David Banks-USA TODAY Sports
Having buried my head in sports statistics for the better part of the past fifteen years, I often take for granted the sports literacy of the typical fan, particularly when it comes to the utilization of some of the newer measures. I was listening to 670 The Score last week, and a caller to the Boers and Bernstein Show had questions on Wins Above Replacement (WAR). Exercising the patience for which he's well-known, Dan Bernstein educated the caller on what WAR meant and what it could describe, demonstrating yet again why he's one of the most beloved broadcasters in Chicago and one of the great humanitarians of this, nay, any age. All kidding aside, Dan did a very good job explaining it.
The caller then began asking questions regarding team WAR, which is when my antennae went up and I immediately sent an email to Dan and Terry explaining why this wasn't a good idea. They discussed this on the show last Friday (you can hear it here—5/22, Hour 4, begin at the 13:53 mark). My point was that teams don't have a cumulative WARP value as much as they have players who collectively have decent WARP values.
I'm not suggesting the typical Baseball Prospectus reader is unfamiliar with WARP, since it's one of the oldest stats available on the site. What I did was create a Tableau data visualization which plots team cumulative WARP with win percent, and this is a screen grab of the Teams tab that illustrates why it's worth your time to click on the link (data viz has current data, pic shown for illustrative purposes only):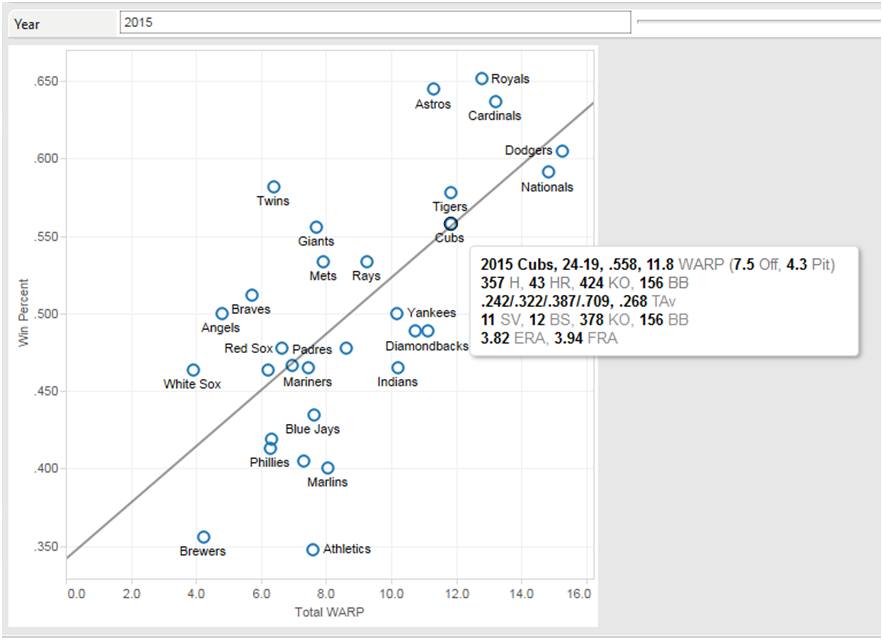 Clicking on any data point reveals more information, and I clicked on the Cubs to show what information is included. There is a slider at the top that allows for viewing all WARP data back to 1950 (there's information further back than that, but no WARP values), and playoff teams are in red. It's pretty easy to see that teams with higher WARP values make the playoffs, but that confuses the notion of causality—these teams had higher WARP values because they had better players.
This is illustrated in the second tab, Players, which shows WARP values by player. This is how the Cubs look this year (data through Sunday):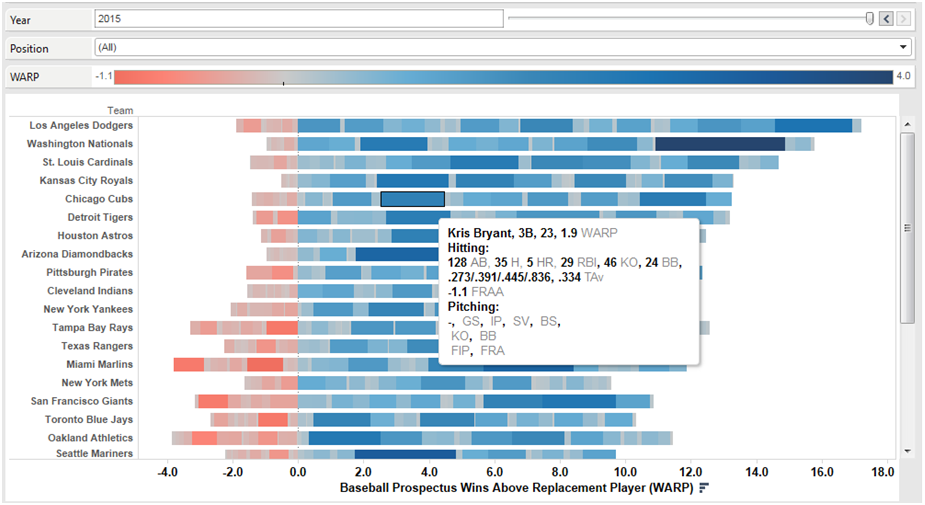 Don't call your ophthalmologist, it's easier to understand than you think. What is depicted is the individual player's contributions to team WARP, with higher values in blue and lower values in red and with bigger bars representing players with higher WARP values. Clicking on data bars shows additional information, and Kris Bryant is clicked to show what can be seen. You can also use the Position filter to separate pitching from fielding or any other combination of positions as desired.
The Cubs are where they're at so far this year because they've gotten solid production from a number of players and borderline MVP-type production from Bryant and Anthony Rizzo. In addition, they don't have players who are dragging down the team—to see what effect players like that can have, look at the team that plays around 12 miles south of Wrigley Field. Since the data was available, this tab also goes back to 1950 and reinforces the concept that successful teams are constructed with a good number of players with solid to spectacular seasons and few, if any, negative players. This becomes pretty clear when going back in time and seeing the playoff teams—not only did they have stars who produced like they were supposed to, but they also didn't have players who dragged them down.
The Cubs are off to a better-than-expected start, but there are causes for concern. First, they've gotten fat off a relatively easy schedule. Through Tuesday, they've only played 12 games against teams with a winning record*, the second-fewest in baseball. They've performed well in those games, but there's a misconception that teams should play well at home and strive to play .500 ball on the road. I contend teams should beat inferior opponents regardless of whether they're at home or on the road (you can read a fuller discussion here), and so far, the Cubs have been doing what they're supposed to be doing, beating bad teams.
*As of Tuesday, the Pirates are on a four-game winning streak that drove them over the .500 mark and thus increased the Cubs total games against such teams to 22. I really liked this stat, so I'm doing what I can to make it stick.
In addition, the Cubs already have eight blown saves, including two recent ones with two outs and two strikes in the ninth inning. I can take or leave saves—one of the most overused stats is the one that says, "Teams are 97-2 when leading going into the 9th inning." Good for them—every team has a similar record when going into the 9th.
What I absolutely detest in any form are blown saves, which is literally* snatching defeat from jaws of victory. Winning baseball games is difficult enough that teams can't afford to give them away after they've built a lead, and if the Cubs have an Achilles' Heel, it's most certainly their bullpen. Unfortunately, bullpen help is among the most quixotic in all of sports, lights-out one day and ineffectual the next, but in this day and age, teams with visions of making the playoffs absolutely must have an effective one. If the Cubs are going to lead the league in one-run games, they're going to need a bullpen and closer who can get the job done in those situations. I've had unnatural cravings for Twins closer Glen Perkins for quite some time, left-handedness be darned, but I suspect he's not available, or at least won't be if they stay in contention.
*This is probably not a correct use of "literally," since I don't believe victory has jaws
This week will be an excellent test to see just how good the Cubs are. Playing the Nationals and Royals, two teams that have very good chances of meeting in the World Series will show how well they match up, and also if the young talent is able to stay with teams that have already acquired the taste for winning.
Statistics are important when they add value to a story and give a fuller view of what occurs on the field. I've been a lover of every version of WARP because it attempts to accomplish what people have been trying to do since the inception of baseball: Find a number that gives a decent interpretation of how well a player performed. So far this year, the Cubs have been among the best teams in baseball because they've gotten solid-to-outstanding contributions from a number of players. It may seem trite, but there are no good teams, there are teams with a solid core of good players. It may seem to be a trivial distinction, but it's an important one.