Hello, readers. Welcome to another edition of "Young Cubs." The major-league stint of Kyle Schwarber has come to a close, and the results were very encouraging. Schwarber proved why he is such an exciting prospect and left fans clamoring for more. This is a good sign, but the Cubs are absolutely making the right move by allowing him to go down to Triple-A Iowa to continue catching. There is enormous value in Schwarber being able to catch at least part-time at the major-league level and there is no obvious everyday spot for him in the majors, so this is a good plan for now. It is also a very good reminder that while being competitive certainly does change the priorities of the organization, Theo Epstein and the rest of the front office will continue to balance the needs of the major-league roster with player development priorities. Well, with that being said, let us begin!
BP Top 10 Update (Stats for 6/19-6/21)
OF Albert Almora, Double-A Tennessee: 2-for-9, 1 3B, 1 BB, 3 K
C Kyle Schwarber, Triple-A Iowa: Schwarber had a great introduction to the majors this week, as he accomplished several firsts including his first hit, first four-hit game, and first home run. Through six games, Schwarber compiled a 1.028 OPS and flashed the power and advanced approach that make him such a valuable bat. It is clear from this stint in the majors that Schwarber's bat is ready for the majors, so it behooves the Cubs to iron out his position in Triple-A. He now makes his way to Iowa, where he will continue to work on his catching and will likely see starts in left field in order to expand his versatility and to be ready for his next call-up to the big leagues.
OF Billy McKinney, Double-A Tennessee: 6-for-9, 2 2B, 1 HR, 2 BB, 0 K; McKinney had a very good weekend, which saw his OPS at Double-A spike to .818. He has had a great overall season over two levels with an OPS of .897. McKinney has been quite possibly the biggest breakout performer in the Cubs' system this season, and has become the focus of a great deal of trade speculation. This is not necessarily surprising, as there doesn't seem to be a fit for him in the organization's short-term plans, and he may have enough value to aid in acquiring major-league talent right now.
The Non-Prospects
Javier Baez: He's still hurt. I am sad. That is all.
Arismendy Alcantara: Mendy went 3-for-10 with a double on the weekend, and most importantly, only struck out once. The timetable on a potential return to the majors for Mendy remains uncertain. However, with Schwarber going down to Iowa, someone has to take his place on the major-league roster. While I truly don't think that player will be Mendy, I won't rule him out either. He is one of only four players who appears to make sense for the vacated spot, so it very well could be him. If Mendy does get the call, it will say something about the front office's confidence in his adjustment process.
Ian Happ Update
Happ went 4-for-13 this weekend with two walks, a double, and his first two professional home runs. It may only be three games, but it already appears that Happ is ahead of the competition in short-season ball. This should come as no surprise, though, since college hitters of Happ's caliber often dominate the lower levels en route to a league better suited to their skills. I would caution patience, though, as it would be easy to be spoiled after the performances of Schwarber and Bryant the last two years. The other thing to note is that Happ has started all three games in center field thus far. While he did play the position in college, the popular opinion was that Happ would likely end up as either a second baseman or right fielder. We know, though, that the Cubs have no issue with trying to maximize the positional value of a prospect, a process the organization is currently undergoing with Schwarber.
Team Updates/Standings
Eugene Emeralds, Short Season-A, Northwest League: 1-3, 2 GB of first place, fourth place in the South Division
South Bend Cubs, Low-A, Midwest League: South Bend finished 29-38 in the first half, finishing in last place in the Eastern Division. Let's hope they do better in the second half.
Myrtle Beach Pelicans, High-A, Carolina League: The Pelicans finished 41-28 in the first half, winning the Southern Division and clinching a spot in the playoffs. It's been an amazing first half for the Pelicans, and hopefully the second half can be just as good.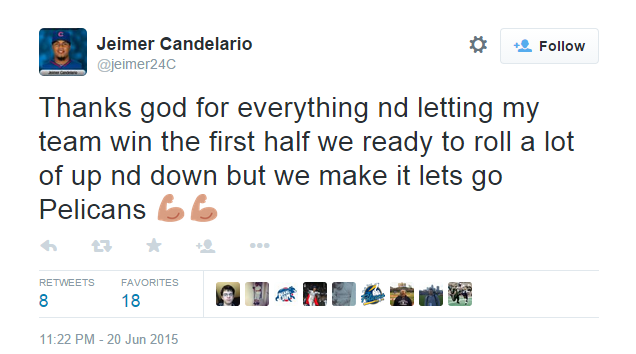 Tennessee Smokies, Double-A, Southern League: The Smokies finished 39-30 in the first half, finishing in second place in the North Division and missing the playoffs, despite their solid overall play. This team will almost undoubtedly be seeing a lot of roster changes in the second half, so whether they can keep up their steady performance is difficult to predict.
Iowa Cubs, Triple-A, Pacific Coast League: 36-33, 10 GB of first place, third place in the American Northern Division
Player to Watch: Ryan Williams, 23, RHP, Tennessee Smokies
Williams got off to an incredible start at South Bend this season, posting 37 strikeouts versus only two walks in eight starts at the level. The Cubs rewarded his efforts by promoting him straight to Double-A, skipping the High-A level entirely. Williams had a rocky first outing in Double-A, but since then, has allowed only three earned runs in 16 innings over three starts. This culminated in his latest start on Sunday in which he allowed one earned run in six innings on four hits with two strikeouts and a walk. Williams was overlooked in the 2014 draft class, as he was a college senior who the Cubs gave a meager $1,000 bonus to sign with the organization. His 2015 season has, thus far, exceeded all expectations, as Williams has now put himself on the path to being a back-end starter at the major-league level. If Williams can continue to put up the types of numbers he has this season, he could see the majors as soon as next season.
Tweet(s) of the Weekend
Mike Olt may be re-joining the Cubs roster as soon as today, but at least org utility man Anthony Giansanti has one thing on him: he can beat him in a foot race. Well, at least if the man himself is to be believed.
Someone got torched. And let's just say, it wasn't number 9 @mike_olt https://t.co/4bUkeaKjNG

— Anthony Giansanti (@GianSanity) June 21, 2015
Best Promotion of the Upcoming Week
If you've ever been to a minor-league baseball game, you're likely aware that the teams have some great promotions. They are sometimes fun, sometimes silly, sometimes downright bonkers, and they ultimately are a large part of what make the minor league experience so much fun. Here, I will highlight an upcoming promotion that stands out to me.
Iowa Cubs vs. Omaha Storm Chasers, Tuesday, June 23rd, LHF 1800s Game: Living History Farms is sponsoring a demonstration 1800s baseball game on Tuesday at Principal Park. I cannot even begin to get into what this will likely entail, but it should be incredible fun for all those who are fans of baseball and love its rich history. It is one thing to discuss what the sport was like in the 1800s and another thing entirely to see it played under 19th century rules and regulations. This should be eccentric, fun, and a complete delight for all those in attendance.
Game(s) To Look Forward To
Eugene Emeralds vs. Boise Hawks, Tuesday, June 23rd, 10:05 PM ET:  The Emeralds are the new short-season affiliate of the Chicago Cubs, and they feature a number of very interesting prospects, including 2015 first-round pick Ian Happ. Tuesday is their first home game of the season, and in addition to a lineup featuring Happ and top IFA signing Eloy Jimenez, the Cubs' no. 7 prospect Carson Sands will be on the mound for the Emeralds. The Emeralds are an exciting team and it should be fun to see how they do at home for the first time this season.
Odds and Ends
Voting is currently happening for the Triple-A All-Star Game, and while Javier Baez is injured and cannot participate, you should still put in a ballot for Arismendy Alcantara and Christian Villanueva who have been excellent for the Iowa Cubs this season. You can vote at this link through June 26th.