I was listening to 670 The Score on Monday afternoon when Dan Bernstein asked whether a team that started four rookies had ever made the playoffs. I enjoy researching these types of questions, and Dan did leave quite a bit to the imagination. I chose to define "rookie" using the filter in the Baseball-Reference Play Index, having no idea if that filter changes over time as the definition of rookie has. I also chose a threshold of 300 plate appearances, since it seems to me that with fewer, it's difficult to state that player had a large influence.
This is how the quartet of Cubs rookies project in terms of plate appearances for the year:
: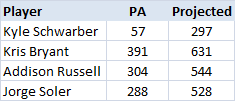 All data is through Monday, so the Cubs have 64 games remaining in the season, and I assumed these players would play in 60 of those games and have four plate appearance in each game. This might be high for Schwarber, but by a very small margin—by the end of the season, there's every expectation Schwarber will be a significant part of this team, whether he meets my arbitrary cutoff or not.
Any team using four rookies in substantial roles is rare enough as it is—since the institution of the playoffs in 1969, these are the teams that have done so: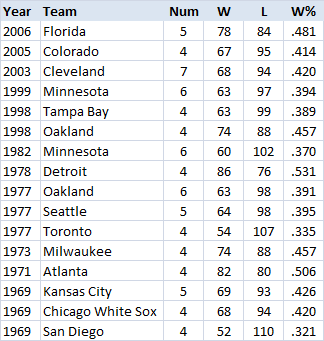 It's pretty obvious there are no playoff teams here. There are some interesting teams—the 2003 Indians featured these players:

They didn't help the Indians much in 2003, but were parts of the team that gave the White Sox a scare at the end of 2005 and made the playoffs in 2007. Similarly, the 1999 Twins set the foundation for their successful run in the early 2000s. But there's also plenty of expansion teams, and teams that were so bad as to have no choice but to use four rookies in substantial roles—they didn't have better options.
I created a Tableau data visualization that shows all these teams since the inception of the World Series in 1903 to show just how difficult it is for teams to make playoffs using one rookie, let alone four. Suffice it to say that if no team used four rookies and made the playoffs in the playoff era, it certainly didn't happen prior to 1969 when only two teams played in the postseason. In short, there has never been a team that made the playoffs using rookies at four different positions. Take a moment and let this sink in.
I asked for that moment because this is precisely what the Cubs are attempting to accomplish this year. Of course, the addition of the second wild card slot is the only thing making playoff dreams possible, but none of the teams listed in the table above would have made the playoffs under the current format, not even the 1978 Tigers. What the Cubs are attempting to accomplish is uncharted territory and literally would be making history.
These Cubs are different in that this isn't just any batch of rookies. The 2003 Indians were no modern version of the Murderers' Row as much as a group of decent players who developed when Cleveland had nothing better. The Cubs were in a similar position entering 2015, but more by design than circumstance. They intentionally didn't chase mid-level free agents who might have made them slightly better in 2013 or 2014, but took the long view that their ability to scout, draft, and develop superior talent would pay off in—and for—the long term.
The year everyone pointed to was 2016—2015 was supposed to be a development year when the different parts were added as the year progressed and eventually coalesce and gel without the glare and pressure a playoff run would bring. That plan seemed to be jettisoned last winter with the addition of Joe Maddon and the signing of Jon Lester, signaling that perhaps the timeline had been accelerated. Their fast start helped fan the flames, but consider how the Cubs have performed by month:
They've never been above league average in hitting, and in July are performing almost 30 percent below league average. Their cumulative FanGraphs Wins Above Replacement (fWAR) nearly bottomed out, and when viewed in this manner, depict a team that started out well and has been treading water ever since. These were the initial 2015 PECOTA projections: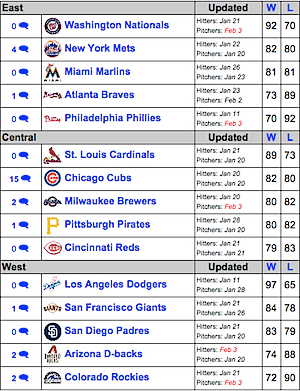 The projection at the start was for 82 wins, and the Cubs are currently on a pace for around 86. As of now, it will take around 90 wins for the second NL wild card slot.
I'll admit, I took a deep, deep drink from the Kool-Aid and found it refreshing and good, thinking the slight almond taste was merely a function of the local water, and I've reached the point where I will be disappointed if the Cubs don't make the postseason. They're adding fresh worries over the bullpen, particularly closer, that would appear to make any playoff run fairly short anyway. Who the Cubs may target in trades is a moving target that changes daily, but perhaps I got ahead of myself.
It's natural to think dark thoughts when watching a game given away on Friday, a 7,920 streak of games in which the Cubs had at least one hit (the longest streak since 1914, or essentially in baseball history) broken by Cole Hamels on Saturday, a good old-fashioned drubbing on Sunday despite the best efforts of David Ross, and another bullpen giveaway that was only salvaged by the ninth-inning heroics of Kris Bryant on Monday. Every team, even playoff ones, go through stretches when things don't go their way, and part of the development process is dealing with those stretches and fighting through them.
In terms of the developmental plans the Cubs were assumed to have, Soler and Bryant are likely on the team as planned, but Russell and Schwarber are probably ahead of schedule. Russell has clearly shown he belongs from a defensive standpoint, and Schwarber is the wild card, since it's still an open question where his final position will be and how often he'll get in games. This shows the split data for all but Schwarber:

I try not to read too much into split data, but it's hard not to believe these players are reaching the rookie wall. With all the expectations placed on their shoulders and few days off, to see some slippage isn't unusual.
This is where Joe Maddon will earn his salary. There are already grumblings that he's overusing these players, but that's to be expected when teams hit a lull and people search for reasons. The Cubs season isn't over, and they still have a nice stretch of games against last place teams. This was supposed to be a place in the schedule where they could gain a leg up on the other contenders for the last wild card spot and maybe even creep up on the Pirates, but it hasn't worked out that way yet.
Just because something has never been done before doesn't make it impossible, but the Cubs are certainly bucking the odds in placing their hopes on four rookies. The Cubs are ahead of schedule, their starting pitching is among the most effective in baseball, and they might even make history this year, but it sure is a lot to ask four rookie position players to meet 100-plus years of expectations.
Lead photo courtesy of Caylor Arnold-USA TODAY Sports