On Wednesday night, as the Cubs fought in vain to keep their winning streak alive in Pittsburgh, Miguel Montero and Tommy La Stella toiled in Tennessee. Their situations are very different. Montero is trying to hurry back from a sprained thumb that appeared it would steal most of his second half; La Stella is trying for a second time to return from an oblique strain that has stolen virtually his entire season. La Stella seems healthier, and has hit better: he went 2-for-5 on Wednesday night. Montero was 1-for-5, and is now 2-for-12 in his rehab stint.
At this point, though, it's clear that both players will rejoin the team in the near future, and when you combine those imminent additions with the promising play of Javier Baez, you can start to see the team's lineup taking a number of different shapes over the final six weeks of the season.
That's a good thing. This is a young, fairly fresh team, but a number of its regular players have significant flaws. Moreover, with rainouts forcing them to play the next two months with just four total off days, it's likely that those regulars would wear down if they couldn't find at least semi-regular rest.
For the moment, set aside questions of roster management. The active roster currently includes Jonathan Herrera and Matt Szczur, as well as 13 pitchers. If they need to, Montero, La Stella and Baez all can fit. The idea here isn't to talk about whether they should be up already, nor to prescribe a specific time at which they should be, but to drill into the team's current makeup, lineup construction, and splits, in order to find the best way to deploy all of those weapons (however encircled by uncertainty or risk they might be) once they're in place.
First of all, to be clear, a fully healthy Miguel Montero should be behind the plate whenever the opposing starting pitcher is right-handed, as long as Jon Lester isn't starting. In an extremely peculiar (and almost certainly not predictive) twist, Montero is mashing left-handed pitchers this season, and struggling much more than usual against right-handers. That hasn't gone on nearly long enough, though, for us to assume it's anything but noise. When Montero returns, his combination of a strong offensive track record against righties and his exceptional pitch-framing skills make him the clear choice at catcher. Schwarber continues to make start-and-stop progress toward being a viable, maybe even a good, big-league catcher, but for now, nothing indicates that he's a defender on Montero's level.
Some people have a hard time accepting that fact, so here's some supporting evidence. First of all, you should know that pitch-framing and -blocking stats, as we track them at Baseball Prospectus, stabilize quite quickly. Specfically, it takes only three weeks or so of playing time for those numbers to return an 80-percent correlation to a player's final numbers for a full season.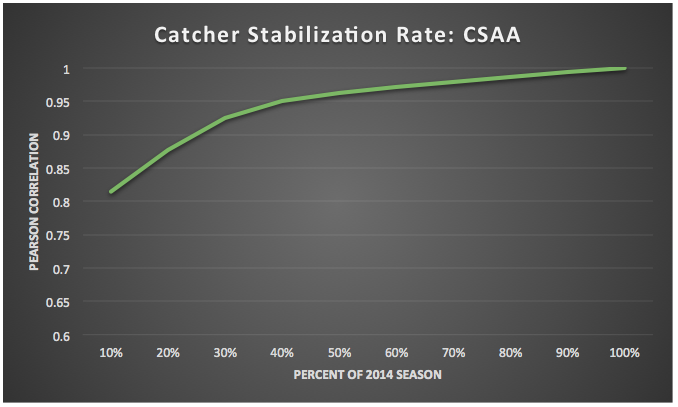 (You can read the nitty-gritty on that here, if you choose.)
Three weeks is a bit more than Schwarber has had behind the p[late to date, but his sample size is significant enough now that we can at least compare his receiving statistics to Montero's with a straight face. So let's do that.
Miguel Montero v. Kyle Schwarber, 2015 Advanced Catching Metrics
| | | | | | | | | | | |
| --- | --- | --- | --- | --- | --- | --- | --- | --- | --- | --- |
| Player | Framing Chances | Extra Strikes | Framing Runs | Framing Runs Per 7000 | Blocking Chances | PB/WP Saved | Blocking Runs | Blocking Runs Per 7000 | Total Receiving Runs | Total Receiving Runs Per 7000 |
| Montero | 3353 | 54 | 8.1 | 17.0 | 1691 | 0.2 | 0.0 | 0.2 | 8.2 | 17.2 |
| Schwarber | 650 | 0 | 0.1 | 0.8 | 371 | 0.0 | 0.0 | 0.1 | 0.1 | 0.9 |
That works out to a 16.3-run advantage for Montero over a full season, or something like an eighth of a run per game caught. That might not sound like much, but it's an enormous gap. To overcome it with offensive contributions, the two would have to hit more or less the way each has this season to date—Schwarber at an unbelievably impressive clip, Montero at a disappointing, though still average. one. If that's their true talent level, terrific: Schwarber is a superstar and the Cubs will reach the playoffs even if Montero doesn't play another game. The overwhelming likelihood, though, is that Montero is still better than he's appeared against right-handers, and that Schwarber is soon to come back to Earth a bit.
No, Schwarber shouldn't start in place of Montero, but with any right-handed pitcher on the mound for the Cubs' opponents, he certainly should start. He should just be stationed in left field, with Chris Coghlan in right.
Chris Coghlan v. Jorge Soler, v. RHP, 2015
| | | | | | | |
| --- | --- | --- | --- | --- | --- | --- |
| Player | PA | BB | K | AVG | OBP | SLG |
| Chris Coghlan | 311 | 35 | 52 | .262 | .347 | .451 |
| Jorge Soler | 246 | 12 | 75 | .263 | .301 | .397 |
It's possible, though hard to argue based on their seasons to date, that Jorge Soler is a better fielder than Coghlan, particularly in right field. In this case, though, there's no way any difference in defensive value is enough to wash out the gap in their offensive skills.
Once La Stella returns, he should take over for the hapless Starlin Castro against right-handed hurlers. Thus, the optimal lineup for a full-strength Cubs roster facing a righty might be:
Dexter Fowler – CF
Kyle Schwarber – LF
Kris Bryant – 3B
Anthony Rizzo – 1B
Chris Coghlan – RF
Addison Russell – SS
Miguel Montero – C
Pitcher
Tommy La Stella – 2B
On the other hand, with a southpaw on the mound, they ought to line up:
Fowler – CF
Soler – RF
Bryant – 3B
Rizzo – 1B
Chris Denorfia – LF
Javier Baez – 2B
David Ross – C
Pitcher
Castro – SS
Soler entered Wednesday with a .388 OBP against lefties this year. Baez and Castro, whose bats have the ability to set back an offense rather substantially, would only play semi-regularly under this scenario, and in the best possible situations for them. This sort of arrangement would not only keep the team fresh down the stretch, but reinforce an important point that can get lost in conversations about this team, because of its long-term focus and its short-term tumult: this is a playoff race. The Cubs are a contender, and player development became a distant, secondary consideration a long time ago. If the best player for a given spot isn't playing there on a given day, it had better be for reasons of rest or health preservation, not ego management or long-term improvement goals.
There's been plenty written about the politics of Montero, Baez, and La Stella landing on the roster again. It's a tough needle to thread, to be sure, but it's exactly the kind of thing for which one hires Joe Maddon. If the Cubs can't bench the struggling Soler against right-handed pitchers, convince Schwarber to defer his tenacious efforts to grow as a defensive backstop, and get their infielders into a rotation that subjugates those players' individual interests to those of the team, Maddon will be listening to the NLDS on the radio in his RV this fall. If the staff can get the buy-in they will need to field the optimal team without losing the focus and cohesion prevalent in the clubhouse right now, this is still a team capable of playing well into the fall.
Lead photo courtesy of Mark J. Rebilas, USA Today Sports.