Every season, a lot of rumors and countless hours of speculation ensue during the weeks preceding the trade deadline. With the Cubs closer to contention than they've been in quite some time, and the need to add another starter growing more evident by the day, this year's deadline was particularly nerve wracking for Cubs fans. Everything from rumors about Cole Hamels joining the Cubs, to trading Starlin Castro to the Padres, to things even more ludicrous than those, swirled around Wrigleyville as the team approached the deadline, and the front office made that day even more dramatic by waiting until just a few hours before the cutoff time (and even a deal that wasn't announced until moments after) to pull the trigger on their big moves.
Did I say big moves? I'm sorry, I actually just meant moves. The Cubs certainly underwhelmed at first glance with their acquisition of starting pitcher Dan Haren. I sat in my seat thinking, "That's it? This is what we waited for? Dan Haren?"
I won't lie to you: at first glance, like I said, I was wildly disppointed. I had made it abundantly clear to most that I was vying for the Cubs to make what I considered to be a low-key deal, in contrast to the speculation I had heard. I just didn't mean "34-year-old starter from Miami" low-key. But like most things, you take a moment to absorb, and then you move on to looking at the bigger picture and begin to rationalize.
The Cubs needed sufficient and reliable rotation depth, of that we were certain. The prospect of adding a higher-profile starter (such as a Cole Hamels) and bumping everyone else down was one that seemed to be logical. However, for some reason, I just wasn't completely on board with that idea (mainly because of what the Cubs would have had to give up to acquire a piece like Hamels). Take a look at what the Cubs received this past week, as opposed to what they gave away: a solid major league starter and an additional piece to bolster down their bullpen, joining the team, all while giving away two prospects that you probably never thought twice about before, and also Junior Lake, who was continually flirting with major-league time, but never really getting anywhere.
Dan Haren is a rental piece, and for a rental piece that isn't a completely terrible price to pay. The two most concerning issues this club had (starting and bullpen pitching) are now alleviated moving forward, instead of band-aided for later.
For those of you out there thinking, "But this is the year! It could be the year, and that's all they could get us at such a crucial point in the season?" … well, you're right. But I don't think anyone went into this season thinking that the Cubs would be in such close pursuit of a Wild Card spot, and an incredible 14 games over .500, all while coming off their second six game win streak this season and sweeping the San Francisco Giants—in August. No one was really planning for it to be "the year" quite this soon. We have to remember the free agent market this offseason will be flush with pitching, and that sometimes things need to be done in the proper order. Haste makes waste, patience is key, good things come to those who wait… insert other trite but true comments here.
—
But anyway, back to Dan Haren. Who is he and what is he bringing to the table? As we saw in his first start with the Cubs on Wednesday evening, home runs will be the key issue for him. Though there were some poor defensive mistakes made in the field behind him (a pitcher like Haren will strongly rely on defense), and his control was a little bit off, this start could have been worse than it actually turned out to be, all things considered. Only two of Haren's four runs were earned, which is quite promising. As I'm sure some of you are aware, Haren, 34, has been pitching in the majors for 13 seasons now and has been contemplating retirement after 2015. Looking at his recent numbers, his age, and his velocity, you can see that the role of a back end starter suits him well these days. He's currently sporting a 3.42 ERA, which is not bad for the role he is currently playing; that said, his peripherals are cause for slight apprehension, especially when taking his new home park into consideration.
Haren's FIP, for example, is 4.59, which is a whole 1.17 runs off from his ERA. His DRA (Deserved Run Average), the new statistic rolled out by BP a few weeks ago, and which you can read more about here, is 4.06, which is also quite telling of his defense independent prowess. DRA only accounts for runs that the pitcher deserved to earn, independent or errors and other things out of his control. What Haren's peripherals help tell us is that Haren isn't much of a swing-and-miss type guy as much as he is a flyball and groundout kind of guy. He currently owns a 6.14 K/9 ratio in his 21 games pitched for Miami, while sporting a remarkable 41 percent groundball rate and 49 percent flyball rate, up 10 percent from last season with the Dodgers. On the other hand, he has held batters to 1.74 BB/9 so far this season, which is quite relieving for a pitcher who can tend to dance close to danger. One other positive to note is that Haren's LOB% is at a career high, 82.6 percent, in 2015. Quite impressive.
Haren's velocity has steadily decreased over the years, and has gone down just a touch in the month of July. This likely isn't the result of any specific injury, though, just age as well as normal wear and tear after 12 major-league seasons (seven of which saw him total over 200 innings pitched). It should be noted, on that count, that Haren has never had a significant trip to the DL in his entire career.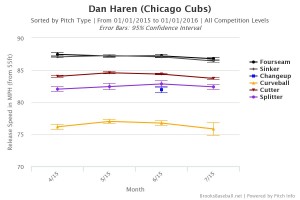 Haren mainly relies on his cutter, sinker and curveball combo, and as you can see below, he's been favoring the cutter over his sinker more recently.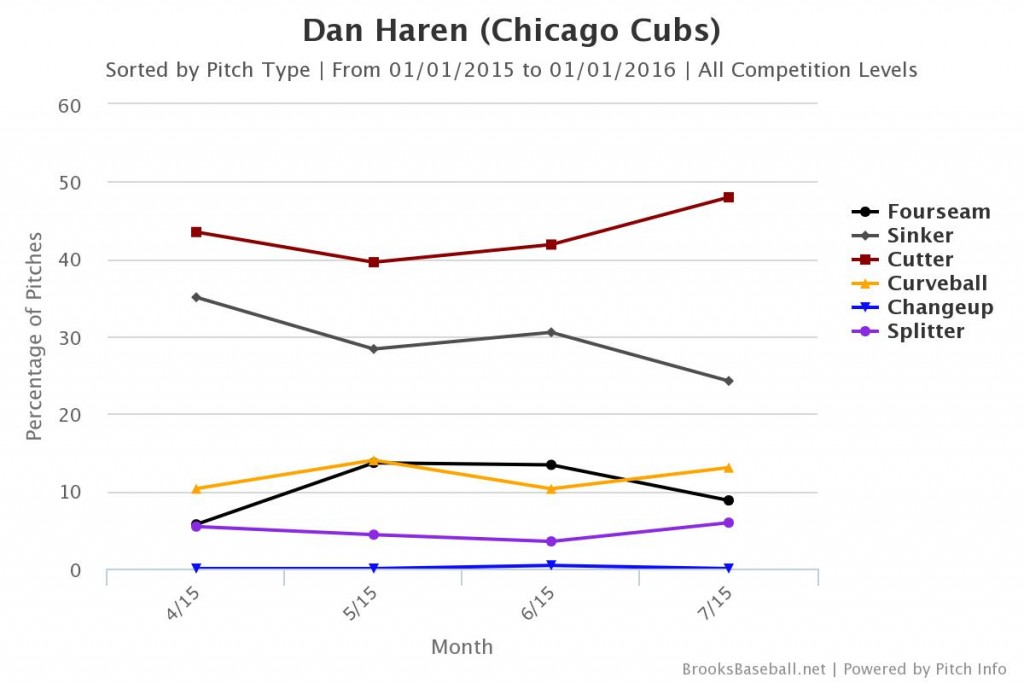 The most important thing Haren will be is a consistent innings eater for the Cubs, who struggle with the back end of their rotation, which (before Haren's arrival) included Kyle Hendricks and a revolving door of other options. Haren has pitched in just four games so far this season in which he did not last at least six innings. There may be some outings in the future were he gets knocked around a little more than others in the rotation, but besides the usual bad day or two that every pitcher has, there shouldn't be anything too out of control that keeps him from delivering you good innings in each start.
—
Haren may not have been the flashy trade deadline acquisition that everyone was hoping for in this Cubs rotation, and he may have some numbers that leave you scratching your head, but think about it this way: he can't be any worse than the pitchers we've seen in the Cubs recently-vacated rotation spot. Let's take a look at the numbers these starters have totaled this season:
| | | | | | |
| --- | --- | --- | --- | --- | --- |
| Pitcher | ERA | FIP | K/9 | BB/9 | HR/9 |
| Dallas Beeler | 9.72 | 3.93 | 7.56 | 7.56 | 0 |
| Donn Roach | 10.8 | 3.39 | 2.7 | 2.7 | 0 |
| Clayton Richard | 4.29 | 4.19 | 3.86 | 2.14 | 0.86 |
| Tsuyoshi Wada | 3.73 | 4.33 | 8.9 | 3.16 | 1.44 |
| Travis Wood | 5.59 | 5.04 | 9.5 | 2.43 | 2.19 |
As you can see, Tsuyoshi Wada has produced the best results, but due to injury and his inability to give the Cubs the inning longevity they needed, he ended up being optioned back down to Iowa where he was rehabbing, to be just-in-case depth, which is most likely his most reasonable role in this organization at this point.
One thing all the numbers above can assure us of is that no, Dan Haren really can't be that much worse than what the Cubs have been dealing with. Despite their disastrous hole in the rotation prior to his acquisition, the Cubs' pitching staff has been so good in 2015 that they are still among the top five teams in baseball in ERA, FIP, K/9 and BB/9. Imagine what could happen with the consistency that Haren will provide. The possibilities are infinite! (That's not true–they're quite finite, actually.)
The Cubs may not have gotten the shiniest, most attractive pitcher available to them at the deadline, but they made a sensible, logical and practical deal that filled the exact need that they went into the deadline with. Yes, it's clear this front office only had 2015 in mind, but that could possibly hint that they have even bigger and better plans for this rotation in store for the offseason.
Lead photo courtesy of Mark J. Rebilas, USA Today Sports.