Top Play (WPA): This was one of those games in which the first inning is played in a certain style… and then the rest of the game is a complete departure from that style. In this one, some weird defensive miscues and some close calls led to our top play.
Leadoff man Kyle Schwarber popped a Jake Peavy offering high up on the infield, with both Peavy and Buster Posey converging, but neither could corral it for the first out. Schwarber never let up on the gas and found himself on second, a rare infield double (+.063). Following a Starlin Castro groundout, a Chris Coghlan walk on some very close pitches, and an Anthony Rizzo groundout that advanced both runners, the red hot Kris Bryant stepped to the plate. Bryant promptly singled to center, a scorching line drive that plated both Schwarber and Coghlan, putting the Cubs up 2-0 before Kyle Hendricks even took the mound (+.161).
Bottom Play (WPA): Two of the bottom three plays came in the pivotal top of the seventh, in which the Cubs threatened to strike back after the Giants' two-run sixth that put them up 4-2. Chris Denorfia rifled a single to right and pinch-hitter Tommy La Stella lifted Peavy's last pitch of the game to left, a ball apparently lost in the lights by Nori Aoki, landing La Stella on second and Denorfia on third.
The Cubs' top of the order was due up following Addison Russell, so the Cubs hoped to tap into the Giants' bullpen for a few runs. However, Bruce Bochy played smart matchups, pairing Hunter Strickland with Russell (a four-pitch strikeout) and lefty-killer Javier Lopez with Kyle Schwarber (also a four-pitch K).
Joe Maddon's decision to send the young Schwarber up against a lefty who has allowed a measly .573 OPS in over 1000 career at-bats versus lefties isn't even his biggest mistake of the game, but with Dexter Fowler available off the bench, it's less than optimal.
Key Moment: Hendricks came out to face the Giants for a third time through their order in the sixth, a decision indefensible in a vacuum. Joe Maddon, however, had used his bullpen curiously in the previous day's near-blowout, rendering Justin Grimm unavailable in this close game. Every time I recap a game he starts, I feel like I rehash Hendricks' struggles the third time through the order, but, alas, it's necessary to point it out again. Rather than showing you those numbers again, take a look at this chart, showing Hendricks' pitches' vertical locations in relation to the center of the strike zone, by pitch type and time through the order: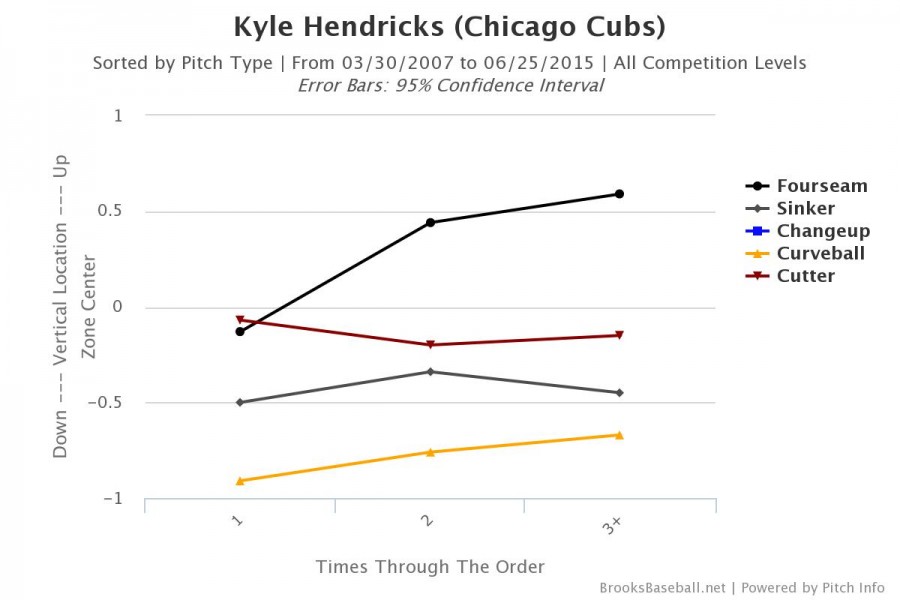 The second and third times through the order, Hendricks leaves his four-seamer noticeably higher up, which is not good for a pitcher who only just clears 90 mph. His curveball also ends up higher, closer to the center of the zone than the dirt. The decision to run Hendricks out to face the middle of the Giants' lineup in the sixth lost the game for the Cubs, and Travis Wood's spotless inning and a third after Hendricks' exit only makes that mistake more obvious.
Trend to Watch: Anthony Rizzo swung at an astounding nine pitches of the 12 he saw in the game. I'm not sure if this is really a "trend," but I did find it shocking. He whiffed on three of those swings, fouled off three, and put three in play for outs. I'm not necessarily concerned—Rizzo is clearly a great hitter—but his eagerness to swing, should it persist, could cause problems when facing a tough stretch run and playoff pitching that is less forgiving.
Coming Next: In the rubber game, there's a real pitching mismatch: Dan Haren (3.76 ERA/4.60 DRA/117 cFIP) faces Madison Bumgarner (3.02/3.56/80). The Cubs remain 6.5 games up on San Francisco for the second Wild Card, but it would be nice to abscond to Los Angeles with a series win in tow. After a few days of lineups without one of Russell and Fowler, expect the Cubs should have both starting once again against the Giants' ace—though a lefty on the mound could mean Chris Coghlan and possibly Schwarber sit. Bullpen management and performance could be the deciding factor, however, considering the first two games' unorthodox usage.
Lead photo courtesy of Kelley L Cox-USA TODAY Sports