July 31st, 2012 was an interesting day on Cubs Twitter. It was trade deadline day for the first time in Theo Epstein and Jed Hoyer's Cubs tenure and Ryan Dempster was an obvious trade target for multiple contenders. Dempster, 35 at the time, had an outstanding first half of the season, compiling 104 innings of 2.25 ERA ball. Rumors of his destination ranged from Atlanta to Los Angeles, though he ultimately landed in Texas with the Rangers. Coming back to the Cubs were Christian Villanueva, a glove-first infielder with some feel for hitting, and Kyle Hendricks, a soft-tossing right-handed pitcher.
Prior to that day, however, it was clear that the Cubs were looking for a young starting pitcher or two to replace Dempster—rumored to be any of five respected prospects in the industry. It would prove to be difficult, though. Dempster was scheduled for free agency at the end of the season and had 10-and-5 rights that granted him a virtual 29-team no-trade clause. They did end up getting their pitcher in Hendricks, and now three seasons later we'll compare those rumored pitchers to Hendricks and see how the Cubs did.
***
Dempster was vocal about wanting to pitch in Los Angeles, limiting the Cubs in their pursuit for a young arm to add to their core. The pitchers they were interested in were untouchables for the Dodgers, according to Ken Rosenthal and Kevin Goldstein.
Heard that Zach Lee, Allen Webster and Chris Reed are all off the table in any Dempster talks.

— Kevin Goldstein (@Kevin_Goldstein) July 30, 2012
To this point, Ryan Dempster continues to hold firm in his preference to go to LAD. Cubs trying to make chicken salad out of this situation.

— Buster Olney (@Buster_ESPN) July 27, 2012
Zach Lee
The 28th pick of the 2010 draft, Lee was known for his ability to command four pitches. The fastball could reach as high as 98 mph, but he'd often prefer to work in the low 90s and tinkering with the pitch so he could cut and sink it. Lee screamed MLB talent as he only projected to add strength to his 6-foot-4 frame, checking in at 70 in the 2012 Baseball Prospectus top 101.
So why did it take the righty until 2015 to make his major-league debut? The Dodgers have been adjusting Lee's mechanics since they drafted him. His competitive nature on the mound has him challenging hitters often, as he throws plenty of strikes. The problem with that is he doesn't miss many bats, posting a less-than-stellar 18-percent strikeout rate in his career. He allows a lot of contact, meaning he needs to limit the walks to a minimum. The Dodgers have been successful in the mechanical changes, resulting in only 20 walks over 123 innings in 2015. And with the loss of Zack Greinke looming large, perhaps 2016 is the year he breaks into the Dodgers' rotation.
Rubby De La Rosa
As a prospect, De La Rosa didn't have the pedigree of Lee. He didn't have the size—standing 6-foot-1 and 220 pounds today—nor the secondary pitches. What he did have was a strong right arm, touching as high as 102 mph in relief and sitting 94-96 when he started. He wasn't big, and he didn't have impeccable command, so everything about him screamed reliever. Teams usually don't give up on that kind of arm so the Dodgers were starting him until their hand was forced.
De La Rosa was traded later in 2012 to the Boston Red Sox in the infamous buy-a-core deal involving Adrian Gonzalez, Josh Beckett, Carl Crawford, and a ton of buckets of chicken filled with hundred dollar bills. While in Boston's system, De La Rosa continued to walk hitters at an intolerable pace so it's no surprise that he was once again shipped away, this time to Arizona. He's found some success with the Diamondbacks, totaling just under 190 innings of sometimes good, most of the time inconsistent, pitching. The changeup has really come around as a reliable secondary pitch. You might remember De La Rosa as the pitcher who for five innings no-hit the Cubs in 2015… until Kris Bryant came and did this:
Allen Webster
Webster was drafted as a shortstop and later placed on the mound for his strong arm, where he showed he could touch 97 mph. By the 2012 season, Webster was flashing a plus changeup and he could play around with a slurvy third pitch giving evaluators enough to see a mid-rotation starter in the future. The Cubs really wanted Webster.
My understanding is that the Cubs really want Webster and are trying to add to Dempster in order to get him. Deal not done yet.

— Kevin Goldstein (@Kevin_Goldstein) July 31, 2012
Webster finished 2012 in the Red Sox organization, and alongside De La Rosa finished 2015 in Arizona at the major-league level. Unlike De La Rosa, however, Webster has had trouble keeping a spot on the roster and staying healthy. Early on during the 2015 campaign, he was placed on the DL with shoulder fatigue. The shoulder has taken a toll on his velocity:
| | | |
| --- | --- | --- |
| | Fourseam | Sinker |
| 4/13 | 95.67 | 93.58 |
| 5/13 | 96.12 | 95.57 |
| 6/13 | 95.44 | 94.27 |
| 7/13 | 94.54 | 93.48 |
| 9/13 | 95.75 | 93.84 |
| | | |
| | Fourseam | Sinker |
| 7/14 | 93.60 | 92.58 |
| 8/14 | 92.91 | 91.60 |
| 9/14 | 93.34 | 92.09 |
| | | |
| | Fourseam | Sinker |
| 6/15 | 92.96 | 92.44 |
| 8/15 | 91.71 | 91.61 |
| 9/15 | 93.13 | 92.81 |
| 10/15 | 92.84 | 91.70 |
Last week, Webster was released by the Pittsburgh Pirates to pursue pitching in the Korea Baseball Organization. Best of luck to him.
Chris Reed:
Another big-bodied pitcher, Reed was drafted in the first round of the 2011 draft out of Stanford where he pitched in relief. As a lefty, a fastball that topped at 96 mph was a devastating pitch that just about guaranteed Reed an MLB role as a one-out specialist. Couple that with a slider in the mid-80s plus the makings of a changeup,  and Reed looked like a future starter who just needed to get used to the workload of pitching multiple innings—and with his frame, it seemed very possible.
Reed walks a lot of batters. That's his problem. In 2013, Reed walked 63 batters but only struck out 106 in 137 2/3 innings. He would ascend the Dodgers' farm system as the years went on, but he fell in all rankings and was discretely traded to the Miami Marlins for another pitcher this past July. Reed made his major-league debut as a reliever later on in the season, but there's nothing about him that makes you look twice.
Randall Delgado
At the time, Delgado was Atlanta's second-best prospect, right behind the incredibly polished Julio Teheran, and number 41 in the Baseball Prospectus' top 101 prior to the 2012 season. Evaluators praised his hard fastball—usually sitting 92-94 mph and touching as high as 97 mph—a plus curveball with sharp bite, and an average-to-plus changeup. The command, however, was a bit erratic leading to high walk numbers at every level he'd played in. Still, it's not difficult to understand why the Cubs would be interested in the 6-foot-3, 200-pound 22-year-old righty.
Filed to ESPN – if the Dempster trade is completed, Randall Delgado is in it, as well as something to balance the money

— keithlaw (@keithlaw) July 23, 2012
The following three seasons saw Delgado struggle with his command the same way he did in the minors. A lack of athleticism resulted in difficulty repeating his delivery, causing his fastball to go places no one could predict. After a brief and unsuccessful stint in the rotation, Atlanta moved him to the bullpen to take advantage of the plus velocity and breaking ball. There Delgado struck out plenty, walked just as many as before, and was eventually traded to Arizona as part of the package for Justin Upton. Today he is 25 years old and is presumed to have a spot as a middle reliever on the Diamondbacks after a moderately successful 2015.
It's unlikely the Cubs or their fans would be too happy with this as the return for a commodity that was highly coveted back in 2012. This trade never manifested into reality, as Dempster exercised his no-trade rights at the last minute. But hey, at least we've got this screenshot. You may have deleted your account, but we'll never forget, Randall.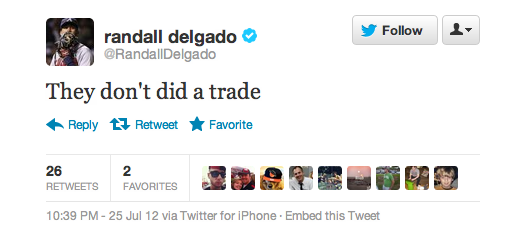 Kyle Hendricks:
Hendricks doesn't open too many eyes when on the mound. He isn't physically imposing, though he does stand at 6-foot-3 and maybe 180 pounds. Instead of Kyle the starting pitcher, you'd think he's Kyle from accounting. (Bet you've never heard that one before!) In fact, Hendricks is so lacking in flash that he was considered the other prospect in the return for Dempster.
At the time of the trade, Hendricks was a 23-year-old righty out of college pitching at the High-A level. He threw a sinker at 88-90 mph. He'd cut his fastball at 86-88. He played around with a curve. His out pitch was a pretty good change, which on a good day was rated as a 60. What the Cubs loved though was his surgical precision to hit his spots. He indeed did have something to open evaluators' eyes after all!
After being traded to the Cubs, Hendricks continued to open eyes with results. In 2013 Hendricks was awarded the Minor League Pitcher of the Year award in the Cubs organization, totaling a 2.49 ERA over 166 innings. He walked 34 batters as opposed to 128 strikeouts. Today, Hendricks is the fifth starter on a club that many consider the best team in baseball. He has some trouble against left-handed batters and isn't pushed deep into games often, but for a fifth starter he has satisfied expectations and then some.
Lead photo courtesy of Ed Szczepanski-USA TODAY Sports