Yesterday, my fellow contributor Stan Croussett sketched a picture of the 2016 season in which the Cubs give a decent amount of starts to three of their swingmen: Trevor Cahill, Clayton Richard, and Adam Warren. A combination of contract incentives, comments from the front office about their prospective usage, a need to rest the workhorse starters at the top of the rotation, and a considerable portion of the schedule against a couple of soft divisional opponents make Cahill and Warren likely candidates for at least a handful of starts in the upcoming season, Croussett argued, and I fully expect Joe Maddon to craft a creative strategy to get the most out of his formidable pitching staff.
With that in mind, and with the inevitability that the Cubs' unprecedented four (!) long relievers will garner quite a few bullpen appearances as well, I thought it might be useful to demarcate each pitcher's relative merits and deficiencies. And so, let's dig in.
Travis Wood: The incumbent long reliever, Wood became a favorite for Joe Maddon early on, right after he lost his starting rotation spot. He ended the season as a go-to high leverage reliever who could also eat multiple innings at a time, a very rare combination of skills.
The final months of the season saw Wood's average four-seam velocity sit higher than at any other point in his career, bordering upon 92 miles per hour, a full two-MPH gain on his recent years in the rotation. He complemented that velocity bump with a doubling of his four-seam usage, from 25-30 percent from 2013-2014 to around 60 percent in the latter half of 2016. As a result, the percentage of whiffs on his four-seamer jumped, from generally sitting at 8-9 percent to percentages in the teens.
But Wood's lively fastball doesn't survive on its own. The lefty saw some residual success with his slider, which has always been his "best" pitch. In 2015, he managed three consecutive months of a .000 batting average against on the pitch, despite only slightly altering the frequency of its deployment. That won't continue, of course, but the pitch should find fewer bats the more often he can sequence it successfully with his fastball. Also, and importantly, Wood all but abandoned his lukewarm sinker that he seemed compelled to use as a starter. It's not a great pitch—it doesn't differ from his four-seamer enough in velocity or movement—so this was a decision for the best. Interestingly, he did create a greater separation between the two in the latter months of 2015, so I'll label it his "Pitch to Watch" for 2016.
Wood also began attacking the zone low-and-away to lefties and down-and-in to righties far more than he had in the past. Compare his 2014 to his 2015 in terms of overall pitch locations:
The success of these changes were apparent to anyone who watched Wood in 2015. He's the only one of these four pitchers I could see stepping in to close games in a pinch. He's got a great fastball and a satisfactory pitch mix that allow him to succeed in short and long outings, and his ability to get swings and misses against both lefties and righties has gone up since he became a reliever. I expect Wood to be Maddon's favorite again this season, perhaps seeing the same amount of high leverage innings as Pedro Strop now that the manager has a cupboard full of innings eaters.
Clayton Richard: The other lefty in the bullpen also experienced a shift from a starting to a relieving role as the 2015 season wore on, but he'll be mostly doing the latter in 2016. Richard is the most likely candidate of these four to fall out of the Cubs' plans entirely, due to an all right but unspectacular 2015 and a poorer profile for a reliever.
However, Richard is a great foil to Wood in terms of things they each do well, which should help Maddon make matchup decisions. Richard began throwing a four-seamer in 2015 for the first time in his major-league career, but he also upped his sinker usage. The sinker is his key pitch, as it induced 60-75 percent groundballs in 2015. His ability to get grounders is also his key difference with Wood, who is a textbook strikeout-flyball pitcher. Against lefties, Richard gets over 50 percent groundballs.
Secondarily, Richard doesn't miss many bats. His curveball is his only pitch that really gets whiffs at a double digit rate, and he throws it less than ten percent of the time. I expect Maddon to tap Richard in situations in which he needs a groundball, particularly with lefties due up. With runners on, it'll be a difficult call—does Maddon try for the strikeout with Wood or the double play with Richard? Erring toward the former is probably safer, due to Wood's more general effectiveness.
Richard also failed to keep hitters off his four-seamer late in the season, which might scare Maddon off of using him in high-leverage spots. In August, September, and October, Richard allowed .571, 1.000, and 1.000 slugging percentages against the pitch, hardly an inspiring trend, especially as he used the pitch around ten percent of the time.
Ultimately, Richard is the most likely to see early- to mid-game action in mop-up duty, due to his higher volatility. A few days ago, Isaac Bennett speculated that Richard might fail to even make the Opening Day roster, but I think his assertion that Richard is redundant with Wood in the 'pen is incorrect; rather, they complement each other in terms of skill.
Trevor Cahill: Cahill is a paragon of groundball pitchers. Every pitch he throws has a tendency to wind up in an infielder's glove, which helps him stand out in a Cubs bullpen stocked with strikeout pitchers who also get lots of flyballs.
Cahill is also unique in the Cubs' pen due to his out pitch selection: a changeup. In 2015, Cahill threw his changeup with two strikes agains lefties 38 percent of the time, and against righties 32 percent of the time. It got the most swings and misses of any pitch he threw this past season at 26 percent, and, like his other offerings, still got the groundballs on which Cahill thrives. Amazingly, Cahill made a near-instantaneous switch upon arriving with the Cubs, swapping out his cutter, which was getting just under 20 percent whiffs, for that very effective change, which got 35 percent in September and 27 percent in October.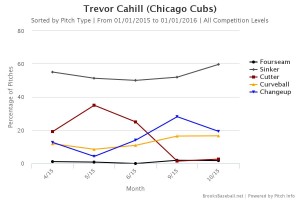 Favoring the changeup also produced severe dip in lefties' slugging percentage, which sat around .100 during Cahill's Cub months. Maddon should feel comfortable going to Cahill against hitters of either handedness, which makes him a valuable bullpen piece.
Cahill mixed his pitches very effectively in his Cubs stint, and I suspect that any bullpen success he achieves in 2016 is predicated on maintaining that mix. Were he to start a significant number of games for the Cubs this season, he might be pressured to revive his cutter and throw fewer changeups and sinkers, which is a cause for concern, but I imagine he and pitching coach Chris Bosio will work together to maintain an effective gameplan.
Adam Warren: Before beginning with Warren, I'll refer you to Ryan Davis's piece on Warren's pitches. In it, Davis expressed hope that either Warren would more frequently utilize his secondary pitches, which are extremely effective, or work with Bosio to improve his sinker, which is… less than effective. Warren is the most likely of this quartet to find his way into the starting rotation, due to his recent success in that capacity as a New York Yankee. I have doubts that he'll outgun Jason Hammel or Kyle Hendricks for a spot in the rotation at the outset of the season, due to those pitchers' more established histories, but he'll be the first to step in at a sign of ineffectiveness or injury.
That being said, Warren's usage as a reliever is the most complicated to predict. Wood looks to get late-inning situations, particularly against lefties; Richard will get low-leverage scenarios, or groundball scenarios (and he's the most on the bubble); Cahill is the most versatile, with good numbers against both lefties and righties, and should be deployed in tough spots as well. With Warren, Maddon will have to decide if he wants to convert him to a Cahill-like middle relief role, or use him exclusively in outings of multiple innings.
In order to keep him stretched out and to less-radically change his pitch repertoire, I would bet on Maddon going with the latter. Warren is going to start this year, and probably between five and ten times at least. With Hammel's still somewhat mysterious second half woes, Arrieta's huge workload, and Lackey's advanced age, there will be opportunities for him to start.
Maddon has a stable of long relievers with which he can mix and match more than any manager in recent memory. As Stan wrote, some of these guys will start some games for the club, and it's Maddon's duty to find those starts. But more likely, they're going to be bullpen cogs who see quite a bit of work due to their recent success. One thing is for certain: the Cubs have a surprisingly deep 'pen, and that's always a good thing.
Lead photo courtesy Dan Hamilton—USA Today Sports.