In hindsight, it's hard to believe Kyle Schwarber was on the bench for any portion of the 2015 postseason. As it is, all he did once in the lineup was bash his way to a 1.308 OPS, and casually become the Cubs' all-time postseason home run leader by blasting five over the nine playoff games the Cubs played. But on October 10th, before Game 2 of the NLDS, Joe Maddon found himself defending his lineup choices after sitting the red-hot Schwarber against Cardinals left-hander Jaime Garcia.
According to a dispatch from Mark Gonzalez of the Chicago Tribune, Maddon painted the decision to start Austin Jackson and Jorge Soler instead of Schwarber and Chris Coghlan as a testament to the team's depth and balance, rather than Schwarber's seeming-inability to hit lefties. He also voiced his confidence that Schwarber would hit lefties better as he gained major league experience and pointed out that the left-handers in the postseason generally aren't run-of-the mill pitchers.
That benching of Schwarber was a one-time decision that worked out well (Jackson and Soler were key to the second-inning rally that changed the tone of the Cubs' postseason), but with the addition of Dexter Fowler, it appears the Cubs will be able to shelter Schwarber for the entire season in 2016 by putting him in a platoon of sorts with Jorge Soler. (For a more in-depth look at how Soler's playing time might shake out, read Jared Wyllys' article on this site.) As Matthew Trueblood wrote after Fowler's return, the combination of Schwarber's splits and shoddy defense will likely send him to the bench against most lefties.
That's probably a good thing for the Cubs and their championship aspirations, but is it a good thing for Schwarber? He can't hide from lefties forever if he plans on becoming an everyday starter, which he undoubtedly does.
Here's what Schwarber's splits looked like last season over 273 plate appearances: 
| | | | |
| --- | --- | --- | --- |
| | AVG | OBP | SLG |
| vs. RHP | .278 | .396 | .557 |
| vs. LHP | .143 | .213 | .268 |
In fairness to the Cubs, it appears the team was already limiting Schwarber's exposure to lefties late in the season last year as he cooled off from his red-hot start and the Cubs fought for playoff positioning: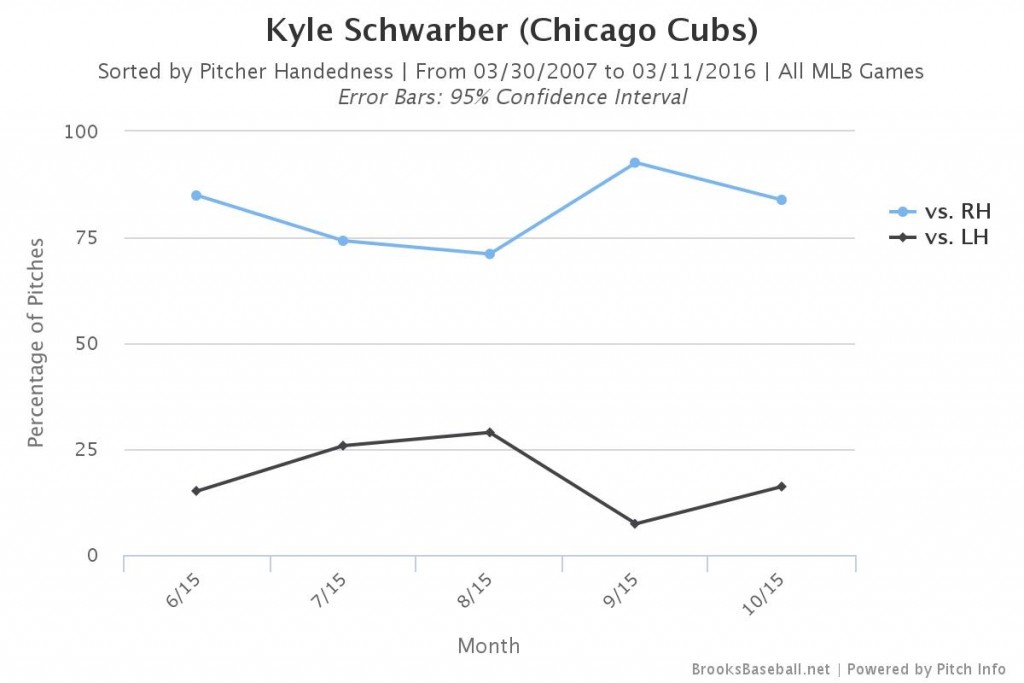 For an interesting case study of a young slugger struggling against lefties, we can look at another Cub who happens to be the first comparable listed for Schwarber in this year's BP annual: Anthony Rizzo.
Last year, Rizzo's MVP-type performance was remarkably balanced, as he posted a .905 OPS against righties and a .881 against lefties. In his 2012 rookie season, though, he struggled against southpaws in 368 plate appearances:
| | | | |
| --- | --- | --- | --- |
| | AVG | OBP | SLG |
| vs. RHP | .318 | .383 | .508 |
| vs. LHP | .208 | .243 | .356 |
The Cubs, being light years away from contention, had the luxury of letting Rizzo play through his struggles. He then posted a .189/.282/.342 line against lefties in a 2013 season where he struggled overall. In spring 2014, then-manager Rick Renteria told Sahadev Sharma the plan was to keep slotting Rizzo in, saying: "Over the long haul, hopefully he starts to improve. But you can't do it unless you're out there."
The faith paid off that year, when Rizzo actually hit better off lefties than righties, going .300/.421/.507/ in 95 PA against lefties and .281/.373/.534 in 445 PA against righties. Last year, Rizzo told Carrie Muskat he credited assistant hitting coach Eric Hinske, who suggested Rizzo start standing closer to the plate to help him get to outside pitches.
So what kind of Hinske Magic will Schwarber require? From what we've seen early on, the adjustment Rizzo made won't be needed, as Schwarber seems to be an equal-opportunity struggler across all parts of the zone:
A close look at his performance against various kinds of pitches thrown by MLB lefties, then, might be more informative.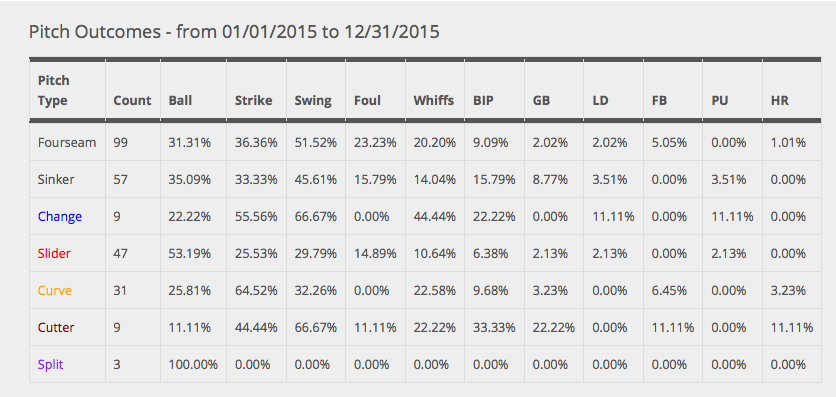 The usual caveats about small sample size apply, but the thing that jumps out is his whiff rate against curveballs, particularly when stacked against his overall swing rate. That makes sense in the context of his overall zone maps, which show he doesn't generate much power on pitches near the bottom edge of the zone, regardless of pitcher handedness:
So how can Schwarber develop against lefties while sitting on the bench this year? Of course, he'll keep working with Hinske and the rest of the staff, who will undoubtedly already have a plan to attack these weaknesses. He'll also be surrounded by smart, experienced hitters, including that first baseman discussed above.
Additionally, as he spends more time in the major leagues, Schwarber should get better at recognizing pitches earlier and understanding how pitchers are going to attack him. (Getting some time at catcher defensively, as the Cubs are considering, probably wouldn't hurt the cause.) Those improvements alone would likely give him a head start on 2017.
For 2016, though, when the Cubs are trying to win a World Series and find optimal use of their wealth of position players, maybe the solution is one Maddon hinted at back in October: picking and choosing which lefties to test Schwarber against. If there's a lefty coming up who doesn't rely on breaking stuff, maybe that's the time to work him in.
Schwarber has already said he's willing to do what the Cubs ask of him for the time being, and with Fowler likely gone in 2017, he should get a chance to validate his manager's confidence in a full-time capacity relatively soon.
Lead photo courtesy Matt Kartozian—USA Today Sports.