It now appears that Kyle Schwarber will be Jason Hammel's personal catcher for some portion of the 2016 season, and possibly all of it. That's the plan, anyway, according to (variously) the Chicago Tribune and Comcast SportsNet. Why? Let's think about this first from Schwarber's perspective. For one thing, the Cubs want to give Miguel Montero's 32-year-old knees a bit of a break next year, and throwing Schwarber into a catching rotation that already features David Ross (catching Jon Lester, for the most part, though there's a case to be made that he should be used more selectively than that) means the veteran Venezuelan will only be behind the dish for games started by Jake Arrieta, John Lackey, and Kyle Hendricks.
For another, though, the Cubs want Schwarber to see some time behind the plate in 2016, even if they no longer see him as the "catcher of the future" (Willson Contreras now holds that title, on the back of a dominant season at Double-A last year and a strong spring). Schwarber's monster bat is quite a bit more valuable behind the dish than in left field, and his ability to switch positions late in games will make a big difference for Joe Maddon as the Cubs work to fit four outfielders into a regular rotation at Wrigley next year. In short, the Cubs want to keep Schwarber fresh behind the plate in 2016, but not make him their regular starter at the position.
It's hard to take issue with that as a goal. Similarly, it makes sense that the Cubs would choose one particular starter for Schwarber to catch next year: it allows the young Ohioan ample opportunity to develop a rapport with the pitcher of choice, and it limits the amount of new information he'll have to take in defensively during a sophomore season in which, let's face it, the league will have adjusted to one degree or another to his offensive profile in the batter's box. Catching just one pitcher achieves the main goal—getting Schwarber some playing time at catcher—and cuts out a lot of other distractions. All that makes sense.
But why Hammel? This is where it's helpful to switch things around and think of the change from the pitcher's perspective. Why, in particular, would this pitcher make sense for Schwarber to catch, with the given that Schwarber is going to have to catch somebody? A few different lines of argument seem to have emerged from Cubs camp in Mesa. First, Schwarber seems to have lowered his catching crouch in a way that the long-levered Hammel, in particular, appreciates. From that CSN Chicago article:
"You're seeing him stick his leg out and giving a lower target than he was last year, [said Hammel]. It only helps the guys like me with tall leverage where I need that little extra sight line down to drive the ball down."
Hard to argue with that. Here's Hammel pitching to Schwarber for the first time last year, against the Reds on July 21st: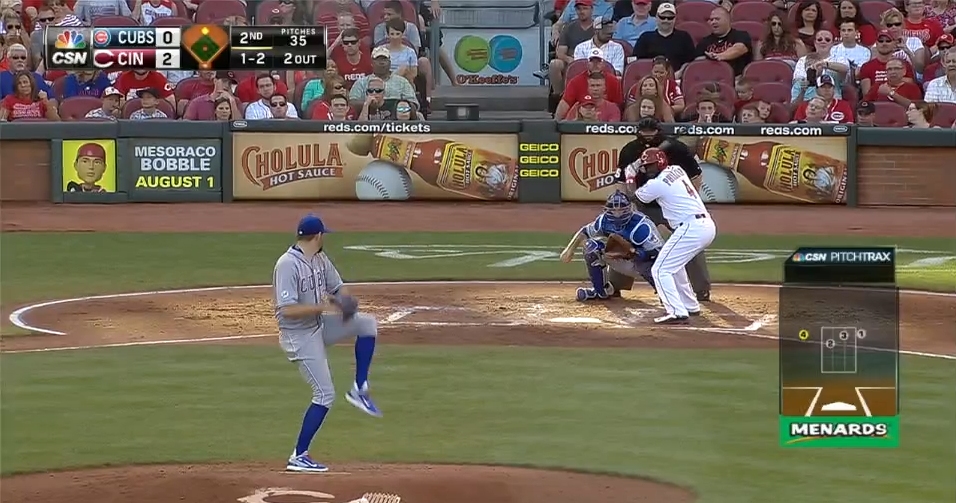 And here he is throwing to that same Reds team on October 1st, again to Schwarber, in his final start of the season.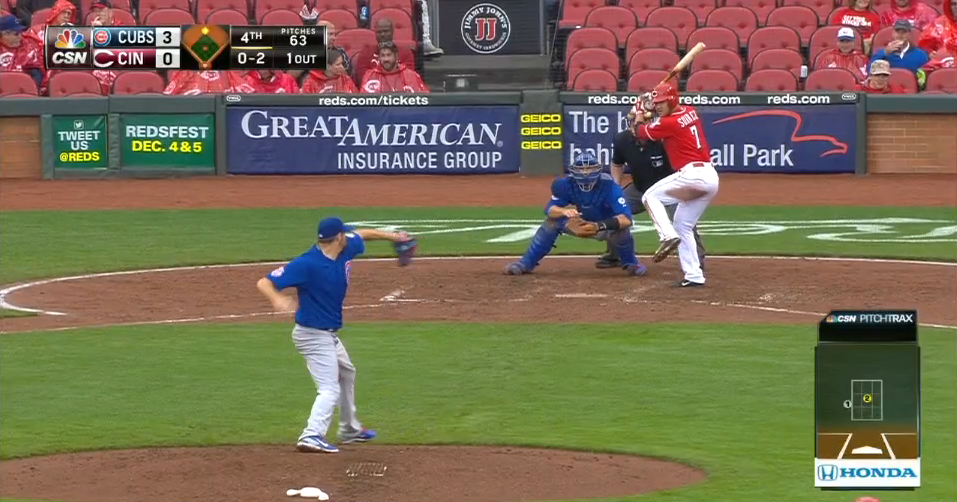 Despite the odd angles, it's clear that there's a definite change in Schwarber's setup there, and that indeed might be something that's driving Hammel's comfort with him for 2016. Indeed, that last start pictured above, in October of 2015 against the Reds, was a start Hammel liked so much (according to the Tribune story) that it's contributed to some of the comfort-level he and the Cubs are feeling with Schwarber at catcher this year. Here's what happened that day (the last few columns are pitches, strikes, fouls, swinging strikes, looking strikes, ground balls, fly balls, and line drives, respectively):
| | | | | | | | | | | | | | | | | |
| --- | --- | --- | --- | --- | --- | --- | --- | --- | --- | --- | --- | --- | --- | --- | --- | --- |
| Date | IP | H | R | ER | BB | SO | HR | BF | Pit | Str | Fl | StS | StL | GB | FB | LD |
| Oct 1 | 5.0 | 5 | 0 | 0 | 0 | 5 | 0 | 20 | 86 | 58 | 37 | 8 | 13 | 7 | 8 | 6 |
Sure, the innings count could be a little bit higher, but the top-line results are good, and in general it's not worth looking too much into the results at a really granular level (or indeed the zone charts, for any of Hammel's starts with Schwarber). That sort of stuff is driven, over such a small sample size, by the opponents being faced and how Hammel was feeling about his repertoire on the days in question. So don't look to the numbers from last year to understand how the Schwarber-Hammel combo will pitch next year: the Cubs don't expect Hammel's game plan to change start to start, regardless of who catches him next year. Look, instead, to the comfort level. Though Schwarber may have some opportunity to bring his own insights to bear on the scouting report from time to time, this move is predicated more on the growing familiarity between the two men than on anything else. The Cubs hope that that easy relationship will bring results.
And, you know what? It might. Hammel is well known as a guy who likes a consistent presence behind the plate, and the Cubs have given that to him this year, much as they did with John Baker (another number 14!) a few years ago. Combined with his new-look physique—a stronger lower half, in particular—that consistency behind the plate might be enough to get Hammel through a full 200-inning season at the level of performance he's put up in the first half over the last few years. He knows he has the repertoire; now, all he needs is the ability to repeat it over a 162-game season. Another added bonus of this plan? It'll give Schwarber more opportunities to hang out with David Ross in the catcher's meetings, and that's good for everybody.
Lead photo courtesy Rick Scuteri—USA Today Sports.