Welcome to the first regular season installment of Inside the At-Bat, a BP Wrigleyville series that began amid a flurry of typos and Brooks Baseball graphs in the late night hours (Eastern Standard Time!) following each game of the 2015 postseason. In 2016,  it will not appear every night, but we'll be checking often during the season's biggest series, intriguing matchups, and frequent sporadic idea blocs from the author. Enough prologue, though. Let's baseball!
Good things, it's so often said, come to those who wait. Men In Black III. The perfect White Russian, after you realize the milk you've used is two days past the expiration date, and necessitates you going to the store in your flannel pajama pants. And, of course, Opening Day. The Cubs and elder statesman Anthony Rizzo, however, were in no mood to wait around to score the first of their 700 or so runs in 2016. 
Standing in their way was Angels hard-throwing right-handed starting pitcher Garrett Richards. In 2015, Richards threw his four-seam and sinker combined for about 65 percent of all pitches, with batters only slugging .380 against his fastballs. Richards averaged more than 96 MPH with both pitches, and when he's hitting his spots he's very effective.
Unfortunately for Richards, he had trouble locating his primary pitches from the outset.
Dexter Fowler, the season's first batter, scorched a double down the right field line on a 1-0, 97 MPH fastball the stayed up and over the plate. Angels catcher Chris Perez set up on the outside corner at the knees, but the pitch stayed belt high. As you can see below, Fowler, throughout his career, likely looks fastball in 1-0 counts against right handed pitchers, and absolutely destroys them when they are left up and over the plate.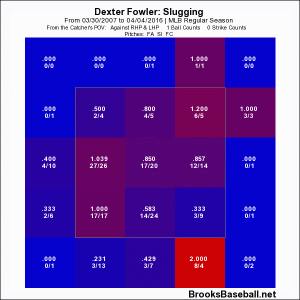 With a runner in scoring position just two pitches into the season, Richards and Perez had another left-handed batter, Jason Hewyard, with whom to deal. Like with Fowler, they wanted to stay away, with Perez setting up even lower and further off the plate. Again, though, a 97 MPH fastball rode back over the plate, missing the intended target even more glaringly than the previous pitch, and Heyward bounced the first pitch of his Cubs his career up the middle for a ground out that moved Fowler to third base with one out.
Ben Zobrist, a high-contact hitter signed to help rectify the Cubs' bugaboo of not bringing in runners from third with less than two outs, struck out on what appeared to be a wicked 0-2 slider from Richards.
Three batters in to the game, a pattern had emerged, with Richards starting each batter with a fastball. It's not like Cubs batters (two lefties and two switch hitters) couldn't have guessed this. In 2015, Richards threw first pitch fastballs to left handed batters 70 percent of the time (compared to 59 percent to right handed batters). With two outs and Fowler still in scoring position, Rizzo strode to the plate.
True to his extremely early season form, Richards started Rizzo with a 98 MPH fastball that missed down and in. On 1-0, he came back with another fastball, this one 99 MPH and right down the pike, that Rizzo took all the way for strike one. With the count even, would Richards come back with yet another fastball? Could the Cubs break 2015's nasty habit of standing runners on third? Before we see how the battle unfolded, let's look back at what Rizzo and Richards did in 1-and-1 counts last season.
Rizzo in 1-and-1 counts in 2015…
.351 AVG, .789 SLG, 7 HR
Rizzo's .789 slugging percentage in 1-1 counts was topped by only his performance in 2-0 counts. And while he was vulnerable on the inner half and way off the plate, he raked against pitches on the middle to outer half of the plate: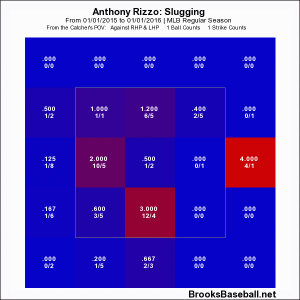 If a pitcher wants to go away from Rizzo in 1-1 counts, he needs to stay way off the plate, as Rizzo's outstanding plate coverage allows him to handle pitches on the outer half.
Richards in 1-and-1 counts in 2015…
.298 AVG, .429 SLG, 1 HR
Richards was pretty good in 1-1 counts, with his .723 opponent's OPS  more than 130 points below the league average in the count (.855).
On 1-1 pitches against left handed batters, Richards stayed four seam heavy (44 percent). However, he abandoned his sinker (16 percent) for his slider (31 percent), with the desired effect seeming to be keep the ball down, as you can see below: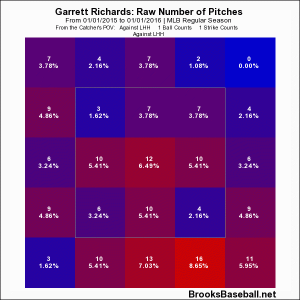 However, as you saw above, Richards would often leave pitches up over the middle and away, which as we discussed, is where Rizzo does damage. It seemed likely Richards and Perez would opt to stay low and away.
The Pitch
With the count even, Perez did indeed set up low and on the outer half the plate, in a spot where Rizzo has struggled slightly. Richards did not hit that location with a 93 MPH sinker. The pitch stayed on the outer half, but came in belt high, an area where Rizzo makes a living, especially in 1-1 counts. He was able to stay on top of the ball, taking it back up the middle for the RBI single. With the hit, the Cubs topped their scoring output from the 2015 season opener, and Rizzo celebrated with a fist pump to the dugout and a half hug with first base coach Brandon Hyde.
Despite Richard's 2015 success with fastballs against left handed batters, he played with fire by missing spots and giving three of the four hitters multiple opportunities to time his four seam and sinker. Fowler and Rizzo would make him pay.
Thanks for kicking off the 2016 season with me, the guy who was in a hurry tonight to buy skim milk in his pajamas during a snow storm.
Lead photo courtesy Gary A. Vasquez—USA Today Sports.