Mike Trout vs. the Chicago Cubs. It's perhaps something that was only in the periphery of our minds amid the excitement of Opening Day. It didn't quite dawn upon me, in fact, until just before first pitch: we were about to witness Jake Arrieta and Jon Lester wage their first battles of the season against Mike Trout, young baseball immortal. These are moments a fan lives for, even thrives on.
These situations and the excitement they bring are different than just watching the expected—the Kyle Schwarber and Kris Bryant home runs or the Jake Arrieta strikeouts. This is watching an event unfold that you can't safely predict the outcome of. It's wondering whose will is stronger, and what characterizes these strong battles as they unfold. It's knowing entire fanbases are watching with the same anticipation as you are. Against a generational talent such as Trout, a pitcher, no matter who he may be or what his story is, cannot simply go into the situation with an inflated ego, expecting win the war. But against a historic talent such as Jake Arrieta, or Jon Lester, a skilled veteran, Mike Trout can't be so sure he'll win either. We know how skilled this Cubs rotation and bullpen are, but do they truly possess the talent required to deaden the bat of baseball's best current player?
This week, that question was answered: yes. I wasn't even sure going into this that it would be possible. Surely, it'd be thrilling (and that it was), but I didn't think the series' end result would be total dominance against the Angels' 24-year old prodigy, who is a four-time All-Star and Silver Slugger winner and once MVP (and this is just his sixth season). But as the first of many seemingly impossible tales that the Cubs will most likely weave for us this season, it was possible. Mike Trout went 0-for-8 in his season debut, and four Chicago pitchers won the war. Let's take a look at how this all unfolded on Trout.
April 4th  — Arrieta vs. Trout
First at bat: Trout lines out to second basemen Ben Zobrist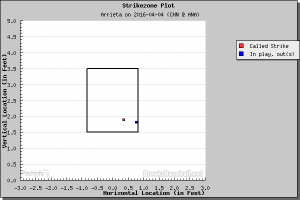 In Mike Trout's first at bat of the 2016 season, he is quickly served with a 95 mph sinker for called strike one from Arrieta. It's as if to say "Hello, and welcome to 2016, Trout." Arrieta, keeping his pitches low and away in an area of the strike zone that Trout is most conservative with, gives a second offering; an 81 mph curveball low and away which Trout lines straight at new Cubs second baseman Ben Zobrist, making his first out of the series.
Second at bat: Trout strikes out swinging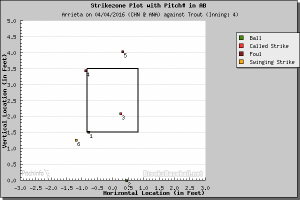 This was certainly a fun at bat. Lasting six pitches with five different offerings, Arrieta really played with the sequencing here. Starting Trout off with a 80 mph curveball low and inside for ball one, Arrieta then amped up the speed; offering up a second pitch slider that went in the dirt for ball two. In a hitters' count now, Arrieta continued to bring the heat as he threw Trout a well located sinker for strike one. Trout then offered at a second sinker, this time on the high inside corner, which he fouled off for strike two. Suddenly, Trout is in a quick jam, a 2-2 count. Arrieta then throws a high fastball, a pitch which Trout has been known to swing at more times than not, and he fouls off another one.
In the final pitch of this sequence, Cubs fans were given a glimpse of a shiny new Arrieta offering we may have forgotten about during the offseason; a slower, harsher breaking changeup. In a cunning move playing with Trout's eye level after two extremely high pitches, Arrieta gets Trout out, serving him with the 88 mph changeup, one of the three he would throw all game. Strike three. A battle of wills, and the astute minded Arrieta wins. However, in order to fully understand the gravity of the new version of this pitch, you should read this piece by Rian Watt.
Third at bat: Trout strikes out swinging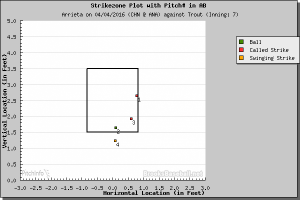 This at bat was quite picturesque, however through no fault of Arrieta's own—it could have been better, but sometimes strike zones are sketchy. In a first pitch slider that just touches the outside edge of the zone, Arrieta gets called strike one on Trout. Here's where things get a bit sketchy; second pitch is a perfectly located sinker right in the lower half of the zone. However, that pitch was called a ball, and had it not been, this could have been quite a compelling three pitch strikeout for Arrieta to get Trout on. But instead, Arrieta salvaged the show by getting the third strike of the sequence in spectacular fashion; a low curveball with nearly 7.5 inches of vertical break that Trout would eagerly offer at. As if to say "Until next time", this would be the note Arrieta would leave Trout on.
Wood vs. Trout
First at bat: Trout flies out to right fielder Jason Heyward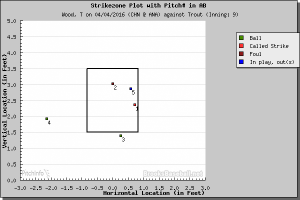 As Travis Wood came in to take over for Arrieta, he quickly peppered the zone with three fastballs to Trout, one for a called strike on the outside edge, the second coming in closer on the hands, with Trout promptly making contact and fouling it off, and the final one just missing the strike zone for ball one. Wood would then come way inside on the hands of Trout with an 85 mph cutter; a pitch which Trout would not offer at, to make the count 2-2. Wood finally puts Trout away on the fifth pitch, a middle away fastball which Trout would get under for a fly out. For someone with lower velocity on his fastball than most and a smaller arsenal since moving to the bullpen, this was most certainly a successful sequence for Wood.
April 5th — Lester vs. Trout
First at bat: Trout lines out to right fielder Jason Heyward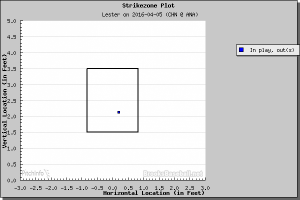 Almost metaphoric of the struggles Trout has endured so far at the plate in this series, this was a quick and dirty out for Lester. Lester would deal a first pitch, 94 mph fastball down the middle to Trout who would swiftly make contact and line out to Jason Heyward. And just like that, 0-for-5.
Second at bat: Trout lines out softly to first baseman Anthony Rizzo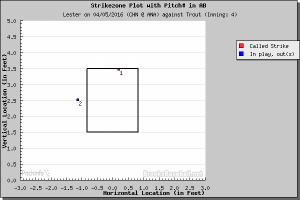 Clean and concise, Lester attempts to exploit Trout's weakness for high fastballs, and though Trout would not offer at the high, 91 mph pitch, Lester still received a strike call, placing it just on the upper edge of the zone. Lester then comes in on Trout's hands with the cutter in an attempt to coax Trout, who has an 80 percent career contact rate, into putting the ball on the bat. He did, making soft contact to promptly line out to Anthony Rizzo on the second pitch. Shameful business for the omnipotent Mike Trout, who would now be 0-6 in the series; and essentially, in 2016.
Third at bat: Trout grounds out to shortstop Addison Russell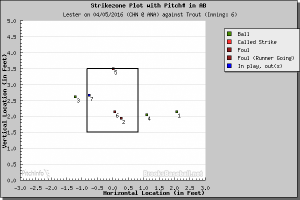 Though only dealing three pitches to obtain the first two outs from Trout, this at bat would be a bit more of a battle for Lester. Lester begins the sequence with a 91 mph fastball way outside for ball one. He then follows up that outside offering with a brilliant sinker in the zone which Trout would foul off. Strike one. Moving laterally, Lester comes in with a cutter, but Trout won't budge. Ball two. Continuing to move laterally, this time attempting to get Trout to expand his zone a bit, Lester throws a fastball outside for for ball three. The battle ensues. Now moving to the upper part of the zone, Lester catches Trout off guard with a high cutter called for his second strike of the sequence. In a full count with a runner on, Lester would throw another cutter, this time in the lower half of the zone, which Trout fouls off. Seventh and final pitch, Lester gets Trout out with an inside fastball that Trout would make weak contact on for a groundout, moving runner Craig Gentry to second. Though not without a bit of sweat on his brow for the final duel, Lester prevails, now making Trout 0-for-7 in the series.
Strop vs. Trout
First at bat: Trout strikes out swinging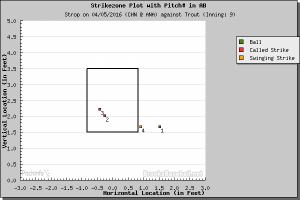 Though many of these at bats were of exceptional precision and skill, this final at bat was most certainly my favorite. Maybe because of the sheer ease in which Strop executed the series' final punchout of Trout. Or maybe simply because no matter who is at bat, Strop's slider is just fun to watch. In this quick, four pitch sequence, Strop would start Trout off with two low 97 mph fastballs, one outside for ball and one inside for called strike one. Strop would then switch to the slider, the first one being an 82 mph called strike. The final pitch of the at bat surely is what made it my favorite to watch. In a 1-2 count, Strop then deals Trout an brilliant slider away which Trout chases for strike three swinging to end his final at bat of the series. In tandem, four different Cubs pitchers of all shapes and sizes, worked together to conquer one of baseball's greatest hitters.
Embrace this little ditty friends, because it will be one of many stories that you will relish about how that crazy good 2015 Cubs team picked up right where they left off only this time sharper, fresher, and stronger, becoming even crazier in 2016. Rendering Mike Trout stupefied going 0-8 in his first series of 2016 isn't a bad note on which to begin that story.
Lead photo courtesy Gary A. Vasquez—USA Today Sports.