When a club is as successful as the Cubs have been since the season got underway, its flaws are sure to stand out just a bit more than they normally would. Still, flaws are hard to find. Not only has the Cubs' hitting and starting pitching been incredibly good, the bullpen has been absolutely dominant as well. Through April, this bullpen had the third best ERA in the National League, serving as major contributors to their recent run of success.
So when you flip the calendar over to May, and notice that reliever Justin Grimm has quickly ballooned his ERA to 5.40 since last Friday's outing against the Nationals at Wrigley Field, it will make you stop and wonder "What's causing Grimm to scuffle?"
Sure, Grimm hasn't cost the Cubs any games during the outings in which he's struggled, but he's certainly turned a few of them into nail biters that, thankfully, the Cubs were able to escape from unscathed.
Grimm only has 11 1/3 innings under his belt as it's still early in the season, and the troublesome outings he's had have only come over the last week, so it's no time to panic. But perhaps there is some indication of the future we can glean from these outings.
The first thing you'll notice when going over Grimm's data on the season is that he's completely eliminated the use of his slider, and hasn't used his sinker yet this year. If you did the math really quickly right there, you've probably figured out what this means—Grimm has become a two-pitch reliever so far in 2016.
Of course, there's nothing wrong with that. Many pitchers out of the bullpen use only two exceptional pitches and have tons of success, and Grimm is most certainly capable of such a feat with the quality of his curveball, and his fastball that sits around 95-96 miles per hour.
Grimm's curveball, in fact, has become an absolute weapon, with nearly seven inches of vertical break, and almost seven inches of horizontal movement making it more of the "slurve" variety than a traditional curveball. "I throw my curve the way most pitchers throw their sliders." Grimm said in April. "I was actually trying to throw a slider. The curve I had before was a different grip. And when I started to throw my slider, after I threw the first couple and I just started throwing it like a curveball (with the wrist turned in), that's when it came to me."
Grimm's curveball is no doubt an exceptional swing and miss pitch, but Grimm's fastball location could potentially become an issue if he continues to be a two-pitch reliever.
Check out the strike zone plots from Grimm's outings on May 6th against the Nationals, and then on Tuesday night against the Padres: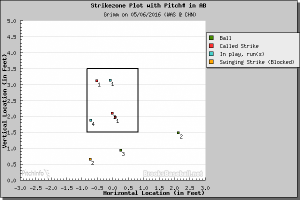 As the legend on right shows you, the light blue pitches are balls in play, and all four of these pitches were fastballs. With the exception of the pitch that was low and inside on Jason Werth last Friday, these fastballs were all left in upper and middle parts of the zone, simply asking to be clobbered.
If you take a look at Grimm's heat map on fastballs thrown in 2016, you'll notice that he's leaving the pitch in the middle of the zone as well as a bit higher up than is favorable quite often: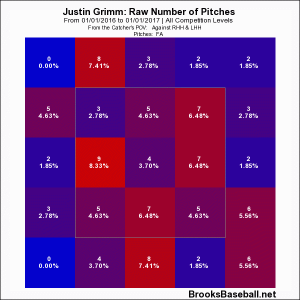 Considering the fact that Grimm's fastball sits around 95-96 mph and he isn't blazing the pitch past hitters to induce a ton of whiffs, it's a little dangerous to be leaving the ball down the middle as often as Grimm has been.
Grimm's curveball is currently generating whiffs at nearly a 21 percent clip this season, while his fastball is being whiffed at just under 8 percent of the time. Both of these whiff rates are almost identical to the rates we saw from these two pitches in 2015, however, Grimm was mixing in his slider a good percentage of the time as well, generating a 30 percent whiff rate on it in the process.
"Right now that slider is really working for me, it's been the equalizer." Grimm said of his slider in May of 2015. Though it was nearly a year ago, Grimm had noticed his struggle to command his fastball consistently, "I'm still honestly trying to find a feel for my fastball, I'm yanking it here and there but it's an easy fix it's just something that I've gotta stay on." he said.
"But you know that slider's been doing wonders, getting me back into counts when I'm behind, it's been the strikeout pitch."
This isn't to say that Grimm can't have success with his fastball. His velocity and location of the pitch really haven't changed much over time. The concern is that when Grimm stops pairing the fastball with his slider and sinker to allow for better sequencing, its flaws are more prominently exposed. Hitters will begin to notice, if they haven't already, that not only has Grimm switched to using just his curve and fastball, but they'll adjust to survive against him. They'll perhaps begin to lay off the curve more and take them for balls, while waiting for the inevitable; Grimm to throw them a somewhat more hittable fastball.
Baseball is a game of adjustments, and it's still early on. We won't know if Grimm is going to simply rely on two pitches moving forward, and it's safe to assume we will see him potentially break out a third and even fourth pitch as the season wears on—especially if he continues to show struggles with the fastball. Right now Grimm is seeing his fastball go for balls in play 24 percent of the time, while throwing 25 percent for strikes and a 35 percent for balls. If Grimm wishes to continue to be the dominant middle relief pitcher the Cubs know he is capable of being and lower his ERA from the unsightly 5.40 that it's currently sitting at, he will need to make a change. Whether that change be working to keep his fastball down and improve his command or adding another pitch to his repertoire remains to be seen.
But for now, the comforting fact is that there has not been a dip in Grimm's velocity, he's not showing extreme control issues, and his curveball is still an exceptional pitch for him. There's just a few things that he'll need to tweak to be the best pitcher he possibly can be, and the Cubs have proven in 2016 that they'll make whatever adjustments necessary to succeed. Surely, Grimm is no different.
Lead photo courtesy Mark J. Rebilas—USA Today Sports.