Until Wednesday's contest with the Cincinnati Reds, Cubs pitcher Adam Warren had not been used as a starter in a game since September 26th of 2015, back when he was a member of the New York Yankees.
Warren is a natural starter, so the Cubs giving him a role as a sixth man in the rotation to give some of the weary rotation a rest wasn't a far-fetched one. But Warren has seen his share of struggles, and there's a reason why he took residency in the bullpen that goes beyond "Well, the Cubs have 5 sufficient starters already."
Despite a fluke 5-3 loss to the Reds at home on Wednesday that put Cubs fans a tad closer to the panic button, this Adam Warren looked like someone the Cubs had not yet seen. He looked like Adam Warren the Capable Starter instead of Adam Warren the Inconsistent Bullpen Arm.
Warren went five strong innings in which he struck out five batters and walked none—something that is quite remarkable for a pitcher who struggles with command issues and has seen his walk rate spike by 3.2 percentage points to 10.9 this season.
Not only did Warren allow just one run, a solo home run to Zack Cozart to start the game, on a poorly located 94-mph fastball right down the middle, but he surrendered just a meager three hits to the 18 Reds batters he faced. 
Warren's stuff looked good. It looked sharp. It looked well located. His fastball showed trademark command issues at times, something that most likely wasn't going to be "fixed" during Warren's time in Triple-A Iowa as much as it was going to be concealed by his ability to more comfortably use his full arsenal as a starter.
Warren's biggest ally as a starter is just that: the flexibility he has to not lean so heavily on his fastball that tops out around 95 mph, and struggles to find the zone at times. Warren threw his fastball 36 percent of the time on Wednesday, a pitch that he threw with 40 percent frequency out of the bullpen earlier this season.
Warren struck out five batters through five innings, including slugger Joey Votto, and Cozart his second time through the order—Cozart whom he had battled with in the first inning before giving up his only earned run of the game. All but one of those strikeouts came via Warren's impressive slider and changeup, secondary pitches that he is able to employ in order to better his sequencing and earn his strikeouts.
Warren's sequencing was strong, which is extremely important for a pitcher that cannot rely simply on the quality of his stuff alone. Take a look at the the strikeout Warren had on Tuesday against notorious Reds first basemen Joey Votto: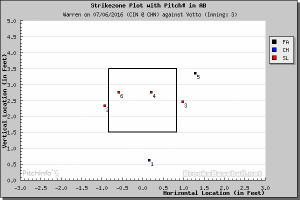 Warren starts Votto off with a changeup, which he takes for ball one, before throwing him an 86-mph slider away that Votto takes for strike one. Warren then peppers two more sliders in the zone, one for a ball and one which Votto fouls off for strike two before coming back with a 94 mph fastball high and inside. Warren then puts Votto away on a foul tipped slider away at 87 mph.
Now check out the sequence from Cozart's second trip to the plate. After his first plate appearance, in which Cozart saw six fastballs before putting one in the Wrigley Field bleachers, Warren executes this sequence quite well to get Cozart out. No fastballs—Warren gives him all changeups and sliders mixed with one sinker and then gets Cozart by working away for the first time in the sequence to induce a swinging third strike on a slider. Quite the impressive approach.
All of this is good and well, good for Warren, and if Cahill had not given up the lead-surrendering home run, it would have been a strong win for the Cubs on the back of Warren's start. But the thing that Cubs fans need to keep in mind is that this is still Adam Warren, and though he may have made a good impression during his five inning stint as a starter for the first time,he was also facing the Cincinnati Reds.
I'm not trying to be a downer here as much as I'm trying to be a realist. The Reds currently own the second-lowest batting average, third-lowest on base percentage, seventh-lowest slugging percentage (thanks to Joey Votto and Great American Smallpark, it's not worse), and the fourth-lowest TAv in baseball. They're striking out at the seventh-highest clip in the majors and walking at the fifth-lowest. They have the ninth-highest swing rate on pitches outside the zone and swinging strike rate, and overall are swinging at the fifth-most pitches in baseball.
So let's temper our expectations when it comes to Adam Warren, the starter. He may have had a strong outing and looked exceptionally good while getting Votto out and showed crafty sequencing skills his second time facing Cozart, but put him up against a hard hitting Mets team that will eat his fastball alive or a Texas Rangers team who are hitting everything in sight these days during the next homestand at Wrigley Field and I don't see Warren being able to stand so tall.
Jason Hammel may be showing struggles that are to be mildly concerning should they continue, John Lackey may have walked more batters on Tuesday than he has all season, and Jake Arrieta may be showing mild control issues—but it's not time to promote someone as unstable as Adam Warren because people are in a panic. The Cubs still have the best starting staff in baseball by nearly half an earned run, and the fifth-best staff by FIP. Warren is good for the exact role he took on against the Reds—spot starter that should be used in emergencies or to give your tired rotation a rest. Let's not try coaxing more out of him than he has to offer.
Lead photo courtesy Kamil Krzaczynski—USA Today Sports.