"We have Kris Bryant, and you don't." Typically, it's a trademark majestic bomb that motivates the popular fan jibe, but on June 27, 2016, it was three of them, plus two doubles thrown in for good measure. On that night, at least, Kris Bryant's awesome offensive firepower was the story du jour.
But closer observation revealed a more striking trend. Through a purposeful effort to change his game, Kris Bryant seems to have traded the hot streaks of his debut season for a continual slow and powerful burn. And on a team that's shown signs of streakiness, consistency is something to feel really good about right now.
That trend hasn't been lost on the team's announcers. On June 27 itself, Kasper stated it clearly. "I think you and I had an epiphany about the same time," he said. "In some ways we might take K.B. for granted because he's just steady-as-she-goes." Deshaies replied in immediate agreement. "I was looking at his splits the other day," he said, "you know, versus left, versus right, and I think if you look at his month by month… everybody's going to rise and fall a little bit, but he has been remarkably consistent."
Their acknowledged oversight was understandable. Until that point in the season, a different Cub had claimed pole position on the team batting leaderboard each month, commanding attention with their fiery swings. April belonged to Dexter Fowler, Ben Zobrist lit it up in May, and Anthony Rizzo took over June. Bryant, meanwhile, hovered just behind their marks, working quality at bats, occasionally exploding, but mostly building an understated, yet notable contribution.
A full year in the making, Bryant's recent accomplishments are rooted in rookie frustration. July 2015 was not kind to the Cubs' phenom, who was struggling through a month-and-a-half long slump, hitting just .165/.283/.361 with a 38 percent strikeout rate. Big league pitchers wasted no time in adapting to the approach that had punished lesser opponents for decades.
Bryant reacted to his first taste of adversity on the big stage in a way few twenty-three year olds could have, adjusting right back and going .326/.398/.572 through the final third. In the excitement of a postseason push, playoff berth, and unanimous Rookie of the Year honors, most forgave and forgot the midsummer nightmare. Kris Bryant did not. A testament to the perfectionism that clearly drives him, Bryant emerged dissatisfied with his up and down debut season.
When the dust cleared in October, Bryant had landed at an irritating 99 RBIs and an embarrassing 199 Ks, and it was back to work in the offseason with a sizable chip on his shoulder (a scary prospect, indeed, for the rest of the field). By tinkering with his swing plane and honing his two-strike approach, Bryant enabled a more consistently productive second season with the Cubs.
In describing his motivation, Bryant explained, "I'm always wanting to do better. I thought last year I had a good year, but I wasn't satisfied at all. I popped up way too many balls or missed some I should have crushed. I committed to making a swing thought change just to be more flat with my swing… It might take away some home runs, but you make more contact, and for me that was a chance I wanted to take."
Amazingly, he had the presence of mind, self-discipline, and maturity to plan for doing more by actually doing less. Where others may fall victim to the dreaded "sophomore slump," trying to match or exceed a breakout first season with suddenly-obsolete habits, Bryant accepted the risk of a new plate approach head on. Teammate Jason Heyward acknowledged the impact this thought change has had: "He has a good approach to the game every day. He wants to get better and be himself as well. I told him in spring training. 'I don't see a sophomore slump because your approach is such a great approach. You're not trying to do too much.'"
Joe Maddon has been similarly thrilled with his young superstar's mindset, saying, "You don't often see a young player take that—I don't want to say risk or chance because it was the right thing to do—but be able to wrap his mind around it and be okay with it and succeed. His at-bats right now are spectacular." The day after Bryant laid waste to Reds' pitching in unprecedented style, Maddon expounded on the subtle difference with his swing this year that's yielding significantly better results:
"He used to kind of cover the ball, a little bit more top spin, come around it. It's the same kind of path—uppercut—but there's a greater finish, and he's longer through the ball, extending out in front of him. He's not cutting it off, and it's really short. If you play it back on a videotape, you can see how short the swing is. He hits in kind of a closed stance position, which is unusual today, and that also permits him to drive the ball to right center and center field… the finish stays longer through the ball, that would be the term, and it just still has that uppercut to create the launch angle. It's not a whole lot different, but it's slightly different in a positive way."
The new approach has proven to be both productive and slump-resistant thus far. Once Bryant's batting average stabilized a few weeks in, he has performed steadily at a sustainable, above-average clip. At the break, Bryant's average sat neck and neck with teammates Zobrist and Rizzo, but without the roller coaster fluctuations the veterans each experienced this season. Steady-as-she-goes, indeed: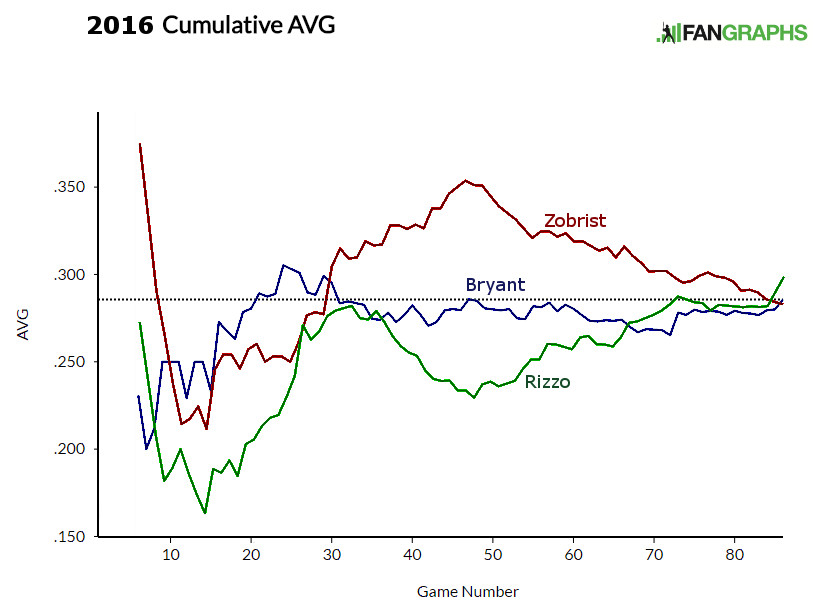 For Bryant, consistency at the plate has resulted in roughly equivalent walks, eight percent fewer strikeouts, and a nearly doubled rate of  home runs compared to this point 2015. So much for trading power for contact! Combined with versatile dependability in the six (!) fielding positions he has occupied to date, Bryant has easily surpassed both Zobrist and Rizzo in 2016 WAR and done it in near linear fashion since the season began: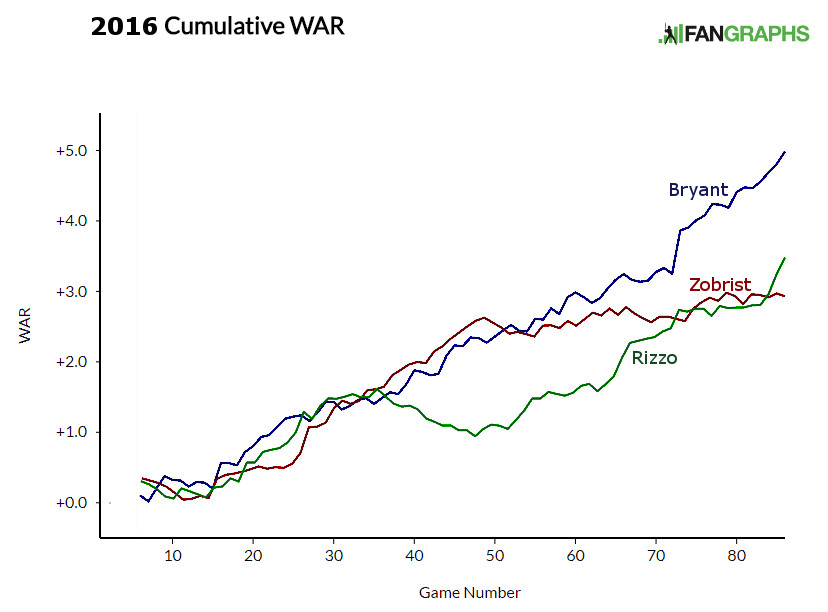 Incredibly, the full realization of what he has done was not the most impressive feature to emerge that night in Cincinnati. The real beauty of Kris Bryant shone through the spectacle after the biggest game of his life. For all the work Bryant has put in since last season, and the success he has experienced in avoiding skids and producing for his team, he remains far from content. After swinging the bat in a way unheard of since at least 1913, and with a raucous team celebration awaiting him, Bryant was all business with the WGN postgame interview crew:
"For me, I like to be the consistent player. Obviously tonight was one of those, more of the flashy nights, but I like to do what I can to minimize those valleys… I [also] want to try to use the whole field more. I know I'm at my best when I'm going to right center, but they've been pitching me in. And I think there's a lot of positives to take from that, and that I'm pulling the ball a lot better this year, but I'd like to get back to what I've done my whole life, and that's hit the ball to right center, and hopefully I can get there." Yes, he hit five extra-base hits in five attempts. But he pulled them to left, so clearly there is more work to be done. It would almost be comical if not delivered with such humble sincerity.
It's true that Bryant's 2016 spray chart so far appears a bit pull-heavy. Excepting a few dingers to straightaway center, all of his blasts have exited in left. His doubles also favor left field, and he has yet to produce any opposite-gap triples, which he achieved five times last season: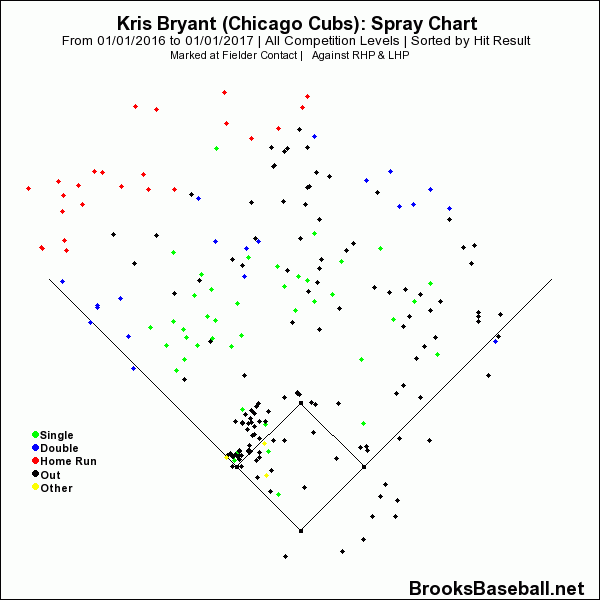 While Joe Maddon would never complain about anything his team leader in WAR is doing, commentary from last year may reveal that he is also looking for Bryant to improve upon his first-half performance. After ripping one of those triples to right in 2015, Maddon explained:
"That's who he is. His left-field foul line should be left-center and then move it over from there. If he's hooking the ball a lot, he's not going to be happy… You'll see a lot of home runs to right-center. He's one of those rare dudes who can hit the ball out to the opposite gap in any ballpark… When a young hitter hits the opposite-field gap well, that really excites me. As a hitting instructor, the easiest thing to teach a hitter to do is to pull the ball. The more difficult one is the [opposite] gap hard. When a guy comes equipped with those bells and whistles, that's really exciting, and he has that."
So even though Bryant's quicker swing, more level path through the ball, and adaptation to how pitchers are dealing with him has not sacrificed home run power, it may have cost him some likelihood of going oppo. Rest assured, Bryant won't rest until he finds that weapon again. After all, a perfectionist's adjustments are never done.
And that's really the moral of the story for these temporarily floundering 2016 Cubs. Clubhouse leader David Ross hopes Bryant's unassuming sophomore statement sends a clear message throughout the roster: "When you see the superstars make adjustments for the betterment of the group, you don't have an excuse if you're not that guy, right? Javy Baez doesn't have an excuse not to have a two-strike approach. Or Tommy La Stella. Or Matt Szczur. Or whoever comes up and is gonna be a part of this group."
With peer leadership such a prominent feature of the Cubs culture under Maddon, a second-half return to normalcy (or a reasonable facsimile to the "normal" of that blazing spring) seems inevitable if key DL-stinters return and the rest can play follow-the-leader with Kris Bryant. Hopefully he remains a sparkling example of how humility-driven growth can be rewarded in this game. Because, as Joe knows, making those necessary adjustments is no small task:
"… you need the when-the-student-is-ready-the-teacher-will-appear kind of moment… When you have that as a coach or a teacher, that's such a wonderful moment. So many times guys just think they have it wrapped [and say], 'I've been so successful, why would I ever want to change?' So to make that change on a major-league level as well as [Bryant] did, that's not easy."
Anyone who watches Kris Bryant play knows they are witnessing something special. Just how special remains to be seen, but he is clearly taking control of his own potential. Bryant and Maddon both know there is another level yet to be found, and fortunate fans are unlikely to run out of reasons to taunt others with his name.
As for the "Kris Bryant Game," I have to respectfully declare it a misnomer. A mid-slump bright spot in late June just doesn't quite deserve it. Bryant's relentless determination and consistent approach means he may never have a better night for himself, but he will almost certainly have a bigger night for his team. If he only gets one, let's save it for crisper weather.
Lead photo courtesy Gary A. Vazquez—USA Today Sports.