Things look a little different now than they might have earlier, with John Lackey out. There's no more Adam Warren to fall back on, Trevor Cahill has been used for extended outings quite a lot of late, and Travis Wood has been beat up a bit after shouldering an extensive workload. If you don't think too hard, there just doesn't seem to be anyone up to the task of picking Lackey's baton up and running with it.
Enter Mike Montgomery, who just one short month ago wasn't a twinkle in any Cubs fans eyes. He wasn't even a rumour on their lips. But as the Cubs found themselves in a bind with one of their best starters on the DL in the thick of a playoff race, Montgomery stepped up and delivered 4 ⅓ innings of some of the most impressive pitching I've seen from a Cubs spot starter since… well, a very long time.
Montgomery didn't just do his job on the mound, he did it with ease, grace, and consistency. A casual baseball observer would look at him and not even think twice. It looked as though Montgomery had been doing this starting pitching thing his whole life. But this was only Montgomery's first start in over a month, and only his third start of the season. 
"It's an easy delivery, an easy everything," Maddon said of Montgomery's start on Saturday. "He's pitching with confidence. I see him settling [in]."
Montgomery dazzled, raking up an impressive five strikeouts, just two walks, and only allowed one hit—a solo home run in the fifth inning to catcher Nick Hundley on a cut fastball that Hundley just happened to be on top of. The thing is, it wasn't even a bad pitch, it was just one of those tip-your-cap moments where the batter simply beats you. 
Not only did Montgomery stitch together an impressive start that was only cut short due to a very closely monitored pitch count (Montgomery threw just 61 pitches before being promptly pulled after the home run), but he did it in one of the hardest ballparks to pitch in—Coors Field. Let that sink in. One home run. Spot starter. Coors Field. 
 The Rockies haven't had themselves a terrible season, either. It's not as if Montgomery was hurling his 93 mph fastball past kids in rookie ball and stacking up the whiffs. Take a look at where the Rockies rank in these offensive categories. This the caliber of lineup that Montgomery went up against on Saturday:
| | | |
| --- | --- | --- |
| | Total | MLB Rank |
| AVG | .273 | 2nd |
| OBP | .338 | 3rd |
| SLG | .457 | 2nd |
| ISO | .184 | 6th |
| K% | 21.1 | 15th |
| BB% | 8.3 | 11th |
The Rockies are among the top three in all of baseball in offensive categories, hanging out with company such as the hit machine that is the 2016 Red Sox, and on base fiends in the Chicago Cubs themselves. Though they may be middle of the pack in strikeouts, at least that proves that they're striking out at a league average clip, and aren't simply boosting the public's perception of Mongomery's talent under the guise of being a swing prone team (for the record, the Rockies swinging strike rate is just around 10 percent, a touch higher than league average at 18th-best).
Montgomery displayed two key aspects of his game on Saturday which are essential to the makeup of a good pitcher: He had excellent command of his fastball, and he controlled all his pitches impeccably.
Let's take a look at a few sequences that stood out to me during Montgomery's outing.
Innings 3 – Cristhian Adames – Strikeout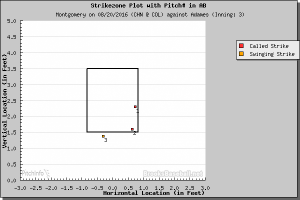 In a brilliant demonstration of the aforementioned fastball command, Montgomery quickly put away Rockies infielder Cristhian Adames on just three pitches. Adames, despite his weak offensive contributions this season, is only striking out at an 18 percent clip.
Montgomery danced on the edges with a middle away fastball to begin the sequence, which went for a called strike, before hitting the low and away corner for the second called strike of the at bat. Adames then whiffs on a 77 mph curveball just outside the zone for the final strike of the sequence and Montgomery's third strikeout on the evening.
The ability to live on the edges with precision, while also changing speeds and providing deception to induce a swing-and-miss for a final strike is something that Montgomery demonstrated well in this at bat—and something that he seems to show the ability to do with consistency.
Inning 4 – DJ LaMahieu – Walk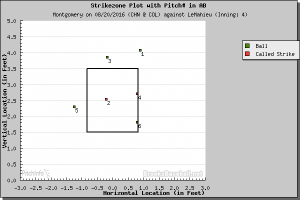 The most interesting takeaway from Montgomery's two walks is that both walks came on a somewhat high pitch count, eight and six pitches, respectively. These weren't four pitch walks, and it could even be argued that in this sequence, Montgomery could have received a third called strike on his sixth pitch for a strikeout instead of what became his second walk of the evening, seeing as it was on the edge of the strike zone nearly in the same vertical position as the fourth pitch, a curveball which was called for strike two.
With strong ability to change eye levels, and the deception of throwing a 75 mph curveball away in the middle of a sea of 92 mph fastballs that were peppering all parts of the plate, Montgomery showed his crafty ability to maintain a strong battle at the plate with a hitter.
To say I was impressed by Montgomery's consistency is a bit of an understatement, and to say that baseball folks feel as though Montgomery may have a strong future with the Cubs is quite realistic.
"We think he can be very, very helpful to us," said Maddon of Montgomery postgame on Saturday, indicating that there is some sort of piqued interest about the capacity in which Montgomery may contribute to this club going forward. "Not just pedestrian. This guy can be very good."
And it seems that Montgomery is all in on the idea of becoming a long term starter with the Cubs. "They've mentioned that, and I've said that's what I want to do," Montgomery said.
With the Cubs attempting to keep as many of their well established starters as fresh as possible for a quickly approaching October, Montgomery couldn't have picked a better time to show that he's able to step up and offer a bit of relief to a tired rotation.
The Cubs may not know what the future holds for their relationship with Montgomery, but right now the focus should be on the present, and Montgomery is aiding as best he can during this crucial time. Montgomery is slated for another start in Los Angeles against the Dodgers on Friday, and as we've seen before, good things tend to happen to Cubs pitchers at Dodger Stadium.
Lead photo courtesy Isaiah J. Downing—USA Today Sports.