Addison Russell has really come on lately, which has to leave Cubs fans with an extra fuzzy feeling. The 22-year-old shortstop is most prominently known for his excellent defense in the field, so the fact that he has 18 home runs and an above league average OPS at .767 is all just bonus points. With MVP candidates such as Kris Bryant and Anthony Rizzo hitting at the top of the lineup, Willson Contreras playing a big role, and Javier Baez opening eyes with his better contact rates, you can forgive people if they just don't think about Addy's offense too frequently.
Russell is hitting .249/.337/.430 on the year with 3.1 WARP, making him one of the better shortstops in the game. It's hard not to feel like Russell is often overshadowed on offense by his teammates, but you can't argue with that production.
There is something a little weird in the numbers, however. Despite being a right-handed hitter, Russell has a reverse split to this point in his career—essentially, he's better against pitchers that are same-handed. He's actually been quite a bit better against righties and not-so-good against left-handed pitchers. Here are the splits for his career and for 2016.

First thing that jumps off the page is that Russell has been very consistent against right-handed pitchers since he first came up in 2015, while he's shown some improvement at getting on base and slugging against left-handers in 2016. It's not incredibly uncommon for a guy to have a reverse split like Russell's, but what does make it a bit of a headscratcher is how he's done it. He generally has supplied the contact, and even hit the ball on a line, but he's had less to show for it against lefties.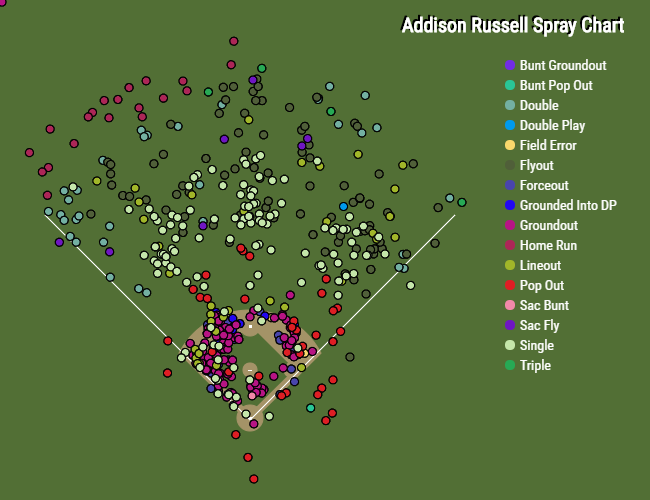 Here we have his spray chart against right-handed pitchers, since entering the league in April of 2015. All of his home runs have gone to center or left-center, which generally isn't all that surprising. But otherwise, the majority of his balls hit to the outfield have been sprayed fairly evenly from left to center to right.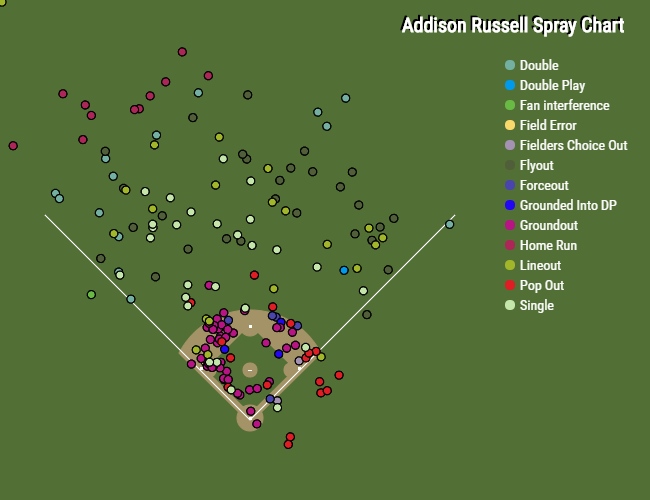 We can see here that Russell hits primarily to pull against left-handed pitchers. By the numbers, he drives the ball to left field about 23 percent of the time, center field 16 percent, and right field 11 percent. Of his 52 hits collected against left-handed pitchers, only three of them were hit into the outfield in right.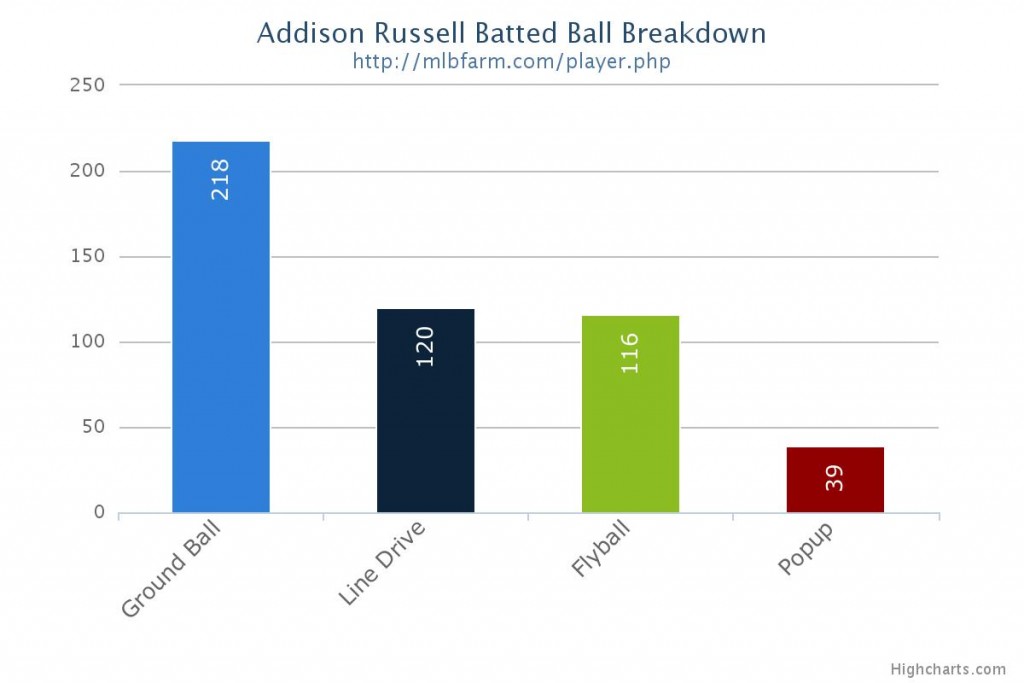 So here's where it actually gets interesting. Per plate appearance, Russell strikes out 25.8 percent of the time against right-handers, but his balls in play really tell the tale. 44.2 percent are groundballs, 24.3 percent are line drives, and 31.4 percent are in the air—either a flyout or a popup.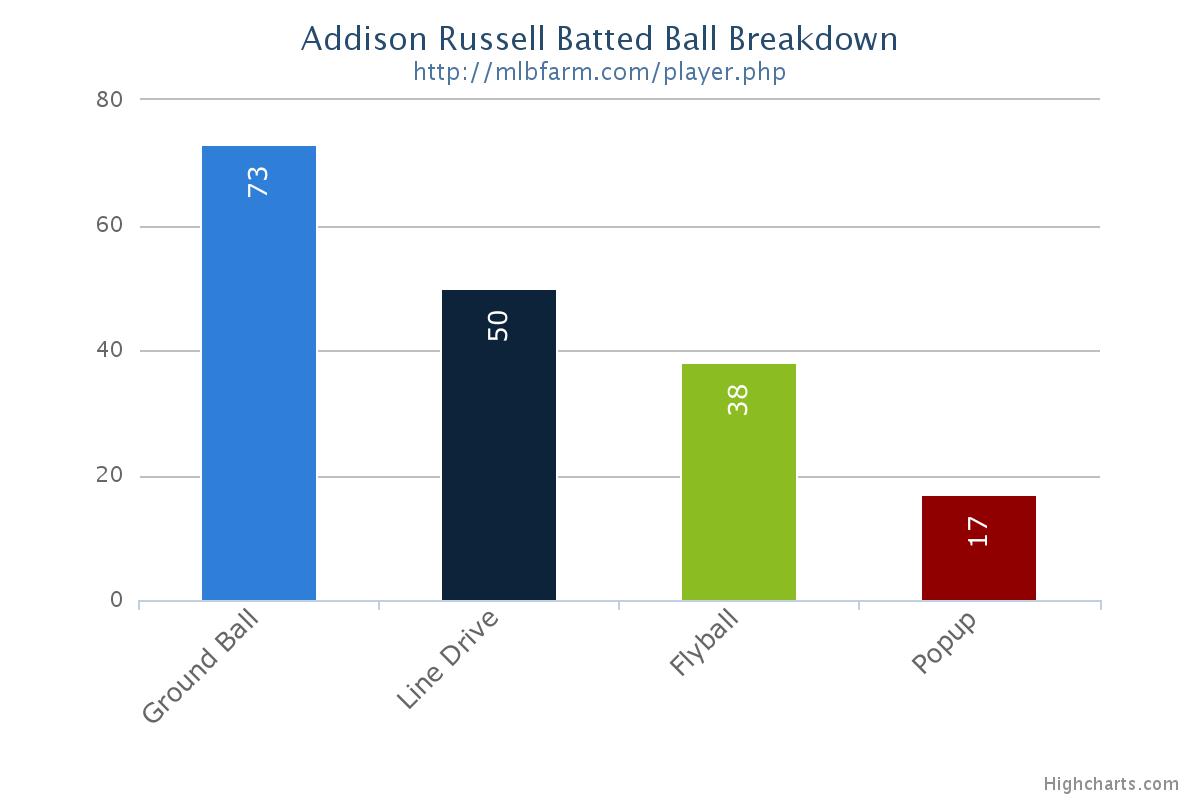 Per plate appearance, Russell strikes out 24.8 percent against left-handed pitchers—or just a hair less than against right-handers. He's at 41.0 percent on groundballs, 28.1 percent on line drives, and 30.9 percent on balls in the air. Why, if he is hitting more line drives and less groundballs with a strikeout rate that's nominally different, is Russell so much better against right-handed pitchers? The implication is weaker contact. Check out the exit velocity for the last two years, split by pitcher handedness.
2015: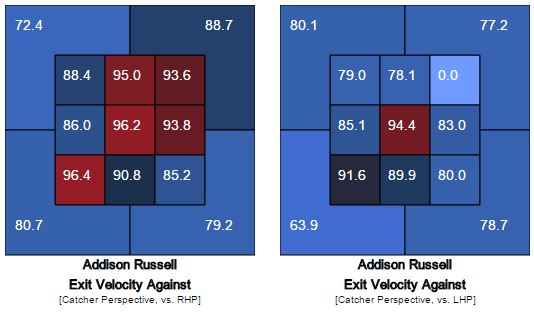 2016: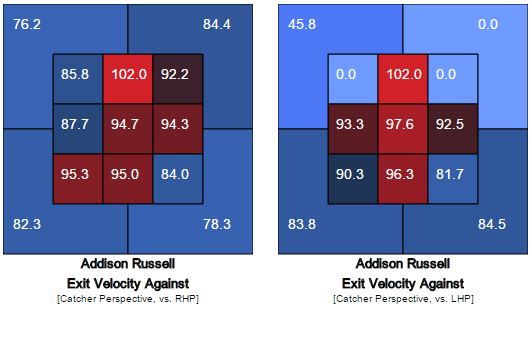 There have been some improvements made this year, but overall there are still holes high in Russell's zone. Left-handed pitchers that throw the ball high to Russell generally have found ways to get him out, or at the very least to induce weak contact. Russell swings at 33.8 percent of pitches that are thrown high from lefties—either in the zone or out of it—out of a total of 260 pitches seen. He's only hit two line drives and has collected just six hits in 39 at-bats.
Compare that to his numbers against righties. He actually swings more against high pitches, at a 40.5 percent rate. This might actually have to do with feeling more comfortable with handling those pitches—he has a 26 percent line drive rate and swings and misses just 14.9 percent of the time.
So, Russell needs to figure out how to lay off those high pitches from left-handed pitchers. As a 22-year-old hitter, his development path indicates just how special he is. Russell nearly has 20 home runs on the season already, something that a Cubs shortstop hasn't accomplished since 2003 when Alex Gonzalez did the trick. The Cubs haven't had a player younger than Russell accomplish the feat since 1961, when a 21-year-old Ron Santo clubbed 23 homers.
As he becomes a more complete hitter, there's no doubt that Russell will transform into one of the most valuable players on the roster. With his tremendous defense, combined with his blossoming power, he's already one of the biggest unsung heroes of the 2016 Cubs—and he's only really been getting going in the last few weeks. But to even begin to imagine how good he might be with the benefit of two or three more seasons of development and adjustment? The ceiling for Russell is sky high.
Lead photo courtesy Jake Roth—USA Today Sports.