I don't know if you've heard, but Jason Heyward isn't having a very good season. He started slow, and most of us thought—based on his extensive track record—that he'd simply figure it out at some point. Well, here we are having just finished Game 5 of the NLCS, and Heyward hasn't figured it out. After his 0-for-4 in Game 5, Heyward is now 2-for-28 so far in the postseason with eight strikeouts. Those two hits were a double and a triple, but overall it's been just like watching the regular season: popups and 4-3 groundouts galore.
I wish there were a simple fix for this. Some sort of adjustment at the plate, mechanical change, or even just better pitch selection. But we're way past all of that, even if manager Joe Maddon isn't admitting it publicly.
"With a player like him, just be patient," Maddon said before Game 3 of this best-of-five (NLDS) series. "In some ways, it's not unlike Jon Lester. He got off to a tough start last year, but he did come on at the end of the year. To a certain extent, I think the same thing has happened with Jason."
The difference is that Lester had a late start to spring training in 2015 because of a 'dead arm' problem, and had a rough April as a result. But from May 1st through the end of the season, Lester had a 2.99 ERA in 28 starts with 183 strikeouts in 183 1/3 innings. As far as comparisons go, this one isn't exactly fair.
"I really do believe you're going to see a big jump in his offense next year," Maddon said. "He's going to have time to make the adjustments. He's going to have time to think things through. He's going to be more comfortable here next year. And for all those different reasons, I think you're going to see more."
Next year. Now there are some words that Cubs fans are familiar with. I don't necessarily disagree with Maddon's take here, as he expands on his feelings on the Heyward conundrum. With plenty of time in the offseason to focus on completely overhauling the many problems with his swing, which have resulted in a complete lack of ability to hit anything with authority, there's still hope that he could find his swing again.
But it's not happening this year.
The argument for keeping Heyward in the lineup has been that it supplies the Cubs with a quality defensive outfielder, a fact that is unquestionable. Heyward has won three Gold Gloves so far in his career and the advanced stats back up what our eyes are telling us—in seven years in the big leagues, Heyward has 69.6 Fielding Runs Above Average (FRAA).
Part of the problem with continuing to put Heyward in the lineup is that, while he's a great outfielder, the Cubs have another great outfielder sitting on the bench in Albert Almora. The difference between the two in the outfield probably isn't measurable, although the advanced stats won't tell you much of a story in the small sample that Almora has supplied.
Almora is more of an unknown with the bat, as a rookie with less than 120 plate appearances in the big leagues, but is 'unknown' at the plate really worse than what we know about Heyward? That may sound harsh, but it's really hard to make an argument that you would definitely be downgrading the team by putting Almora in right field going forward.
And that goes double because of the pitchers the Cubs could be set to face the rest of the way. They're guaranteed to go up against left-hander Clayton Kershaw in Game 6 tonight at Wrigley Field, on a night when the Cubs are going to need every run possible to beat the Dodgers' ace and make their first trip to the World Series in approximately 247 years. Everyone is bad against Kershaw, right-handed and left-handed alike, so there really isn't a ton of analysis to be had there. But Heyward is especially unlikely to have a big hit at any point in that matchup—he hit .207/.300/.286 against lefties this season and .227/.307/.343 in his career.
Should the series extend to Game 7 tomorrow, the Dodgers will send Rich Hill to the mound against the Cubs. Outside of the same problem with Hill being a left-handed pitcher, he also throws a ton of curveballs—which happens to be his best pitch. Heyward struggled heavily against curveballs this season, hitting .196 with a .226 slugging percentage (via Brooks Baseball).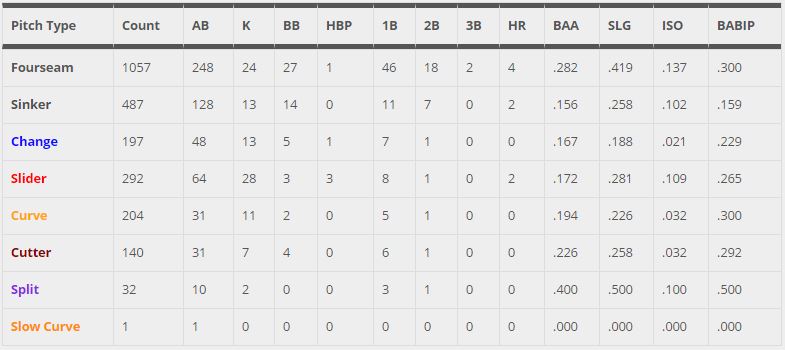 Maddon sat Heyward for Game 3 against Hill, and should they be playing Game 7 I'd expect he'll sit again. If the Cubs are able to advance to the World Series, which is overwhelming to even think about, Maddon should strongly consider continuing to use Heyward strictly as a late defensive replacement.
The likely Game 1 starter for the Cleveland Indians is Corey Kluber, who throws primarily two-seam fastballs, cutters, and sliders, with a four-seam fastball as essentially his fourth pitch. Other pitchers the Indians are likely to put out on the mound include drone-enthusiast Trevor Bauer and right-hander Josh Tomlin. Your guess is as good as mine on the fourth starter, but given his performance in the ALCS against the Toronto Blue Jays it might end up being lefty Ryan Merritt.
Despite the narrative about Heyward not being able to hit the four-seam fastball—it is true that he's below average against them—it's actually the only pitch that he's handled reasonably well this season. His .282 average and .419 slugging percentage are the best of any pitch he faced with regularity this season.
For Heyward to have success at the plate, he needs to run into a mediocre four-seam fastball. He won't find many of those with Kluber. Bauer does throw a four-seamer, but he also has a two-seamer, changeup, cutter, and a curveball. Tomlin throws a cutter about 40 percent of the time and also has a curveball that left-handed hitters tend to struggle with, batting .128 with a .255 slugging percentage this season. There isn't much data on Merritt, but he's a soft-tossing left-hander—inherently not a good matchup for Heyward.
No matter how you look at it, there really aren't good matchups remaining in the playoffs to get Jason Heyward into the lineup. There's no guarantee that the Cubs advance to the World Series, but if they do Maddon should accept that his best chance to get any kind of offensive production out of right field might mean penciling somebody else into the lineup.
Lead photo courtesy Jon Durr—USA Today Sports.