Mike Montgomery made his first career start in the majors on June 2, 2015 against the New York Yankees. His box score from the night is innocuous—six innings, 24 batters, four hits, a run, a walk, and four strikeouts. That he would be, just sixteen months later, pitching the final out of Game Seven of the World Series couldn't have been what was on his mind. That he would be looking ahead to the 2017 season with the plan of joining a rotation filled with Cy Young winners and candidates—past and present—would probably not have occurred to him then either.
But that's the question that lingers over Montgomery as the baseball calendar rolls into winter GM meetings and the hot stove warms up. Given the release of Jason Hammel and the now-open spot in the rotation, Montgomery has been very plain about the fact that he expects to be in the conversation.
Montgomery: "I'm coming into spring training as a starter" #Cubs

— MLB Network Radio (@MLBNetworkRadio) November 9, 2016
Montgomery embraced the nebulous role that Joe Maddon thrust him into when the Cubs acquired him in a trade for Dan Vogelbach, functioning as long reliever, spot starter, and, when the need was there, get-the-final-out-guy in Game Seven. In all, he logged 14.1 innings in the postseason. Innings that, unmarred by a shoddy NLCS showing, got the job done.
The question going into 2017, then, isn't whether he can be the pitching utility man. It's whether he can cement himself into an already-deep rotation. And he does have a track record that can offer a glimpse, so it's worth starting there.
In 2015, he was used exclusively in that role, making sixteen starts across the months of June, July, and August. Collectively, that equaled 90 innings, a 4.60 ERA, and a DRA of 4.43. These numbers were probably as much the product of getting blown up in a handful of starts that year as they were the product of generally below-average performance. Specifically, he struggled July 22 in Detroit (2.2 IP, 6 ER), August 14 in Boston (2.1 IP, 9 ER), and his last start in the majors that season, August 25 against Oakland (1.1 IP, 5 ER). Without those, there were plenty of starts which held great promise, and a few that showed brilliance. Consider especially his back-to-back starts in late June 2015: the 23rd against the World Series champions-to-be Royals (9 IP, 0 ER, 10 K), and the 30th in San Diego (9 IP, 0 ER, 7 K). It's also worth noting that in the ten strikeout performance against Kansas City, he didn't walk a single batter.
But this past season, the Mariners, though they made him a part of their pitching staff from the very start of the season, used him almost exclusively in the bullpen. He pitched in relief in every appearance until making two starts for Seattle in early July before joining the Cubs. Chicago used him in five spot starts—all appearing consecutively—and he did a perfectly sturdy job of it during that stretch. His joining the rotation from late August until mid-September served the immediate purpose of keeping the arms of Jon Lester, Kyle Hendricks, and Jake Arrieta fresh for the postseason, but given where things stand now, in mid-November, it's clear that there were other motivations at play as well.
So while Montgomery provides the simple perk of adding a southpaw to the rotation to compliment Lester, the other side of that coin is the possibility of Andrew Miller-esque potential. Maybe that's a reach, but Miller was once an on-again, off-again starter, too, though he never experienced much success in that role.
Right now that's a greater question mark, so assuming that he at least enters spring training in February intent on being a starter, his repertoire merits a close look. He comes with five pitches, but it's the four-seam fastball and the curveball that are his bread and butter. Those comprised about 65 percent of the pitches he threw this year. But it's the changeup, oh, the changeup, that is the murderous one in the bunch. He threw it just 169 times this season, but it coaxed swings from opposing hitters well over half of the time, and they whiffed at that pitch practically 30 percent of the time. Montgomery used the change nearly only against right-handed batters (156 of 169 uses), and it was especially savage on them. If his use of the pitch against lefties is taken out of the equation, that whiff rate jumps almost two percent.
Understandably then, Montgomery upped his changeup frequency as he saw opposing batters more often. This season, that meant dialing back fastball use and ramping up the change.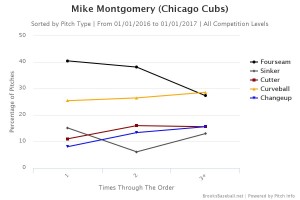 That might give the best clue of the type of starter he could be, if used on a full-time basis in that role. Two times through the order, he offers mostly the fastball and curve, but as the game wears on, he further introduces the breaking pitch. And the more batters see that pitch into the fifth and sixth innings, the more they miss at it.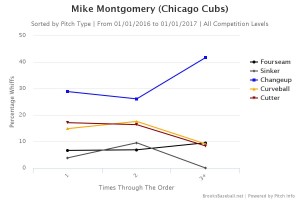 This suggests the kind of pitcher capable of functioning successfully beyond just two or three inning appearances. While his addition to the rotation would mean a subtraction of a left-handed option from the bullpen, his greatest value might be in rounding out the starting staff and serving as the bridge from the back of that rotation to its beginning, whatever that looks like come next April.
Lead photo courtesy of Tommy Gilligan—USA Today Sports