The Cubs spent a bulk of their resources over the course of the winter upgrading their bullpen. They not only upgraded the quality of arms on the Major League team, but stockpiled potential depth options in the likely event that a multitude of additional arms become necessary. But beyond this season the picture is somewhat unclear for their relief corps. While the likes of Pedro Strop and Hector Rondon should be around for at least the next couple of years, their pair of impact additions in the 'pen, in Wade Davis and Koji Uehara, are only guaranteed to be in Chicago for 2017. Which makes the presence of Carl Edwards, Jr. all the more significant.
Originally breaking into the professional ranks as a starter, Edwards was converted to a full-time reliever upon his arrival to the Triple-A and Major League levels. His skill set and physical stature made the move the logical choice and will quite likely result in him being a more effective player over the long term.
Carl Edwards' pitch mix is one that should set him up for a wealth of success, especially if what we saw last year is any indication. He offers a mid-90s fastball that has the ability to touch the upper-90s, which he couples with a devastating curve. There's a changeup in there somewhere too, but it was rarely utilized throughout the season, as indicated by his pitch usage in 2016: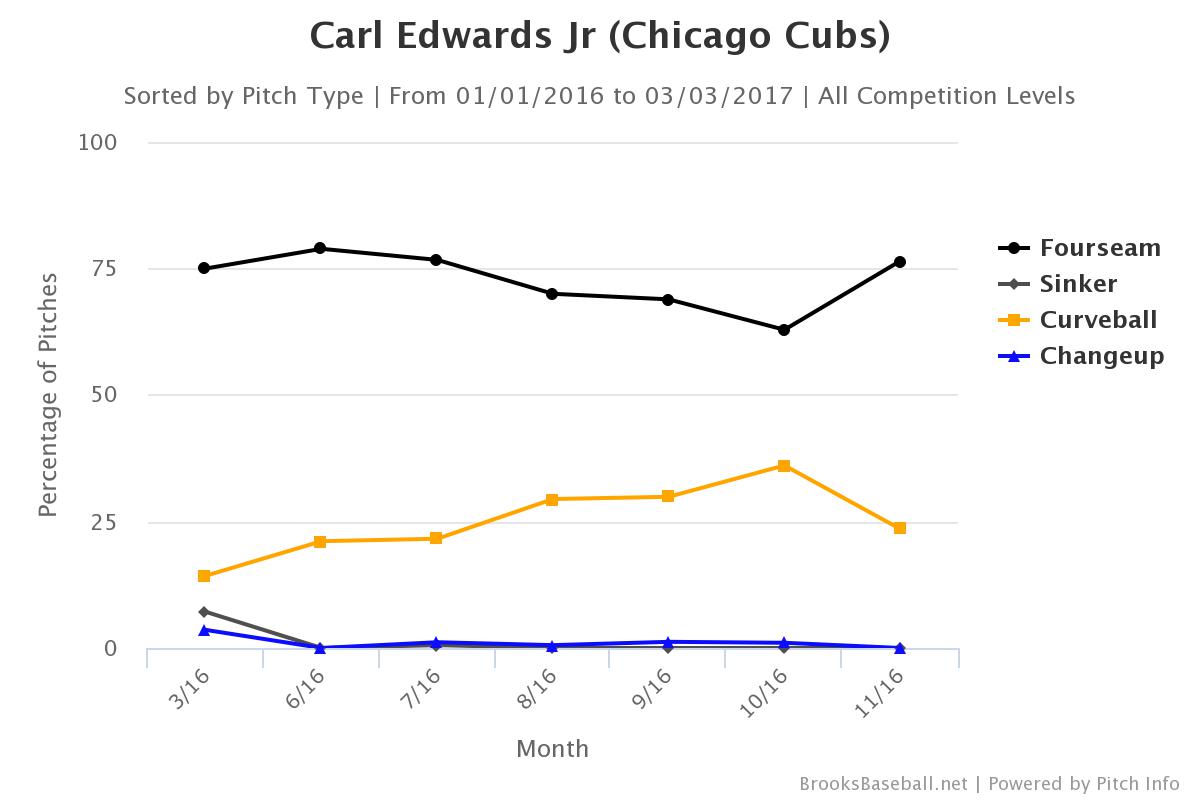 Across 36 innings in 2016, Edwards flashed an arsenal and a statistical output that could have him ranking among the very best relief pitchers in baseball in the not-too-distant future. The FIP indicates he was better than his ERA would tell you, but there's a whole lot more to Edwards' performance in 2016 that lends itself to the excitement that one should have for his upside moving forward.
| ERA | FIP | K% | BB% | WHIP |
| --- | --- | --- | --- | --- |
| 3.75 | 2.91 | 37.7 | 10.1 | 0.81 |
Using a minimum of 30 innings pitched as a baseline, given that Edwards only tossed in 36 last year, he ranks among the very best out of the bullpen in a variety of aspects. The 37.7 percent strikeout percentage ranked seventh among a group that featured 222 players. You'd like him to improve the walk rate, of course, as it came in 67th in terms of the highest BB%, but he didn't allow many baserunners even with that in mind. That WHIP was dynamite and ranked third among that same group. Edwards also posted a LOB% of 59.8, which is not terrific but is made easier to tolerate because of such low traffic allowed on the basepaths.
| Swing% | Contact% | SwStr% | GB% | Soft% | Hard% |
| --- | --- | --- | --- | --- | --- |
| 47.4 | 60.7 | 39.3 | 50.0 | 25.0 | 27.8 |
**Soft & Hard Contact Figures via FanGraphs
Edwards pitched to one of the three lowest contact percentages among that same group of pitchers, while featuring one of the highest swinging strike rates. That's obviously a formula for success, but when you talk about his pitch mix, it becomes abundantly clear as to why opposing hitters not only have trouble making quality contact, let alone any contact at all. Edwards ranked in the top 20 relievers among that group in terms of inducing soft contact.
Perhaps nothing demonstrated the Cubs' confidence in their young reliever more so than when they pressed him into duty in the 10th inning of Game Seven of last year's World Series. While the eventual save went to Mike Montgomery, the fact that Edwards even found himself in that situation speaks to the level of faith that the Cubs have in him at this very moment. And as he continues to adapt to the Major League level and utilize that stuff in late-game situations, that confidence should only continue to flourish.
We often hear of a pitcher who has "closer's stuff", and it's difficult to think of a more accurate depiction of that idea for the Chicago Cubs than Carl Edwards, Jr. It's certainly possible that Wade Davis becomes a solution for ninth inning duty beyond the 2017 season, and there are certainly other candidates as well, most notably Hector Rondon who filled the role prior to the combination of Aroldis Chapman's arrival and some health woes late in the season that bumped him from the closer spot. But one has to imagine that Carl Edwards, Jr. has as much of a chance and the upside to fill that role for an extensive period of time.
A fastball that averaged 95 MPH for much of the season, as well as months where it touched 96. A curveball that Brooks Baseball measured to induce whiffs nearly a quarter of the time, at 23.76 percent. And if he mixes in a change even just a bit more? With the already present arsenal and a hope that he can cut down on the walks just a touch, we're absolutely looking at a player who could very well fill the ninth inning for quite some time on the North Side. His continued development will be one of the most intriguing elements of what is an already extremely interesting bullpen situation.
Lead photo courtesy David Kohl—USA Today Sports