Hi, it's me. The man on the mountain who's here to instill panic in you about the top of the Cubs rotation. And you were so excited for the new season, weren't you? Hadn't even noticed the wind was biting, did you? I kill what you love.
Actually, it's not that bad. But it's worth noting. I don't think it will get bad. It just might not be what we thought? Some things aren't as they appear.
There's a gloss to Jon Lester's 2016 season. I wonder if it doesn't have something to do with the drop in Arrieta's 2016 performance from his Cy Young campaign. While Arrieta had trouble finding the plate from late-June on, Lester was very steady. Because of this, he started all three Game 1s and both Game 5s in the postseason. And only one of those was a sub-standard start, the World Series Game 1. He was nails in his other three playoff starts.
And here's the thing that I feel like I'm supposed to whisper….Jon Lester was better in 2015.
I know. I didn't really believe it either. We don't think of his 2015 as better because Arrieta was inhaling the sun. Everyone tends to get lost in that. So while Lester was tossing out Lester-like starts, they don't look so shiny when the other guy is consistently going seven, eight, or nine innings and looking like he came out of a black hole (enough space references? Let me know). Maybe it's also that Lester was disappointing in the playoffs in 2015, losing to both the Cardinals and Mets in those series openers (though he wasn't terrible).
But everything between the two seasons actually went the wrong way in 2016, or at least the things we nerds tend to look at because we're so counter-culture. FIP? Up (2.95 to 3.45). DRA? Up (3.11 to 3.23). K/9? Down (9.1 to 8.7). BB/9? Up (2.1 to 2.3 which is obviously chintzy but it's the little things that make up life. Scorpio told you that).  This doesn't sound good at all! Then again, it doesn't sound terrible either. Groundball rate? That went down, too (51 percent to 48).
And yet, the ERA and WHIP went down, somewhat significantly (3.34 to 2.24 in ERA, 1.12 to 1.02 in WHIP). Connected is that his hits per nine innings went down as well, from 8.0 in 2015 to 6.8 in 2016. But we just saw that his strikeouts went down as well, so where were these outs coming from?And this is where… well, not a big, red glaring light, but maybe more like the "check engine" light would come on (unless you have something like my last car, which when that light came on you meant you had a realistic fear that your front axle was about to fall off). Lester saw the biggest changes in his BABIP and his left-on-base percentage.
The problem there of course, if you're versed in the ways of these analytic numbers, is that they're usually attributed to luck.
Ah, but you don't want to give in that easily, do you friends? No, of course not! Neither do I! We determine our fate, do we not? I steer my own ship! And so does Jon Lester!
Well, let's see if that might be the case or not.
So, let's start with the left-on-base percentage. Lester's career rate is 75.3 percent, which is about average. Last year it was 84.9, and for the first half of the season it was hovering close to 90. That's a spike. But surely it can't be all determined by the waves of randomness, tossed to and fro merely by the vagaries of chance. Surely Jon must've changed something in his approach when runners were on to improve things. We simply do not want to chalk everything up to sequencing, do we?
Well, see for yourself. This is Lester's pitch usage with runners on base for his entire career.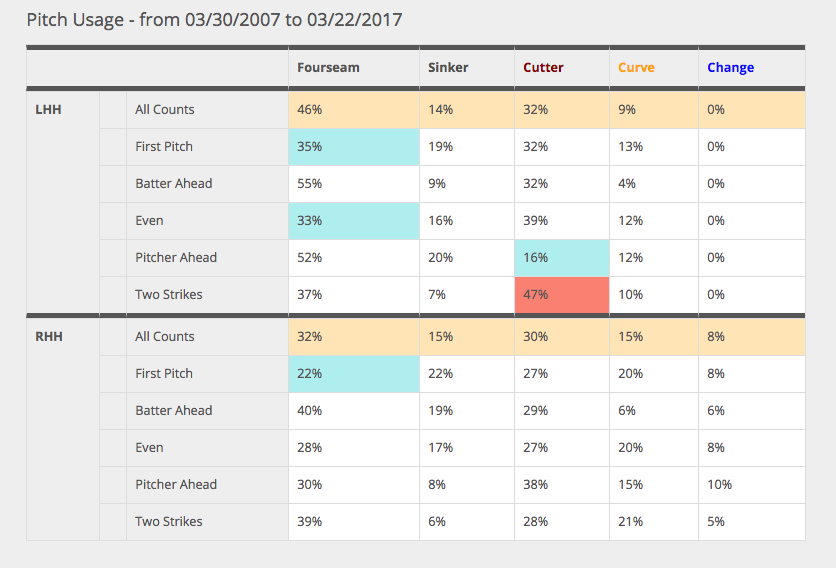 And here it is just last year:
There are differences, comrades! We may not be lost at the sea of providence. What jumps out is that Lester changed to a higher use of his fastball on the first pitch, determined to get ahead. And he also used his fastball to put away righties far more than he ever had in previous seasons. So there is a change of approach. Throughout Lester's career, like most pitchers, he's far better when 0-1 (.208 average against) than he is at 1-0 (.264). And maybe hence, depending on your definition of hence and whether it's all encompassing or not, hitters went for a .211 average with runners on last year vs. .239 for his entire career.
But ok, does that tell you all of it? No, not really. Because with men on base Lester had a 24.1 percent hard-contact rate last year where he had a 25.3 percent career rate. The BABIP dropped 20 points though. Why might that be? Follow me to freedom.
Does that explain it all? I don't know. I want to believe. I need something to hold onto. I don't want to drift away. But there is a change, and that gives us a hold. We won't fall just yet.
As for the BABIP… well, that's always harder to prove. A drop of 47 points from one year to the next, and 41 points below your career rate… we can never say that's completely unrelated to luck. It's just too big of a spike. Or whatever a spike is called when it goes down. Ice-pick, crater, whatever.
But here's something for you to consider: Kyle Hendricks's BABIP from '15 to '16 – .296 to .250. Lackey's – .295 to .255. Jason Hammel – .288 to .267. Arrieta's only dropped five points, but in 2015 he was already at a ridiculous .246. Could it be that the Cubs defense from Sagittarius A (you knew I would) played a more significant role than the simple winds of happenstance? Guess we won't know until the same defense takes the field this year, but you have an inkling.
Do you feel better? Yeah, me either. But I don't feel worse. And really that's my only goal these days. Welcome to middle age. It's a real fun party.
Lead photo courtesy Joe Camporeale—USA Today Sports