The Cubs have played 15 games to date, a little less than 10% of their 162 game regular-season schedule, and a lot of fans are feeling . . . I don't know . . . bewildered!
What is going on? Notwithstanding their back-to-back, come-from-behind wins these past two evenings, something seems off. Why haven't the World Champion Cubs, after cruising through the regular season and playoffs en route to an easy World Series victory, continued their run of dominance?
First of all, it's time for a reality check. Yes, the Cubs won 103 games in 2016, but they also accumulated 58 losses, meaning they lost more than one out of every three games. And losing 1 out of every 3 games is good enough to win 100+ games. And if you lose one of every three games, you are generally one of the very best teams in baseball that season. And so it was with the Cubs in 2016.
The Cubs winning the World Series and ending their 108-year championship drought was special. But while it may have been the best of times, it was also the worst of times . . . at times. The Cubs lost eight of 13 games from May 11-24, and lost 15 of 20 from June 20-July 9.
The playoffs? The Cubs found themselves on the ropes or very close in every series:
Division Series

: Up 2-1 in the best-of-five series vs. the Giants, they trailed 5-2 going into the ninth inning of Game 4,

with a 2.5% chance of winning that game

. The Cubs improbably rallied in the ninth inning, but had they lost Game 4, the Cubs faced an elimination game against Johnny Cueto, who held their offense to one run in Game 1 of that series.

NL Championship Series

: Down 2-1 in the best-of-seven series vs. the Dodgers, the Cubs failed to score for 21 straight innings in Games 2 and 3, plus the early stages of Game 4. They could not score. Then their offense woke up, put up 10 runs in just three innings, and winning Game 4 by a score of 10-2. The Cubs went on to win Game 5 and 6 to advance.

World Series

: Down 3-1 in the best-of-seven series, the Cubs had somewhere

between a 12.5% and 14.8% chance to win the series

before running off three wins, culminating in an epic Game 7 decided in the eleventh inning and aging the entire population of Chicago in dog years for the final three hours of the game.
That's all to say that the Cubs' 8-7 record today after 15 games means they're doing just fine. If anything, their early-season struggles put the vagaries of baseball on display: luck and small sample sizes distort teams' records and drive fans crazy. It's part of the game, it's what makes it fun, and the Cubs will in all likelihood be just fine. Don't go burning down Wrigleyville just yet (or celebrate down in Cincinnati).
A more interesting analysis, however, is understanding why this Cubs team has not started the season as strongly as the 2016 iteration.
Here's how the 2016 and 2017 versions of the Cubs compare after roughly 10 percent of their 162 game seasons:
| | | | | |
| --- | --- | --- | --- | --- |
| | Record | Runs Scored | Runs Allowed | 1st Order Wins |
| 2016 | 11-4 | 81 | 37 | 12 |
| 2017 | 8-7 | 66 | 60 | 8 |
The Cubs are scoring fewer runs while allowing more runs. But to really understand WHY, we have to look at the Cubs' performance in all three phases of the game: defense, offense, and pitching.
Defense:
In general, 15 games is too few for any advanced defensive metrics to normalize, so we don't have that data to suggest whether or not the Cubs historically great defense from 2016 has slipped.
Even so, something tells me the Cubs are making more mistakes this year. Lo and behold they are second in the NL with 12 errors. While errors are a cruddy way to value defensive performance in most instances, I think they can be informative in this case. GM Jed Hoyer even said something along those same lines recently, telling MLB.com:
"I don't think we've played the kind of baseball we played last year. We've been sloppier at times than last year . . . we didn't do that last year. We were very clean, we took care of the ball, we didn't give the other team outs."
Perhaps this is just some early-season funk, or the Cubs aren't quite as dialed-in due to the constant post-World Series hoopla, or it's just random. Regardless of the cause, these miscues have hurt their chances of winning.
Offense:
With 66 runs, in the middle of the NL pack, the Cubs have simply not produced the number of runs many expected from a team with this many offensive weapons. The main culprit is a power outage. The Cubs aren't having any trouble getting on base (.338 OBP as a team, 3rd in the NL), nor are they experiencing bad luck on batted balls (.320 BABIP, also 3rd in the NL), and they've batted a not-terrible .271 with RISP.
The Cubs just aren't hitting the long ball. As of this writing, the Cubs have hit 13 home runs, including Albert Almora's moon shot and Addison Russell's walk-off dong against the Brewers, good for a spot in the in the bottom third of the NL. Part of this comes down to bad luck: their HR/FB% is somewhere around 9 percent. League average last year was 12.4 percent, when the Cubs as a team enjoyed a 13.2 percent HR/FB rate. The Brewers are leading the universe with an insane 22.3 percent HR/FB rate thanks in no small part to the Cubs' bullpen (more on that later).
Looking at Statcast data, the Cubs may be lucky to have even 13 home runs. Until yesterday the Cubs had only 5 "Barreled Balls" (generally, balls hit with 98+ mph exit velocity and a launch angle between 26 and 30 degrees—they end up being home runs a lot of the time). Cleveland has the most this season with 14, and through the same number of games last year, the Cubs had 15 Barrels.
Pitching:
The Cubs have allowed almost twice as many runs through 15 games in 2017 as compared to 2016. The Cubs hurlers have not been bad as a whole; in fact, they have been pretty OK, with a middle-of-the-pack DRA of 4.20. Note to the Cincinnati fans out there, your staff has an MLB-worst DRA of 5.91, and the relievers have a DRA of 8.30, so watch out for the impending swift, cold, correction that I fear is in your future.
A lot of blame has fallen on the Cubs' bullpen, and deservedly so based on a comparison of their performance at this point in 2016 across a few key metrics:
| | | | |
| --- | --- | --- | --- |
| | K/9 | BB/9 | HR/9 |
| 2016 Bullpen | 10.3 | 2.5 | 0.5 |
| 2017 Bullpen | 9.8 | 4.4 | 1.3 |
So Cubs relievers are walking almost 2 times as many guys, and giving up 2.5 times as many home runs. Woof.
That said, the Cubs relief corps has also suffered from some bad luck. Their HR/FB ratio is an above-average 14 percent. Somewhat unbelievably based on the number of balls leaving the yard, they are giving up less hard contact that a year ago (34.9 percent to 30.0). Moreover, their DRA is a solid 3.64, good for fourth in the NL and a better predictor of future performance than most other advanced pitching metrics. As a result, I am not particularly worried about the bullpen, and their eight consecutive innings of scoreless baseball in the Cubs' two recent games suggest that the bullpen has turned a corner.
The Cubs starters have largely escaped blame, to which I strenuously object! Take a look at the same metrics we used to damn the bullpen:
| | | | |
| --- | --- | --- | --- |
| | K/9 | BB/9 | HR/9 |
| 2016 Starters | 8.4 | 1.9 | 0.6 |
| 2017 Starters | 8.7 | 2.7 | 1.1 |
Cubs starters are also walking more guys and giving up almost 2 times as many home runs, and this before Kyle Hendricks gave up two more dingers today while walking four (including the pitcher, on four pitches). For a deeper breakdown of Hendricks' troubles, check out Jared Wyllys's piece today. The Cubs starters' DRA is 4.52 as a whole, somewhat troubling looking down the road. Here's how three pitching metrics sum up the Cubs' starters at this point: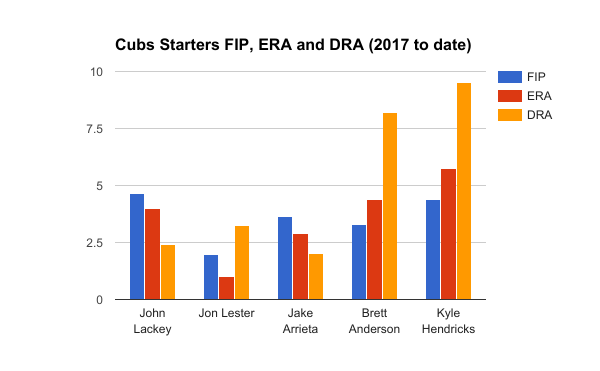 Brett Anderson (8.20 DRA) and Hendricks (9.53) are weighing down the other guys, who look solid. Hendricks' performance is a little unnerving thus far. Note that the chart above doesn't even include Hendricks' relative stinker of a start yesterday. Alarm bells shouldn't be ringing yet, but it's something to watch.
In summary, I hope this post encourages a few Cub fans to R-E-L-A-X. This is a very, very good team that has performed below their ability in all three phases of the game. And that's OK. Teams go through uneven patches throughout the season, and the Cubs went through their fair share last season as well. The ship don't be sinking, stay on board a little bit (or a lot) longer.
Lead photo courtesy David Banks—USA Today Sports