This might already be a silly question because Jose Quintana may already have recovered from what was a really wonky start to the season. To wit, Quintana had a 1.09 WHIP and 3.21 FIP in his June starts.. You'll take that for the rest of the season and feel pretty good about it.
Still, that wonky start. First off, it would appear Quintana is suffering from what a lot of pitchers are suffering from, in that he's throwing a Slazenger at hitters. His HR/FB rate has jumped from 9.5 percent last year to 12. 8 percent this season, and this after a career rate at 9.2. Quintana's ground-ball rate started to decrease last year, dropping from 47.1 percent in 2015 to 40.4 percent last year and 42.9 this year. We know that giving up more fly balls now isn't generally a good idea.
If you want to be a little alarmed, and that's kind of my constant state, part of Quintana's problems might be comimg from the fact that his curve isn't quite getting the tilt that it did a couple years ago. Forthwith: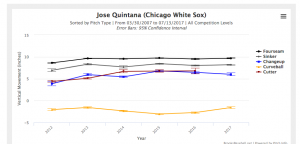 Quintana's curve has lost basically half its vertical drop from 2015. If he's not getting the ball lower with it, that makes it easier to lift… which is creating this feeling in my stomach that I'm not really all that comfortable with.
Another issue for Quintana's curve is that righties, who have kind of massacred him this year, aren't swinging at it as much. For his career righties have swung at 44 percent of his curves. This year it's just 34 percent. And that might be because 47 percent of them are balls this year, vs. 39 percent for his career. If he's not threatening the strike zone with it, and it's not breaking as much, this is an issue.
Going from that, Quintana's main problem this season has been walks. He's walking 9 percent of hitters, or 3.45 per nine innings. Both of these marks are way above career norms. So if you were reaching for the Pepto when Arrieta starts, boy aren't you excited today?
On the plus side, Quintana isn't getting hit any harder this year than previous ones. His line-drive rate is 19.4 percent, his hard-contact 31.7. The line-drive rate is the lowest of his career, and he's obviously had the problems with fly balls that many others have had. He's also had some left-on-base problems, with a mark of 70.6 percent this year when his career mark is 74.6. That's not murderous, but it is a drop.
We will also notice that his strikeout numbers are higher than they have ever been, which is good (this is the stinging baseball analysis you come for). But with rising walk numbers, it tends to make you believe he's been nibbling more than usual, getting some calls on the corners but missing more often as well. As his swinging-strike percentage has dropped this year, that only reinforces that.
Overall, the Cubs are probably counting on at least a little of a Chris Bosio turnaround. And Quintana is in the age range where Bosio has produced career best seasons. Jeff Samardzija was 27 when he pivoted into the rotation so successfully. His best year came at 29. Travis Wood was 26 when he became an All-Star. Scott Feldman was 30. Arrieta was 28 in 2014 when he teased what was to come the following season. Quintana is 28.
If Bosio can get a little more bite out that curve again and a little more control, the Cubs will have another no. 2 starter on their hands. Even now, with his higher walks and home run issues, he's nearly a three-WAR pitcher.  You should be just a touch leery, but more excited.
Lead photo courtesy David Richard—USA Today Sports