Baseball seasons are frequently comprised of bizarre, incredible, and seemingly insignificant moments, crafted by an amalgamation of heroes, legends, and no-names. For many baseball players, there is little glory attached to the short-lived occupation and much effort put into producing a moment one's family might remember. This difficult task becomes doubly so for those toiling away on bad teams or overshadowed by more athletic family members. Al Lary's 13-year career combined the two, relegating him to the minor leagues and comparing his career to that of his brother, fellow pitcher and All-Star Frank Lary. Yet his career was not without intrigue or oddity, and sorting through these 13 lengthy years produces a picture of a man whose career exemplified professional baseball.
Al Lary was a standout athlete at the University of Alabama, his extraordinary talents in baseball and football eventually earning him all-century spots on both of the university's teams. He holds the school's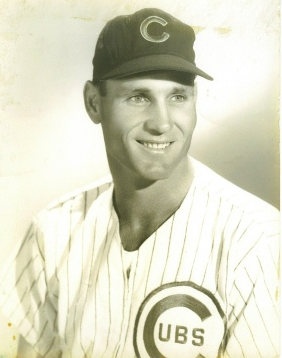 all-time single-season touchdown reception record (10) and ranks fourth in fewest hits allowed (13) pitching over 40 innings in a season. In 1951, he surprised many who thought he would choose football over baseball by signing as an amateur free agent with the Cubs. Lary was very much a contact pitcher, featuring a decent fastball and a deceptive curve that left hitters off-balance.1 The Cubs assigned Lary to the team's double-A affiliate, the Nashville Volunteers of the Southern Association, where he earned the league's ERA title as well as a promotion to triple-A Springfield the following season.
Lary performed poorly with Springfield, however, surrendering 74 hits and 38 walks in his 59 innings as he oscillated between starting and relief pitching, having performed both tasks during his college career. Despite his shaky control, Lary continued to be heralded as one of the finest athletes produced by Alabama. And those who labeled him such did so not without merit. He displayed his potential in an exhibition game against the Chicago Cubs on June 16th, allowing only one run on three hits in his complete game and picking up the victory.2 He would add two more complete games that season, and for a team largely in need of pitching, Lary continued to intrigue his parent team.
But the following year, when the Cubs boasted the worst pitching in the NL and needed Lary most, he was out of reach. Months before the season began, Lary left baseball to serve as a lieutenant in the Korean War, earning a Bronze Star for his heroism during his year of service. He returned to baseball in 1954, joining the struggling Cubs on August 24th.3 He made his debut for the team on September 25th, 1954, eleven days after his younger brother, Frank, debuted for the Detroit Tigers. Facing the Cincinnati Redlegs, Lary pitched six innings, surrendering two runs on seven walks and and three hits to secure the victory, 4-2.
Called up as a replacement for the sick Howie Pollett, Lary returned to Nashville following his singly start.
Blocked by pitching giants such as Dave Hillman, John Andre, and Harry Perkowski, Lary could not crack the 1955 opening day roster, again finding himself stuck in the minors. However, two weeks into the season, the Cubs recalled Lary, but the team did not want him for his arm. No, it was his touchdown-record legs that won him the promotion. It was not entirely uncommon for teams to employ pinch runners, as rosters at this point were generally comprised of fewer pitchers, leaving little space for such luxuries, but it was rare to do so with an established baseball player, and a pitcher at that. However, desperate to inject speed into the game when it was quite possibly the least-regarded skill, the Cubs converted Lary into a pinch runner for four games. During this span, Lary scored one run and stole zero bases, his presence hardly a factor.
He returned to the minors on May 2nd, spending the remainder of the season shuttling between the Cubs' two single-A teams, Macon of the South Atlantic League and Des Moines of the Southern League, and the organizations' Pacific Coast League affiliate. Lary quickly showcased his talents with Macon, pitching a "dazzling relief stint" followed by a "brilliant starting debut" on May 19th, a five-hit complete game shutout against Montgomery.4 Lary seemed like he was finally poised to begin the journey to the major leagues. But he could not maintain this success. Hitters quickly adapted to his curve, took advantage of his lack of command, and began wearing him down with walks and home runs. While Frank was beginning to make a name for himself in the majors, Lary was struggling to do the same at the lowest levels. His downward spiral continued the rest of the season, and the season that began in the major leagues ended as far away as possible from that place.
Possessing the sheer determination and competitive drive known to many athletes, Lary regrouped in the offseason, learning how to better control his pitches. The Cubs rewarded his work with another minor league contract and a spot on the double-A Tulsa Oilers. Over the next six years, Lary continued his progression through the minors and around the country, pitching for Memphis, Fort Worth, Portland, and Houston.
His perseverance paid off in 1962 as he found himself again on the Chicago Cubs' major league roster, this time as a relief pitcher. He stayed with the club through April, pitching two games in relief to little success. He spent June back with Salt Lake City of the PCL before taking rookie Tony Balsamo's place on the roster in July.5 This time, as a starter, Lary performed more adequately, displaying much-improved command and a more deceptive curve over his final two months with the Cubs.6
Despite these impressive final months, the Cubs did not offer Lary a major league roster spot the following season, nor did they promote him at any time during his final two years in professional baseball. He spent his remaining time with the Salt Lake team, becoming a fan favorite there as memories of him slipped out of the minds of Chicagoans. His 13 years in baseball were arduous, wrought with adversity, but his perseverance ensured they would not go unrewarded. Lary's performances at the major league level were far from remarkable, but that they happened at all is worth remembering.
1 Anniston Star, March 19, 1951.
2 Berkshire Eagle, June 17, 1952.
3 Chicago Tribune, August 24, 1954.
4 Greenwood Index-Journal, May 20, 1955.
5 Oshkosh Northwestern, June 29, 1962.
6 Salt Lake Tribune, September 15, 1962.