What You Need To Know: Let's be positive and say that it was good training for what awaits in two weeks, should everything go anywhere near according to plan. The Cubs won an absolute wild one in 10 innings 5-3, on a night where they were down to their last strike twice, swinging everyone's emotions from punching the walls to… well, punching the walls but in excitement. Once in the top of the ninth when Javy Baez found a hole with two strikes and two outs and the Cubs down one to tie the game. The second when Weigh Davis was one ball away from walking Orlando Arcia with the bases loaded. From there it was up to Kris Bryant to blast the Cubs ahead in the 10th after the Brewers had gone through whatever useful parts of their 'pen they had left from last night. Davis pitched a clean 10th, and suddenly the Cubs are up four and a half games with a magic number dropping to six.
And that's not even the half of it really. We'll try to get through it all, but god help me.
Next Level: Where to begin? Like Vizzini told us, let's go back to the beginning.
– Jake Arrieta looked very good in his return from injury, though being limited to only five innings is where the problems began. He wasn't as dominant as we've seen him, only striking out two in five, but also only surrendering five hits and only one of them really hit all that hard.
It looked like Jake was more upright in his delivery tonight, and his stuff was released with a little more ease. It didn't seem to affect his velocity much, averaging 92.4 mph on his sinker. The chart on Brooks Baseball seems to confirm that: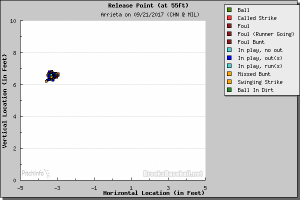 And here's the last graphic on his release point from his last full start, Aug. 29th:
Makes sense. Staying more upright would put less stress on the hamstring. There's less pushing off as well, which would be less stress on the right hamstring as well. I don't know if this is a permanent thing, and how it might affect his stuff in the future. But there are two more starts to find out. Looking at the other charts, the movement on his breaking stuff wasn't affected too much either.
- But once again, the Cubs offense sputtered after getting two early runs. Schwarber homered, Rizzo drives in Jay in the next inning, and then nothing for six innings. How often we've said it. Zach Davies has been tough on the Cubs all year, but at some point you've got to get to these guys.
- Here's another theme: the bullpen walks too many guys. Edwards blew through the middle of the order in the sixth, and you can be forgiven for wanting him to take the seventh on too. But he didn't, and Brian Duensing walks Keon Broxton with two out and no one on. That's Keon Broxton of the .301 OBP. Pedro Strop comes in, and then walks Jesus Aguilar. Let's throw some bad umping in there during Sogard's AB: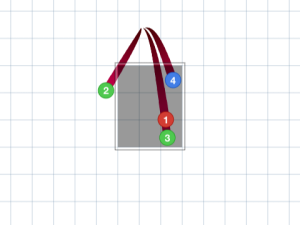 Check out pitch #3 there. And #2 had been a strike most of the night. Sogard promptly singles to tie the game.
- What's another theme? Oh yeah, dodgy managing! Let's have some of that. So Edwards gets the sixth, looks dominant. Threw 13 pitches. By bringing in Edwards to face the middle of the lineup in the sixth, you're basically saying "What we have we hold." But then when the seventh started to go loose on you, Maddon switched out Jason Heyward for Ian Happ when he brought in Strop. Which makes your defense worse in a one-run game. If Heyward's defense isn't that valued, why did he bat in the top of the inning if you wanted more runs? Of course, Sogard immediately lines a ball to where Heyward very well might have gotten it, and/or might have thrown out the runner at the plate as well. So that's odd, huh? Defensive plays that you have to have not getting made, that's another theme.
So now you don't have Strop for a clean inning, or Duensing, or Montgomery who they threw into a start for "reasons" on Tuesday (and got away with admittedly). Which means Justin Wilson has to take meaningful innings, and somehow thought he would get away with pumping 15 straight fastballs. Jim Deshais marveled at Domingo Santana getting around on a 97 mph fastball for his double. But he had done it the pitch before which he fouled. Give major league hitters enough looks at the same thing, and they're going to find it.
Oh, but big ups to Justin Grimm keeping the Brewers right there otherwise we would have been doing this much earlier.
- While Javy's game-tying single was seeing-eye, he deserves props for finding a way to make contact with two strikes. Not the M.O. from the past.
- Who comes out of the 'pen tomorrow? I have no idea. But the Cubs got the one against probably the best starter the Brewers will toss out in the first three games of this series. Halfway to a draw, which is all they need.
Top WPA Play: Baez's single in the ninth to tie the game. (+.308)
Bottom WPA Play: Sogard's single in the seventh that tied it, where Heyward could have (should have?) been. (-.245)
Onwards…
Lead photo courtesy Benny Sieu—USA Today Sports