The biggest home run in Nationals history will, luckily, only be a sentence or so in the annals of Cubs playoff history.
Bryce Harper's monster two-run shot in the eighth inning of Saturday's Game Two, a rude bludgeoning of a Carl Edwards, Jr., hanging curve, tied the ballgame at three, and Washington promptly grabbed the lead a few batters later. It was an electric moment at Nationals Park, energizing a moribund crowd that had been silenced by masterful pitching from playoff veteran Jon Lester. Immediately, the hand wringing from Cubs fans commenced. Why did Joe Maddon call upon Edwards, a righty, to face the best left-handed hitter in the National League? Why didn't Mike Montgomery, who was also warmed up, take the ball? Why did Edwards hang that curve? And why did Maddon then leave Montgomery to face the right-handed Ryan Zimmerman?
It's easy to scrutinize and second guess and twist one's self into knots over these managerial decisions in the playoffs; these moments ultimately find themselves examined microscopically, but usually without the correct context. Recall what the philosopher said:
"The… doctrine that men are products of circumstances and upbringing, and that, therefore, changed men are products of changed circumstances and changed upbringing, forgets that it is men who change circumstances and that the educator must himself be educated."
Though not a treatise on sabermetric usage of pitchers and changing relief roles, I think this snippet is instructive nonetheless. The circumstances that led to the selection of Edwards as the pitcher doing battle with Harper are important to note, and are paramount in any discussion of this pivotal playoff moment. To wit: Edwards is incredibly good versus left-handed hitters, and Harper was looking lost at the plate versus Jon Lester earlier in the game. Kyle Hendricks had stymied Harper with the changeup on Friday, and Lester induced a pair of groundouts to go along with a strikeout. Harper also looked tentative in the field, and one can reasonably assume that the right fielder was playing gingerly due to the bone bruise on his knee.
Edwards, to his credit, had also been pitching exceptionally well since mid-September. In his last 11 appearances, Edwards did not allow a run, nor did he allow an inherited runner to score. In his last ten appearances, he didn't even allow a hit. Over those ten appearances, comprised of 8 ⅔ innings pitched, Edwards struck out 37 percent of hitters. In short, the slight righty could hardly have been pitching better, and his appearance in the eighth inning in Friday's victory consisted of two strikeouts and a Harper flyout on a tidy 11 pitches. Versus 129 lefties in the regular season—just four fewer hitters than the number of righties Edwards faced—Edwards allowed a .117/.244/.193 batting line. The circumstances into which Maddon thrust Edwards were as good as any possible circumstances involving Bryce Harper.
Unfortunately for them, Edwards and Maddon had no control over whether or not Bryce Harper was the "circumstance" they were charged to navigate, but Edwards did turn the course of the at-bat early on with his lack of fastball command.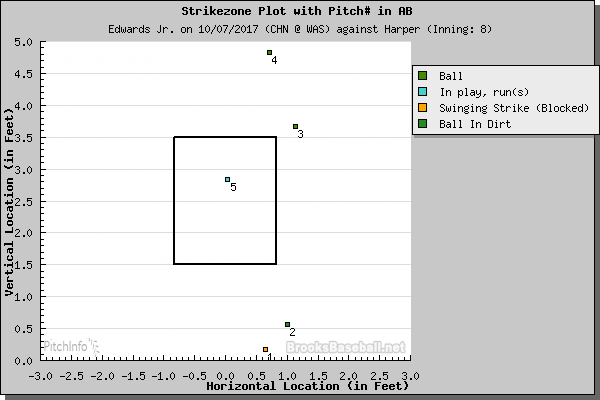 Edwards was nowhere near the plate on three of his four pitches prior to the home run, unsuccessfully attempting to jam Harper up and in with fastballs after a first-pitch whiff on a curveball. It was a sound strategy—Edwards's potent fastball is great for sawing off lefties' bats—with poor execution, as Edwards came too far up to induce a swing. After missing with three straight fastballs and falling behind 3-1, however, Edwards decided to return to the curve, but hung it instead of bounced it.
Our thesis on circumstances falls short in describing this situation, then. Maddon and Edwards made the best possible circumstances for themselves, and yet the pitcher faltered as Harper parked a hanging curve deep in the right-field bleachers. There is a danger inherent in thinking of the postseason in terms of fates, destinies, inevitabilities. Edwards was no more fated to surrender the home run than Harper was to hit it. Considering the circumstances and the execution, which suggest the opposite to be true, this much is made clear.
Of course, that's why we watch baseball in the first place.
Lead photo courtesy Geoff Burke—USA Today Sports