What You Need to Know: Both Quintana and Scherzer—effectively keeping pace with each other—pitched well through six innings, limiting the damage of a few of defensive miscues. The Nationals broke the scoreless tie in the 6th after a messy Schwarber two-error missed catch landed on third. The Cubs tied the game in the 7th, chasing Scherzer from the mound after a Zobrist double (!!!!). The Cubs grabbed the lead 2-1 in the 8th, a fitting finish to a game that gave them the 2-1 series lead.
Next Level: Quintana continued the trend of the Cubs having the best starting pitching in the playoffs, which I know isn't a high bar, but it's reflective of the second half of the season for the team. In particular, Quintana continued his dominant September run, allowing only two hits and one walk through five and two-thirds innings while striking out seven.
He relied heavily on his fastball and curve, keeping both low in the zone (particularly his curve), continuing the pattern responsible for much of his success over the past month, including his ground ball to fly ball rate of roughly 2:1. Today, he recorded eight groundouts to three flyouts, inducing the same weak contact that powered both Hendricks and Lester to success in the first two games of the series. Though the Nationals were not a particularly home run-heavy team in the regular season, the team teed off on pitches up in the zone in game two, demonstrating the need for Quintana to avoid the top of the zone, which he did masterfully.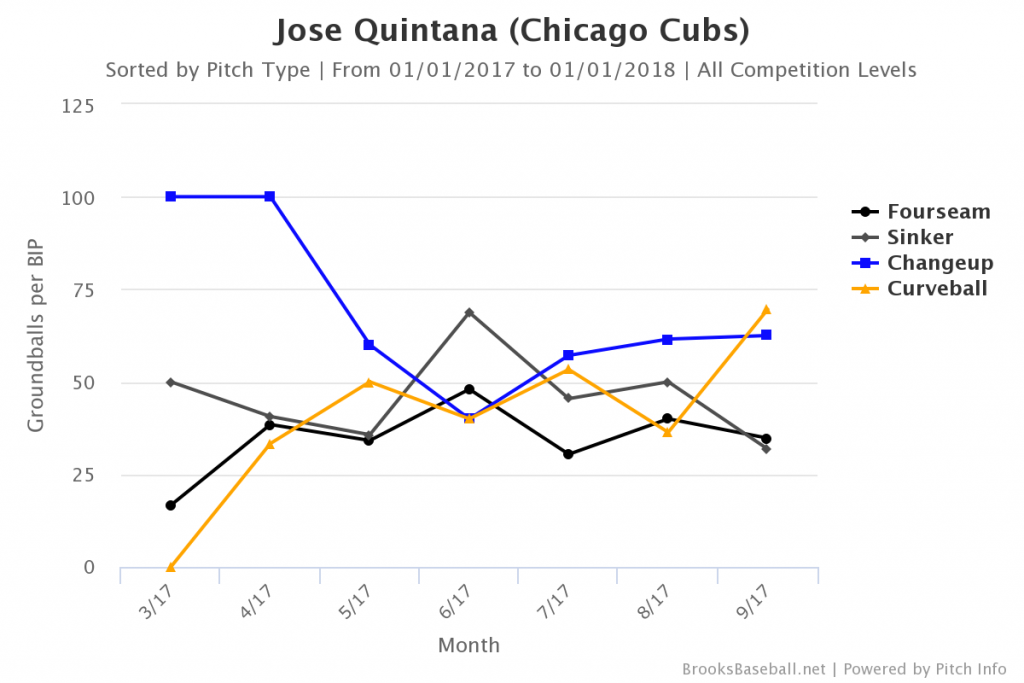 Each of Quintana's seven strikeouts today demonstrated his command of the lower part of the strike zone with his fastball and curve, and they particularly displayed the increased movement on his curveball over the past month. Corresponding with a higher vertical release point, Quintana's curve has seen increased movement and is finishing lower in the zone than at any point this season. For your enjoyment, here is a video compilation of his first six strikeouts. I suggest you particularly savor his strikeout of Bryce Harper in the 6th:
Sweet Curveball from Jose Quintana to fan Bryce Harper pic.twitter.com/SwqwILG8f9

— Pitcher List (@ThePitcherList) October 9, 2017
Top Play (WPA): After failing to covert a number of prime opportunities, the finally Cubs grabbed the lead in the 8th on a Rizzo single that brought home Leonys Martin. (+259)
Bottom Play (WPA): Coming into the game to replace Quintana after Schwarber committed a two-error play that saw him kick the ball halfway across left field to put Murphy on third, Pedro Strop allowed a double to Ryan Zimmerman to give the Nats a 1-0 lead. (-.163)
Lead photo courtesy Dennis Wierzbicki—USA Today Sports