Position: SP/RP
2017 Stats: 7-8, 4.08 ERA/3.38 FIP/4.29 DRA, 101 cFIP, 6.9 K/9, 1.6 WARP
Year in Review: Mike Montgomery. Starter? Reliever? Nobody knows. All he did in 2017 was further confuse us on this question, posting some perplexing splits between his time in the rotation and his time in the bullpen.
Starter- 69.1 IP, 4.15 ERA, 3.94 FIP, 7.3 K/9, 2.7 BB/9, .222/.292/.346 opposing line
Reliever- 61.1 IP, 2.49 ERA, 4.22 FIP, 6.5 K/9, 5.0 BB/9, .208/.331/.291 opposing line
So to summarize, he was hit more as a starter, but as a reliever he allowed more baserunners, but then he struck out more batters as a starter, walking more as a reliever. Overall, he was posted better results coming out of the bullpen, but oddly had way better peripherals as a starter. Weird.
The first thing I noticed about Montgomery's success as a starter this year was the improved use of his fastball. In 2015 and 2016, Montgomery allowed batting averages of .291 and .275 on his fastball when he was starting , according to Baseball Savant. This year, he allowed a .248 BA on his fastball. This clearly had something to do with quality of contact too, as this year he allowed an 86.0 MPH Exit Velocity, compared to 91.3 MPH last year. And it probably was because of a clear change in pitch location. Here are pitch heat maps on his FB as a starting pitcher the past two years,
2016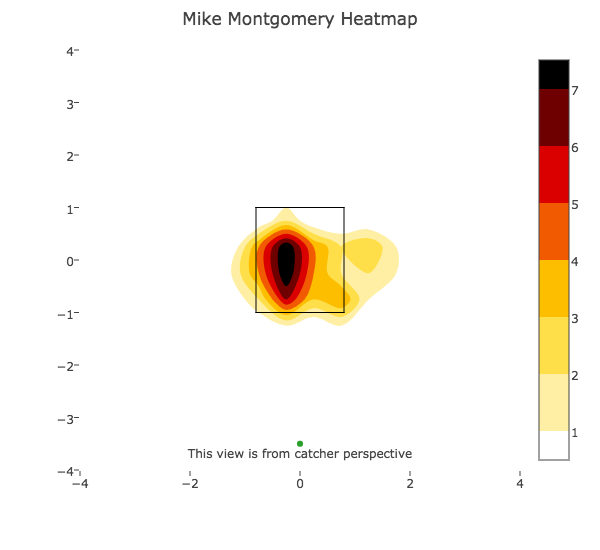 2017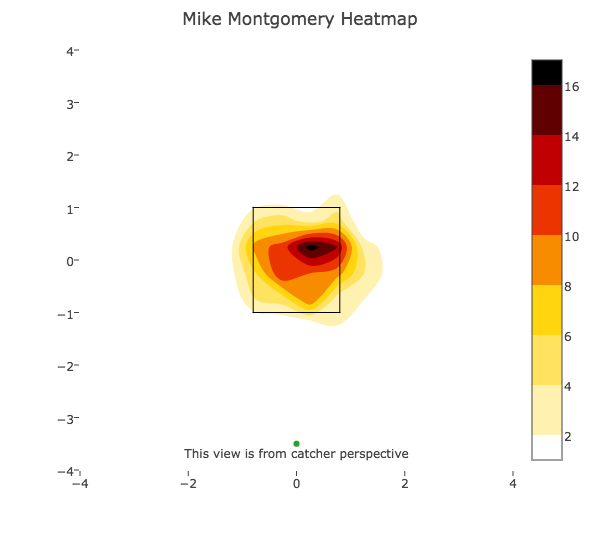 Although we saw major improvement with the fastball, his signature curveball didn't nearly have the same juice that it had last year. He lost spin on it (2457 RPM in 2016, 2335 RPM  in 2017), causing it to be less effective (.081 BAA in 2016, .204 BAA in 2017). Still a good pitch, just not as nearly as good as it was last year.
My theory is because his offspeed stuff was less effective (6.9 percent of his offspeed pitches were swung on and missed in 2016, 5.0 percent in 2017), his K-rate took a hit too. His K/9 falling from 8.3 to 6.9 the past year is concerning, as it might be the reason we saw a dip in production (91 cFIP in 2016, 101 cFIP in 2017).
Looking Ahead: PECOTA's pre-2017 projection seems to think Montgomery will rebound somewhat. Projecting for 26 starts and 156 IP next year, it sees his K/9 climbing back up to a better mark of 8.9. The main problem I noticed though had to do with the batted ball profile. Looking at this year, Montgomery seemed lucky in the BABIP department. His .253 BABIP this year wasn't ridiculously far off his career .269 mark, but it becomes more concerning when you realize the change in quality of contact he allowed (25.5 percent Hard Hit% in 2016, 30.2 percent in 2017), as I mentioned above.
Currently pinned as the #4 starter for next year's Cubs team, Montgomery hopes to sustain his recent success as a starter. And for a guy that has been stuck in the middle between relieving and starting, a defined role heading into 2018 should be reassuring. If he can work that FB/CB combo well, the Cubs might have themselves a serviceable #3. If not, it'll probably be more role bouncing for Montgomery.
Lead photo courtesy Richard Mackson—USA Today Sports