You know what they say, regular check-ups lead to long-term health. I mean I assume they do, I've never had regular checkups on anything, and I'm barely hanging on here. It's been so long since I've seen a dentist my teeth and gums are probably reenacting the French Revolution at this point. BUT THAT'S NOT WHY YOU CALLED.
Anyway, about a month ago I wrote up Addison Russell's struggles and apparent new approach at the plate. To summarize, it had been a rough go in April for Addison. He wasn't hitting for any power whatsoever, though he was walking a ton and striking out way less than he had previously. And a big reason for that is Russell had stopped pulling the ball and was basically trying to stay gap to gap. Over half the balls in play put forth by Russell had gone up the middle.
Well, as you may have noticed. Russell has been a fist in the face of the lord in May. He's slashing .281/.388/.421, for an OPS of .809 and a wRC+ of 129 in the month. Pretty good, no? Sure, his  K-rate has gone in the wrong directions from April to May, and aggressively so, as it's tickling 30%. But with a walk-rate of 15% in the month, you're almost willing to let it slide. You'll think about it, last least.
So why the change? Well, as predicted back then by that blogger chockfull of charisma and wherewithal, Addy started pulling the ball again. While Addison pulled the ball only 25% of the time in April, that's shot up to 35% in May. His hard-contact has come right along with it, coming in at 35.1% after April's 29%. And that's because when Russell pulls the ball, he absolutely murders it. His line-drive rate when sending the ball to left field is 30.8%, with his hard-contact rate overall nearing 50% at 46.2%. When he pulls the ball he's hitting .538 and slugging .846.
So the question becomes: did Addison's centric-ways lead pitchers to come back inside on him? Overall it certainly looks like that. Here's where pitches were thrown to him in April: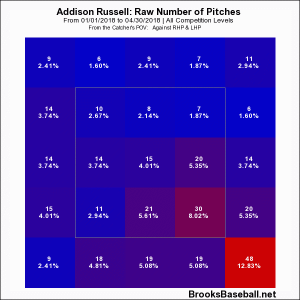 And here's where it is in May: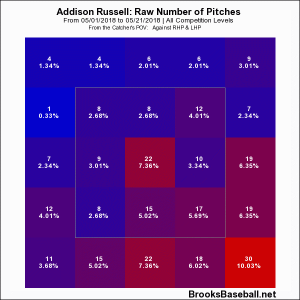 Definitely seeing more pitches middle and middle-in. And in case you need to know what he's doing with those…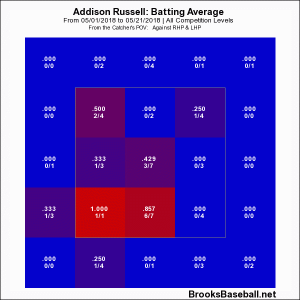 That doesn't mean there aren't caveats, of course. Russell is still whiffing on a lot of fastballs, 32% of the swings he takes at them, in fact. But when your line-drive rate on them is 44% instead of half of that, which it was in the season's first month, you'll make some allowances. Russell is also hammering breaking pitches this month, to the tune of a .500 slugging on curves. He's whiffing at a fair amount of sliders, but he's also getting enough back in play this month, which he wasn't doing at all in April.
We'll see if pitchers start going back outside and high with the fastball to Russell again now that he's put this up. But this appears to be an adjustment that's worked out well after a rocky start.
Lead photo courtesy David Kohl—USA Today Sports