What You Need To Know: It was harder than it had to be. This was a Padres lineup, which should be enough for any pitcher to gain some swagger against, bereft of Wil Myers (and his missing L). Jose Quintana acted accordingly, holding the Pads to one run over six, and never let a man settle into scoring positions. The only blemish was a home run by Christian Villanueva. Because of course. The offense came through a Javy Baez bomb, some highly efficient work from Ben Zobrist, and an Anthony Rizzo homer. But some goofy bullpen work kept this bill from being settled until the very end, and more Baez magic in the eighth with a leadoff triple and another Ocean Heist of a slide would prove the difference.
Next Level: Quintana will earn the Man Of The Match champagne, and as well he should with only four hits and no walks against, with six Ks to go along. He only generated five whiffs through six innings, which is a tad worrisome, but there wasn't a lot of hard contact, as nine of his outs were on the ground. So 15 Ks/GB, leaving only three outs gained another way. Certainly good enough. Q was four-seam heavy, throwing 57 of them of his 94 offerings. But as you can see he was using both sides, which has been the task this year instead of just tying up the hands of righties: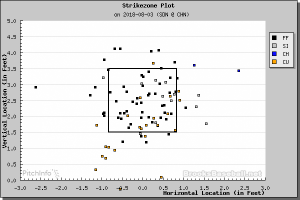 Whatever, after his last start and the work of the starters before this, let's take our 18 outs, have a coke and a smile and shut the fuck up.
-A word on Javy Baez, who was doing his WAR-in-one-game act again. A homer, a triple, and nailing a runner at home from basically behind second in the 8th which proved to be somewhat massive.
I notice this trend on social media, and I know that's a terrible way to judge things, that whenever Javy does something, especially at the plate, there's a tendency to spit back at anyone who points out his OBP or aggressive ways with his overall numbers. But everyone loves the overall numbers. When I write something like this, it's not to try and flatten out excitement or to portray myself with arms folded, tapping my foot, checking my watch, awaiting any sort of regression that I can claim as the Valhalla of right. I'm just marveling at the uniqueness of what Javy is doing this season. Maybe I'm not getting the tone right, and if so I'll do better. How's that?
-The bullpen certainly got into the top shelf stuff this afternoon, and this is the fear with how much they've been used. The likelihood that they'll produce a bad outing or have something go against them rises every time they come out. Because they're relievers, and by definition unpredictable. That's why they're relievers. Carl Edwards Jr. had a dominant seventh but a second inning proved too much, and his velocity was down which is less than encouraging. He was below 94 MPH for the most part. Keep an eye.
Your Daily Cishek was called on to save him, and he very well might have if he hadn't made a throw to second for a possible double-play look like a water balloon fight your toddlers were having. He did eventually get two outs while surrendering a run, and though Rosario didn't do anything wrong against Hosmer he just got out-battled. Kintzler caught a break when the one pitch he threw was lined right at Bote.
Strop actually was fine. A seeing-eye single, a walk you don't like, and then Ian Happ playing a sort of well-hit fly to left like he was being chased by bees after hitting the dispensary. But he got two soft grounders, one of which Bote nailed Spangenberg at home with, and then a K to end it. No meltdown, stayed with it, got the job done.
-This is why the Cubs are where they are, because of that defense. Bote and Baez cutting down runners at home, which a lot of infields couldn't do and some wouldn't even try. That's two runs they chalked off. Those are the plays that will keep them ahead of the Brewers, while they watch Shaw and Schoop have what looks like one of those inflatable sumo fights you see at halftime of NBA games.
Top WPA Play: Baez's homer in the second, and when he hits for power to the opposite field for a brief moment I feel like I'm capable of love again. (+.103)
Bottom WPA Play: Spangenberg's "double" that Happ should have caught instead of looking like Devin Hester on a post route. (-.213)
Onwards…
Lead photo courtesy Jeffrey Becker—USA Today Sports