What You Need To Know: Life is nothing but ennui.
Next Level: This series is a pretty tight example of why the truth about the Cubs lies somewhere in the middle of the poles of the screaming banshees who will tell you either the Cubs are trash or they're clearly the best team in the NL. They very well may be the latter, though that doesn't count for as much as it does in other years. They're a good team, but one that clearly is going to have some issues in the playoffs given what's on display right now.
So let's start with Lester, and the impending doom every start of his has felt like of late. He was a touch unlucky today, as Galvis's homer wouldn't have been anything more than a mouse pissing on cotton any other day. But eight hits in five innings tells you what you need to know, along with only one K. Seven of his last eight starts have not met the quality start threshold, and those fears about the contact, both is viscosity and direction, he was giving up appear founded. This was yet another starter that didn't get through six innings, exposing a bullpen that is simply overworked. Lester can point to his ERA and his wins all he wants, but this is an issue.
Not that Lester was alone in the malaise today. Javy made the third out at 3rd in the 5th while the Cubs were rallying. You accept that from him from time to time because he usually pulls it off, but it's still frustrating. David Bote got picked off second to end the 6th with two runners on and the Cubs down two. Again, I'm not going to light a torch and begin a drumbeat here because for the most part the Cubs have been fundamentally sound all season. They were just wildly off today.
I'll even give the offense a pass with Zobrist and Rizzo getting the day off—though with how Zobrist has hit and the Cubs' needs he should be playing every day for the next little stretch—and Lucchesi had great stuff the first two times through the order. But y'know it would help if Albert Almora would take a pitch this week, or if Addison Russell could hit anything in the air. Starting Schwarber against a tough lefty instead of letting Zobrist play seemed strange, but I'm not in the clubhouse and I don't know what the exact plan for Zobes is. Six runs should be enough anyway.
But as I keep saying, as good as the pen has been, the more you run guys out there the bigger the chance you're going to get a wonky outing from one or two guys. Carl Edwards Jr. simply can't walk Jankowski, who had a .652 OPS. Yes, Angel Hernandez, as is his wont, missed the strikeout pitch to Jankowski…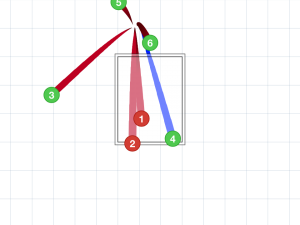 …but he still had two more pitches to play with.
Edwards is such a strange watch. You see the stuff and you think he should have a Seussian ERA like Andrew Miller of the past or whatever comes out of the Yanks pen these days. But you're never totally at ease with Edwards, because you know there's going to be an outing, an inning, an AB where he simply just goes to the zoo. Here we are again. A 2.80 ERA and 1.14 WHIP are good numbers. You can't help but wonder if they shouldn't be better, as greedy as that might be.
- And a word on Hernandez. We have that pitch, and though it didn't determine the outcome, here's the last pitch of the game: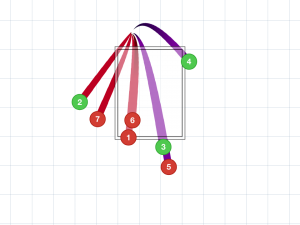 It's #7 over there. Way over there. The call from all those against automatic strike zones is that the technology just isn't there yet. Yeah, well…GET IT THERE. I'm sure it's possible. Because why are we doing this? That's egregious. Even with these umps being the best at what they do, and they are, and the years and years of training they've had, you simply cannot tell where a ball moving that fast is at a point four or five feet in front of you and still moving without simply guessing. Joe Sheehan has written about this a ton. It's just guessing. And we can do better. And if the tech won't be there, and I have a hard time believing someone couldn't get it there soon, then umps have to be judged better than this. We know that Angel Hernandez and CB Bucknor and a few other names are terrible at this. You and I know this. Every game they're behind the plate we know it's going to be a chore. So why doesn't MLB? What are they doing? DO YOU WANT ME TO SHOW THIS TO THE CAT AND HAVE THE CAT EXPLAIN IT TO YOU, MR. MANFRED? BECAUSE THE CAT'S GOING TO GET IT!
Anyway, splitting with the Padres at home is unacceptable. And the Cubs' record and performances since the break don't meet the acceptable standard either. Yes, there are injuries, and the Brewers eventually lost which means another day off the calendar with the Cubs in first. But you're supposed to take it by the scruff of the neck, not just let the days fall off. Still waiting.
Top WPA Play: Rizzo's pinch-hit single in the 7th that tied it at 5. (+.237)
Bottom WPA Play: Spangenburg's double in the 8th that put the Padres up for good. (-.257)
Onwards…
Lead photo courtesy Jim Young—USA Today Sports