Addison Russell's season certainly has had an up-and-down quality to it. His April basically ended up in a puddle, as he was trying out a new approach and using the opposite field more and more. That led to a pretty spirited May and June, with that new approach paying off and pitchers having to return to the inside portion of the plate. Which in turn led to Addison being able to start roping line drives toward Waveland and its equivalent on the road.
Addison slashed .277/.355/.410 in May and .329/.386/.481 in June. But clearly, this car blew a tire on the turn of July, and it's gotten so bad that he's started losing playing time to Javier Báez at short, with Crazy Joe Maddon and His Variable Speed Band (anyone who gets this reference will get a free beer from me, and also possibly a strong suggestion to head to a therapist) shuffling Ian Happ, Ben Zobrist, and David Bote between third and second merely to entertain himself.
The numbers are pretty ugly. .202/.272//.286. A 52 wRC+ and .255 TAv. He's basically been half of an average hitter, which puts him somewhere around your little league teammate who always had a juice/gatorade stain on his face. Overall it has Russell at a 92 wRC+ for the season, which is just about where he's always been. But as this would be his fourth season of barely being an average offensive shortstop, you would have to think serious questions about his long-term prospects would start to arise this winter. Especially with his possible replacement putting up near-MVP candidate numbers (in an admittedly watered down and chaotic NL field for that award).
So what's going on?
The answers aren't quite as obvious as you'd hope, because those would have easy solutions. Russell actually struck out a touch less in July than he did in June, from 19% to 17% this past month. And his walks have held steady.
So is he being attacked differently? Sure looks that way. Here's where pitchers went after him in June: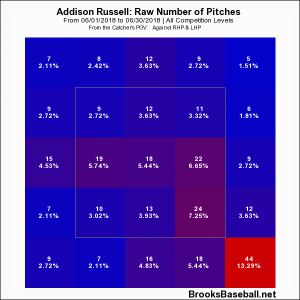 And here's where they went in July:
So it's obviously way more varied, and Russell couldn't key in on one spot. It's still mostly away, but Russell's spray charts still show him being around where he was in May. His hyperactive June saw him go the opposite way 38% of the time, and in July that's sunk to 29.4%, which is still a pretty healthy amount. As you can see, pitchers are still mostly staying away from him, so he might want to start going the opposite way all the time again.
We also can't fault luck in this, as Russell's BABIP was .396 and .383 in May and June, respectively, and has cratered in July to .250. His line-drive and hard-contact numbers fell in July as well, perhaps explaining part of the BABIP nosedive, but not to the point where he should lose 100 points.
The problem also seems to be that Russell has lost all recognition of anything that bends. For the year, his whiffs/swing on curveballs is 25.4% and on sliders 36.1%. In July those numbers are 54.5% and 40.4%. And while he hasn't seen a spike in those against him, you can see how the use went up as July went on here: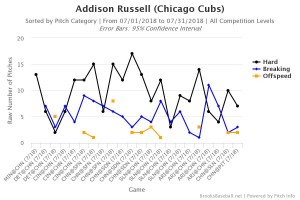 As August rumbles on, it's clear that Russell is going to have to go back to using right field and also get ready to see a host of breaking pitches, especially from righties. Otherwise, his job and entire Cubs future is going to get seriously cloudy.
Lead photo courtesy Dennis Wierzbicki—USA Today Sports