Since the arrival of Cole Hamels, the consternation levels about Jon Lester have gone down. Maybe it's out of pure shock/ecstasy over what Hamels has done. Maybe it's the hope, still not the expectation yet, that the Cubs might have the one ace in their playoff rotation it's generally thought you need. Of course, it's helped that Lester has strung together three good starts. Maybe he's also benefitting from not so much riding on him.
It can't really be argued that Lester's July was something out of a Bram Stoker outtake. A .406 wOBA against, a 6.25 FIP, a 6.46 ERA, and we really don't need to go through any other numbers because hey, we're heading into a holiday weekend here, and it's the last of the summer and maybe we don't want to fill it with a feeling of nothingness and angst, hmmm?
The past three starts, Lester has only given up four runs over 17.2 innings. His strikeouts haven't really gone up, as he's only K'd three in each of the last two but did strikeout eight Tigers in the first start of this streak. And let's be honest, the Pirates, Tigers, and Mets lineups are generally the ones with mittens pinned to their jackets year-round, at least in Detroit's and New York's case. Pittsburgh has at least been a nuisance.
There has been an adjustment, as Lester clearly realized something wasn't working. And really, that thing hadn't been working all year: he was just getting bailed out by the Cubs world-class defense more than he should have needed.
It's better to show than tell, so check out this chart of where Lester's release point on his fastball has been for every start this year: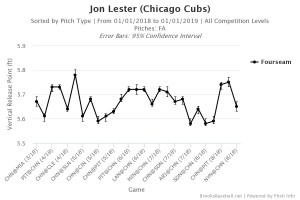 There was clearly a spike where this mini-revival started. Now, if you look at the numbers, it doesn't look like much. The whiffs on his fastballs actually went down, the line-drive percentage on them went up, and that's not what you want. But what pops out at you is that in his last three starts, the pop-up percentage on his fastball went from 3% to 25%. Which leads us to what has happened with the higher arm angle:
He's been more up in the zone, getting the pop-ups from hitters not being able to catch up up there.
It's been the same story with his cutter:
And again, just like his four-seam, since raising his arm angle a bit he's gotten far more pop-ups off it, and the cutter has seen a rise in his whiff-rate the past three starts, from 18 to 27 percent. And again, he's going higher in the zone with it:
He's still getting it in on the hands of most right-handed hitters, but the higher it is, the harder it is to even get to at all when it's in the kitchen. Three starts don't make for a trend yet, but it's worth watching if this continues to be his plan of attack.
It's the same story with the curve. I'll spare you the release point chart and just skip to the location one before and after August 16th:
Lester's different release point has seen his curve move more toward the backdoor variety, instead of dive-bombing at ankles in the right-handed batter's box. It's a small change, but at least adds variety.
If Hamels continues this galactic being performance, the pressure on Lester to be JON M'F'N LESTER isn't as high. But if they both could get going, you'd feel a little better about the approaching October, wouldn't you?
Lead photo courtesy Patrick Gorski—USA Today Sports