What You Need To Know: This one stings not because of what was lost but also because of would could have been gained. In a game where Craig Counsell and his Brewers were clearly going all in to win, the Cubs had reached into their chest and grabbed their heart with Rizzo's homer off Josh Hader. Hader was in his third inning of work, so you can see what the sense of urgency was. It gave the Cubs the lead, they were staring down a six-game lead in the division and grinding the Brewers spirt into dust.
And then they put the heart back and made sure it was working. And with the Cardinals losing, the Brewers might look at this as a pivotal day in their wild card chase.
Next Level: What makes it worse is that the Cubs handed this one back to the Brewers after taking it. We'll start with Carl Edwards Jr.
There's no question he has the best stuff coming out of the pen. He has the best numbers. It's all there. The problem is in three seasons he hasn't shown the mentality of a doomsday reliever. If one thing goes against him, they all then do.
He had recovered from two scratchy singles against him. He made MVP-leader Christian Yelich look stupid in his AB, and the same for Jesus Aguilar. And then for some reason he treated Ryan Braun like King Kong. Yes, I know it's Ryan Braun and his history against the Cubs. He's also got a .742 OPS this year. I know Carl will pinpoint the curve on 3-2 that he didn't get as the culprit, but a) that was a ball and b) look where the previous fastballs were: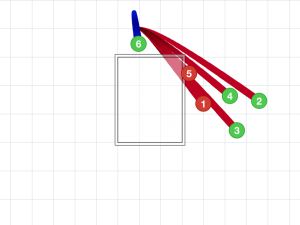 You're not getting a borderline call when you miss with three pitches by feet. And there's no reason to be missing by feet when you're Carl Edwards with your stuff.
This is Edwards's problem, and why Cubs fans will always be extremely itchy when he's in a game in September or October. You can't be nibbling with that repertoire. You can't lose control. And after that, he completely melted down against Moustakas, never coming close and walking in the tying run. You have to be better that in big spots. With his cutting fastball, throw three pitches on the inside corner and dare Moustakas to do anything with them. But more often than not when the lights are brightest, Edwards doesn't.
- Which brings us to Cishek, who was making his 66th appearance today. That's two off his career-high for a season. And it's only two appearances, and his next five could be fine, but he wasn't sharp and he wasn't sharp on Friday when surrendering the game-winning homer to Asdrubal Cabrera. One or two more and fatigue has to be a worry, and then suddenly you're wondering about what a playoff bullpen will look like, especially if Brandon Morrow never makes it back from the land of wind and ghosts.
- The play the game ended on was another strange one, as Kris Bryant made an excellent stab to glove Yelich's grounder. But he was never going to get a double-play and has to come home with that. It's a tough throw especially with Broxton's speed, but it was the only option. Let's attribute it to ring rust.
- The Brewers first took the lead because Daniel Murphy's range at second is "fall down to the right and fall down to the left." Yelich's grounder was hit hard but any second baseman that can move probably knocks it down at least. This has always been the calculation with Murphy, is that he'll outhit his defensive incompetence. And that's true, but the fear is that in an isolated situation of a playoff series where there isn't the sample size and numbers, a series-swiping play won't get made. You can't account for that while building a team, it's just a fear you live with.
- You would have hoped the Cubs would have done more against a returning-from-the-DL Zach Davies, but given what they've done of late against the league's best pitchers I'm not going to get on the offense's case too much. It was enough if Edwards and Cishek could have done the simplest task and find the plate.
Again, the Cubs didn't lose much. It's a four-game lead. It's the best record in the NL. It was just what was possible. And it still is by taking the next two. It was just that it was already in the hands.
Top WPA Play: Rizzo's dramatic homer in the eighth off Hader. (+.474)
Bottom WPA Play: Moustakas's bases-loaded walk off Edwards. (-.285)
Lead photo courtesy Benny Sieu—USA Today Sports