I'll get this out up front so there's no misunderstanding: I always hate these discussions. To me, all four pro leagues on this continent should take a cue from the rest of the world and rename the award "Player Of The Year." Because that's really what it is. With this nebulous, winking, "most valuable" label, everyone gets to throw out their own definition of what it means to them and you can't really correct them because it's an opinion. If it means who made the biggest difference to their team or who was simply the best player with every degree of rationalization in between in play, this turns into a bog of yelling and posturing and groin-grabbing where everyone gets sweaty and agitated. So, basically, Miami.
To me, it's always been the same point. You made the biggest difference to your team if you were the best player in the league, and you were "most valuable" because you had the most value in that given season. And wouldn't you know it, because it's baseball, because there are people who have dedicated their lives to trying to quantify what every single thing on a field is worth and have done a pretty damn good job of it (otherwise what the hell are we all doing here), we know pretty much exactly how valuable everyone has been this season (you know, with the error bars and caveats).
Sure, you can argue on what formula you want to use or which metric you like best, but we have these things. Really, the MVP race should be everyone looking at who has the most fWAR or bWAR or WARP and synthesizing the three in their own mind and picking that guy. But we know that won't happen because a lot of MVP voters are still ones who get bewildered at the automatic checkout line at the CVS.
Anyway, I'm here to help, people. I know what you've read about me, but it's not true. I'm a team player.
So, let's answer the question: Is Javy Báez the NL MVP?
No. Thanks for playing.
Honestly, I take no joy in that because I love the man so much. Is he baseball's most exciting player?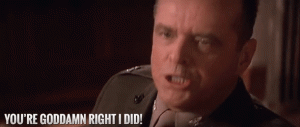 Ok, it doesn't totally fit but it works, and you're just going to have to let me have it. But "most exciting" doesn't mean "best." Báez is going to get a push from voters because he's on the highlights every night, and a lot of the times he's doing something you might see once or twice a year, if that. It gives the illusion of someone having an other-worldly season, instead of merely a very good to great one.
By whatever metric you want, Baez isn't the NL's leader. There are six guys having better offensive seasons by Offensive Runs, including Brandon Nimmo if you can believe it. By wRC+ there are eight, including J.T. Realmuto. By wOBA there are 10. That doesn't mean Báez hasn't been a force at the plate, because he has. But Matt Carpenter or Paul Goldschmidt or Nolan Arenado have been bigger forces, and that's even if you account for where Arenado plays.
Now, you probably want to argue defense, where Báez has been excellent at two different positions, with a smattering of time at third. Ok, I'll give you that, and of the MVP candidates, he's the only middle-infielder, really. But Lorenzo Cain has been just as good in center, and that's no less of an important position than either short or second. Arenado has been his usual excellent self at third, and his defense isn't affected by altitude. Again, J.T. Realmuto is having the same exact season Báez is both offensively and defensively, and he plays catcher which is maybe the most important position. There isn't a lot of push for him to be MVP, is there? If your argument is that Báez has blended both sides of the ball better than anyone, you're basically making Arenado's case.
In reality, this is an extraordinarily weak NL MVP field. For comparison's sake, check out the AL field, which could very well have six 8.0+ WAR players. Anyone in the NL is going to be lucky to crack six.
What that means is that the MVP should go to a pitcher, because Jacob deGrom, Max Scherzer, and even Patrick Corbin or Aaron Nola are going to end up more "valuable" than any position player. deGrom might actually end up having a better season than Clayton Kershaw's 2014, when he did win the MVP and Cy Young together (and yet somehow didn't win in '15 when he was even better?).
And that's because we have the numbers to express this now. If your argument is that Báez held up the Cubs when Kris Bryant was hurt and not KRIS M'F'N BRYANT when he was healthy and Anthony Rizzo was wandering through the unblinking eye in April and Addison Russell turned into Darwin Barney and whatever else… I mean ok? Except the rest of the Rockies lineup pretty much sucks, so without Arenado they're the opposite of whatever Joe Walsh was singing about. Christian Yelich and Cain have navigated the Brewers through not having a rotation and, of late, not a bullpen either. Without Carpenter, the Cardinals would be an unidentifiable puddle of ooze that would call out the biohazard squad (usually reserved for "St. Louis Pizza"), though we'd hear a hell of a lot less about salsa.
The fact that Javy is going to get votes is more than enough for me, considering where he's come from and how close he was to not being here at all. He's had to earn every bit of it, because really before last year he wasn't even a guaranteed starter. He forced his way into being played regularly and then just kept going. He's perhaps the most unique Cub of all-time. He is a treasure. He might save this stupid little game from itself one day.
But unique doesn't mean best. And he's not. And that's fine. Both he and I will settle for other hardware in October.
Lead photo courtesy Jeff Hanisch—USA Today Sports