It's the beginning of September, which not only means that kids head back to school and beer gardens become a lot less fun, but also that I, as I have since the beginning of time the beginning of the season, will sit down and write about the top Cubs' contributors and moments from the previous month. If you want a brief technical summary of what this means, please feel free to jump over to the original version of this series in which I lay out the criteria I use to pick the players and plays for these recaps. If you don't care and just want to move on to the good stuff, please note only that the top plays I indicate are the top plays for each player I mention, and may or may not (probably not) correspond to the top plays of the month overall.
The Cubs started the month of August under a cloud, dropping all three games of a home series against the Phillies—at that point the worst team in baseball—over the last weekend in July, and suffering the particular ignominy of being no-hit by Cole Hamels in his last start in a Phillies uniform. It was a fairly devastating series for a Cubs team that, at the time, had been having real difficulty in rising much above seven or eight games above .500. And so they entered August at an ebb tide, 55-47 and 10.5 games behind the Cardinals for the division lead. And yet (*pats self on back*), this Tweet—from the day after the Hamels no-hitter—turned out to be extraordinarily accurate:
Remember today as the low point of the season when it all gets better.

— Rian Watt (@rianwatt) July 26, 2015
Indeed, the Cubs have a lot to be proud of as the calendar turns to September. They went 19-9 on the month just behind them, setting themselves up for the stretch run at 74-56 and only … 10.5 games behind the Cardinals for the division lead. Ah. Well. The only thing that really matters at this point, honestly, is getting to the postseason, where anything can happen. And by that standard, the Cubs are doing just fine. BP pegged their odds at 92.9 percent entering play on September 1st, reflecting the reality that their 5.5 game lead on the San Francisco Giants for the second Wild Card spot should hold up for the rest of the month, barring a total collapse over the season's final 32 games. And that won't happen—not if the guys we're about to talk about it repeat their performances from August.
THE HITTERS
(5) Chris Coghlan, 0.6 fWAR: August may have been Coghlan's last month as a semi-regular in the Cubs lineup. The acquisition of Austin Jackson, the necessity of keeping Kyle Schwarber in the lineup and not behind the plate, and the call-ups of Quintin Berry and Javier Baez mean that playing time in the outfield—with the exception of Dexter Fowler in center field—will be decided on a matchup basis that may well leave Coghlan without a permanent home. Even second base, his secondary position for much of August, will be a stretch with Baez, Starlin Castro, and Jonathan Herrera competing for playing time there. Point is, it's worth appreciating what Coghlan did last month, because he might not get a lot of opportunity to do more in September. His .247/.313/.493 line created offensive value at a rate 19 percent greater than the league average, and his defensive versatility allowed the Cubs to weather some injuries that would have felled a less-flexible team. Coghlan's highest-impact moment of the month came on August 14th, when he homered (+0.220) off of former Cub Jeff Samardzija, putting the visitors up by two runs in a game they'd previously trailed 2-1. Poor Shark.
(4) Kyle Schwarber, 0.8 fWAR: If you're like me (and if you don't think chili-dusting mangoes is a crime against both mangoes and humanity, you aren't), then you were surprised to see Schwarber ranked this low. It seems like only yesterday that he was smashing home runs in every ballpark, hitting over .500 and slugging over 1.000, and generally making his presence felt around the National League. But Hulk has slowed down significantly in the last few weeks, and his August line (.221/.324/.537) is a ways off where he started his career. In fact, since a three-hit day on August 13th, Schwarber has had multiple hits just once (August 26th) and is hitting just .140/.242/.368, with four home runs and a 35 percent strikeout rate. But before you get too worried: don't. The league was always going to adjust to Schwarber, and he was always going to have to adjust back. You're watching that adjustment right now. Part of the reason he's so highly thought of is that he's shown the ability to do what it takes to succeed through adversity. This struggle won't end him. The Leader might. His top play came against Matt Cain on August 25th, when he put the Cubs up 3-0 with a massive homer to right field (+0.306).
(3) Anthony Rizzo, 0.9 fWAR: Ho, hum, another solid month from Anthony Rizzo. There's not much to say about him that hasn't been written already, so I'll just leave you this picture of him doing Rizzo things: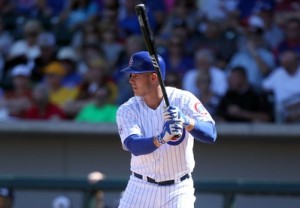 Oh, and tell you that his top play of the month came on the first day of the month, when he homered off of the Brewers' Matt Garza in the eighth inning (+0.298), tying at three a game that had looked doomed from the start.
(2) Dexter Fowler, 1.5 fWAR: There's a reason you winced when Dexter Fowler took a ball off of his hand on August 24th against Cleveland. Fowler has been the engine that's powered the Cubs all month, posting an OBP of .408 from the leadoff spot, and contributing a .297 average and .288 ISO to boot. He's been excellent all year, to be sure (his fWAR total leads all National League center fielders in the non-Andrew McCutchen / A.J. Pollock division), but he really picked up the pace in August. I've been of the opinion for a while that Fowler is the single most indispensable player on the Cubs roster (save perhaps Rizzo) and nothing I saw this month changed that opinion. The Cubs will have a happy problem on their hands this offseason when they decide whether or not to extend Fowler a qualifying offer. For what it's worth, I'm in the YES camp. At worst, they get either one more year of Fowler at $15-ish million, or a compensatory draft pick that'll be in short supply going forward (as the Cubs improve). That's not too bad. Dexter's best moment technically came on August 13th, when he homered off of the Brewers' Tyler Cravy (+0.252), but I'd say it's actually when he stayed in that game against Cleveland, and came back strong thereafter.
(1) Kris Bryant, 1.9 fWAR: Oh. So Kris Bryant is really good? Really? Hang on, let me grab my pen and write that down before I let you go. Yes, Bryant has arrived. His .330/.422/.620 line in August was his best of the season, and the seven home runs sure didn't hurt either. Barring a late-season collapse, or a surge from San Francisco's Matt Duffy or Pittsburgh's Jung-ho Kang, Bryant should have the National League Rookie of the Year award locked up (5.0 fWAR to date, against 3.7 and 3.6 for Duffy and Kang, respectively). That's a pretty good start to a career, and he should only get better. His top moment of the month was actually his second-most consequential play of the season, and came in the same game that nearly saw the Cubs lose Dexter Fowler for the season. In that game, Kluber and Lester had traded zeroes for much of the evening, but the Cubs managed to scrape out a run, putting Lester in line for a complete-game shutout. He got a third of the way through the ninth before faltering, and the bullpen couldn't hold the lead. The game went to the bottom of the ninth with Wrigley in a fairly disconsolate mood, but that only set the stage for this, with two outs:
And with that, you have the offensive stars. But wait 'til you hear about ….
THE PITCHERS
(5) Kyle Hendricks, 0.3 fWAR: Hendricks. Ah, Hendricks. He hasn't been bad this month (obviously; he's on this list) but he hasn't been brilliant either. He's just been consistently … ok. Here's his runs allowed in each of his August starts: 1, 3, 5, 3, 4, 3. And here's his innings pitched in each of those starts: 7.0, 5.1, 3.1, 5.0, 6.0, 5.0. There was one clunker in there—on August 14th, against the White Sox—but, for the most part, you know what you're going to get with Hendricks. Solid, dependable performance over about five innings, after which you'll have to turn things over to your bullpen. That's not a recipe for postseason success (and I wouldn't expect we'll see a lot of Hendricks in the postseason) but it'll do just fine in the regular season, especially from the fourth slot Hendricks holds. Did you know that the Dartmouth grad has a 97 cFIP and a 95 DRA-? Did you know that that first number ranks him 42nd in the majors among all starters with 100 innings pitched? Bet you didn't. Bet you also didn't know that his highest-impact August moment came on the final day of the month, when he induced a double-play groundout from the Reds' Brandon Phillips to end a first-inning scoring threat (+0.085). It was, anyway.
(4) Pedro Strop, 0.4 fWAR: I'm so glad Strop showed up on this list. For one thing, I love #HatsToTheLeft. For another, I think showmanship is undervalued in baseball—this is a spectator sport after all, and I like watching players at their most dramatic. And, for one final thing: Pedro Strop has been very good at playing baseball this month. Over the course of 10 August innings, he struck out 14 batters, walked just five, and allowed a paltry three runs. And I'm guessing he can keep it up. After tiring a little bit in June, his velocity has climbed back up to its normal levels, and he shows no signs of slowing down: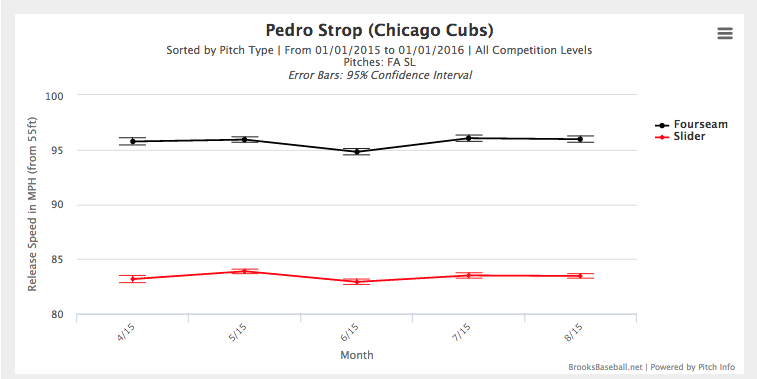 That's a good thing, because I want more from Strop as the season wears on. His highest-impact August moment came in a game you'll remember—on August 14th against the White Sox (yes, the same day as the Hendricks clunker). In the eighth inning of that game, with runners on first and second and just one out, Strop managed to strike out Adam Eaton (+0.120) and Tyler Saladino (+0.122) in consecutive plate appearances, ending the threat and setting the Cubs on the path to their eventual victory.
(3) Hector Rondon, 0.5 fWAR: Another reliever. Think the Cubs' success this month had something to do with their bullpen? (It did, but it had more to do with their offense catching fire.) Anway, Rondon was even better than Strop this month, posting a miniscule 0.82 ERA over eleven brilliant innings pitched. And they were difficult innings: Rondon had an inLI (which measures the intensity of the game situation at the time a pitcher enters) of 2.31 on the month, which was far and away the highest mark on the team (Strop was second, at 1.72). In any event, Rondon has clearly earned manager Joe Maddon's trust, and this month he proved why. His top moment came on August 12th, against the Brewers, when he managed to strike Scooter Gennett out swinging (+0.246) to end a one-run game that featured Milwaukee runners on second and third in the ninth.
(2) Jon Lester, 0.5 fWAR: Despite the grief he gets from certain segments of the fanbase, Lester has been pretty much what he was expected to be this season: a very good major-league pitcher. One data point: he's shown up on all but one of these lists (June) since I started doing them. This month, the top-level results weren't pretty (5.04 ERA over 30 1/3 innings pitched), but the strikeout (23.3 percent) and walk (6.2 percent) numbers are encouraging, and better than his career numbers in both respects. It's worth noting that BP's premier pitching statistic, DRA, doesn't have month-by-month splits yet (and may never, given the nature of the statistic), but if it did it would likely be less kind to Lester than fWAR—which is impressed by walks and strikeouts, even if the runs allowed are poor—is willing to be. Just another reminder that it's worth fully understanding what statistics mean. In any event, Lester's top moment of the month came on August 24th, in the makeup game against the Indians. It was a dandy of a matchup, with Lester going against the Indians' ace, Corey Kluber, and the two 1-1s traded zeroes for most of the day. In the fourth inning, Lester faced the threat of runners on first and third with just one out, and stared down Carlos Santana at the dish. Happily, Santana grounded into a double play (+0.145), and the game remained scoreless entering the fifth.
(1) Jake Arrieta, 1.6 fWAR: This is where I sort of wrote myself into a corner with this feature. Any sensible writer, recapping the month of August for the Cubs, would lead with Arrieta's no-hitter against the Dodgers in Los Angeles on August 30th. And I did manage to highlight that moment in the lead photo, which was taken the following day, during a pregame celebration at Wrigley Field. But I can't just focus on the no-hitter here, because Arrieta was absolutely brilliant all month. His 0.43 ERA led all qualifying pitchers by nearly 70 points (St. Louis's Michael Wacha was second, at 1.13), and the Cubs won all six of his August starts. In fact, outside of a start on the South Side in which he gave up three runs over 6 2/3 innings, Arrieta allowed just one run during the entire month. Pure brilliance, and the no-hitter to cap it all off. Remember I said I wrote myself into a corner? Well, I'm not going to list Arrieta's top play by WPA here. It's not important. If you have a moment, instead, read Sahadev Sharma on how he got here, and look back at that no-hitter again:
That's a memory that'll last with Cubs fans for a very long time. Like the previous Cubs no-hitter—Carlos Zambrano's against Houston in 2008—this one will likely come in the middle of a playoff season for Chicago. It's no guarantee, of course, but with 32 games left to play and a magic number of just 27, Maddon's young Cubs are in a great position to play the Wild Card game in Pittsburgh or Chicago for a shot at the NLDS and immortality. Onwards!
Lead photo courtesy Matt Marton—USA Today Sports.