Sometimes you just need to take a moment and admire your own work. It's something Kyle Schwarber has been known to do early in his career, and he did so on Tuesday night when he watched his two-run shot in the seventh inning leave the yard as he gave his team a 5-4 lead.
"It's a little bit of a reward," Schwarber said when I asked him about watching home runs. "It's hard to explain the pimp job of a home run. I don't really know how to explain it, it just happens in the moment. You just watch and say, 'Ooh, I got all of that.' Then you just drop the bat. It's how it goes."
It's a fine line—something Schwarber is well aware of, especially as a rookie. But in a big moment, when you step up and give your team a lead late, he believes it's ok to watch it fly for a bit before beginning your trot. After all, this is a game and it's supposed to fun, Schwarber believes that as long as you're not being overly dramatic, you haven't crossed any lines.
As Len Kasper put it in his recent reddit AMA,"I've said many times, guys can do cartwheels if they'd like. I couldn't care less. The unwritten rules, by and large, are dumb."
I'm firmly on Schwarber and Kasper's side here; I want to see natural outbursts of emotion. Interactions like we saw between Brandon Phillips and Pedro Strop the other day add another element of fun to this sport that baseball often lacks.
And while home runs and celebrations are part of the good times, Schwarber had been in a little bit of a funk before Tuesday's two-hit night. Manager Joe Maddon believed it was the walk in Schwarber's second plate appearance that got the youngster back in a groove.
"It's just hard to maintain that level of player excellence—especially for a first year guy—for that long," Maddon said. "What I saw tonight? The walk. The moment he walked I said [to him], 'When you're walking you're hitting.' He needed to accept the walk right there and really just calm his feet down. He's been really jumpy at the plate and when you do that you get away from your hands. I thought the walk really helped him a lot; he started to slow down a little bit. "
Schwarber agreed that that walk was the key to him succeeding in his final two at-bats—in which he produced a single and the aforementioned homer—and he also pointed to his first-inning strikeout an experience which helped him get re-focused.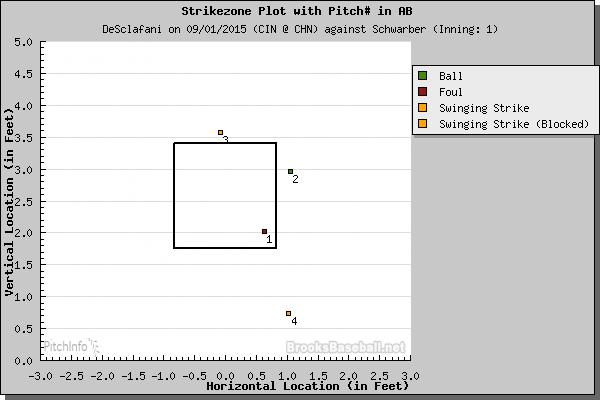 Schwarber whiffed on a breaking ball low and inside, chasing a pitch in the dirt for strike three.
"That's been what I've been doing," Schwarber told me. "I'll take the pitches I need to take until I get to two strikes. I was really pressing in two strike counts for some reason, I was probably angry that I missed my pitch leading up to that. And that would cause me to go out of the strike zone or chase a pitch up. That's not me, I don't like to do that. I like to really stay patient. So it just finally clicked and I was over this. I just needed to get back to being patient and take a walk. And maybe that would have led to taking strike three, but I'd rather have that than chase a bad pitch."
Prior to Tuesday's game, Schwarber was in a 20-game funk in which he was slashing .153/.262/.472. He was certainly still productive in the slugging department (six home runs helped contribute to that eye-popping .319 ISO), but he was struggling to do much else, and his strikeout rate during that stretch was above 35 percent. In the 11 games prior to Tuesday, he'd only drawn four walks, good for a solid 8.9 percent rate, but well below what Schwarber expects of himself.
And as he mentioned, things were starting to get bad in two-strike counts. Unsurprisingly, if you look at Schwarber's heat maps for his swing rate in any count, then compare it to what he swings at with two strikes, there's a lot red outside the strike zone. That's pretty normal, as any batter is going to have to protect the plate when they're behind in the count.
But let's specifically look at what Schwarber is whiffing at when he's got two strikes on him.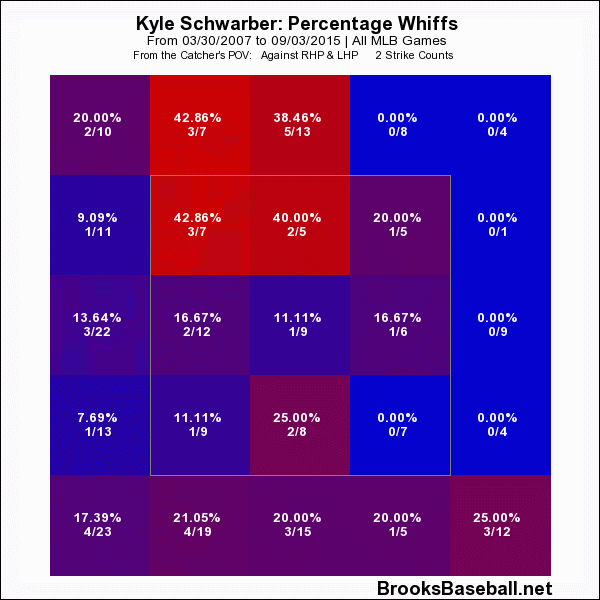 There's a lot of swing at miss at pitches that are up and away from Schwarber. But wait, perhaps that's not a trend just with two strikes.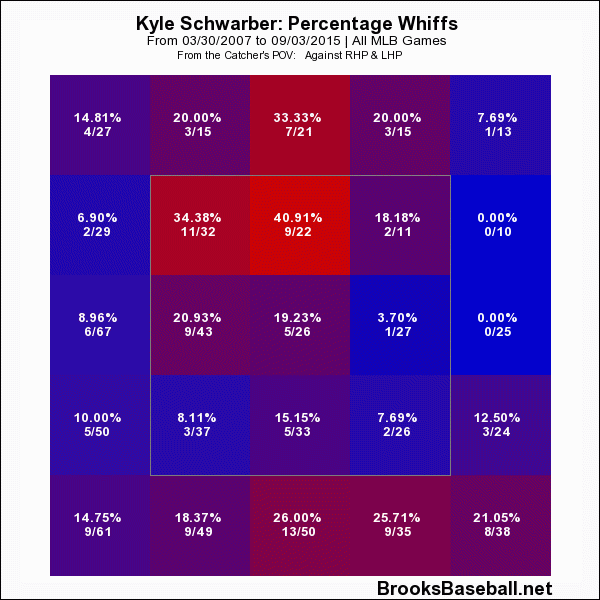 Indeed, Schwarber does have a tendency to chase pitches up in—and even out of—the zone, in all counts. If you were paying close attention, you may have noticed this small hole in Schwarber's game early on. In his first stint with the big-league club, Schwarber struck out just three times in his first four games. In his final two, he went down swinging five times, and every swing and miss he had during those games was on something up.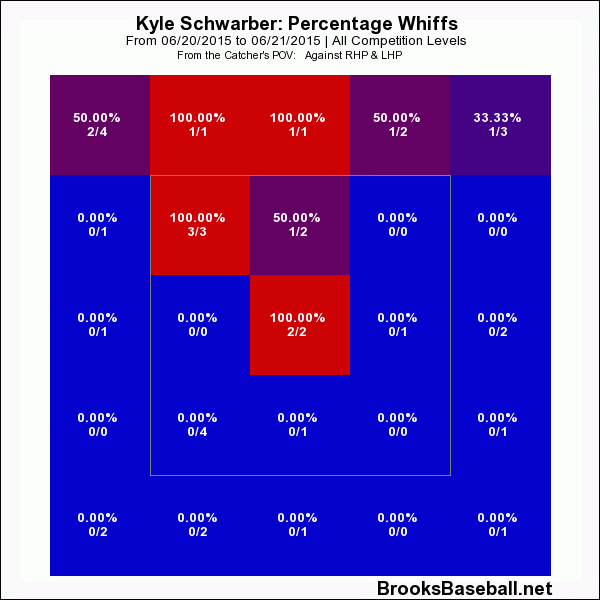 Those whiffs on the high heat were a bit of foreshadowing into what appears to be one of Schwarber's few weaknesses when at the plate. He looked nearly invincible in those initial showings, but clearly the league had found a flaw. And while they've failed to expose it as often as they like—let's keep in mind, the kid still has a .917 OPS just 48 games into his career—it has proven to be a bit of a thorn in his side.
"I did notice I was chasing the high pitch a lot more than I have," Schwarber said. "But it's gonna happen; you go through times when one zone looks great and another zone looks terrible. For me it's just trying to eliminate things up in the zone right now and go from there. Just go up there with that approach of me trying to hit my pitch, and when I do get my pitch, don't miss it. That's what all this comes back to, my approach. Everything from chasing, to not taking walks, it all comes back to keeping with my approach."
In his short time with the Cubs, Schwarber hasn't struggled with many pitches.
It's basically the curve, which he doesn't see that often, and, to some degree, the four-seamer. Of course, it's the latter that a pitcher is likely going to go up and out of the zone with, especially with two strikes. As he shared with me, Schwarber is aware of his weakness with the fastball up, and of course it's a pitch many power hitters find tempting.
"My goal is to help the team," Schwarber told me. "In my mind, for some reason, I felt like I had to do something more to help the team win. That's when I started pressing at plate, I started putting more pressure on myself, and things started going downhill. I lost kind of the core roots of baseball: just go out and have fun and play the game. I wasn't thinking that at all, it was more in-depth thoughts and I don't know why."
If he can pounce on the mistakes more often and reduce just how often he chases that fastball up, these mini-slumps could be few and far between. If that's the case, moments like this will continue to be a regular occurrence:
Schwarber may still be working on that high fastball, but he's certainly not lacking in swagger.
Lead photo courtesy of Matt Marton-USA TODAY Sports