"I'll take care of you, man."
Those are the first words on my recording, and the first words any major-league player ever spoke to me with the knowledge that they might be published one day. "I'll take care of you, man." The guy on the recording was Kyle Hendricks, who I'd met a few days earlier—on my first trip to Wrigley as a member of the press—and who'd promised me five minutes in the dugout to talk about his growth and maturation as a pitcher. He knew it was my first interview, ever, and so promised to be kind. I promised to keep it to five minutes.
Hendricks is, more than any Cubs player I met at the park, exactly the guy you'd expect him to be. He's skinny but not rail-thin, covers long ground with his 6-foot-3 strides, and has the kind of open, honest face that commands immediate kindness and respect from those around him. In many respects, he's not too different from any of the other smart, earnest 25-year-olds who've come out of Dartmouth in recent years. Two things separate him apart from most others like him, however, and in combination have carried him to the very top of his profession. The first of these, you notice right off the bat: his enormous, long-fingered hands, which swallowed mine up in our introductory handshake. The second takes a little talking to get to: his brain, which has allowed him to consistently outsmart big-league hitters—a breed of human often built more along the lines of a wrecking ball than Hendricks' accountant type.
It's that second distinguishing factor—Hendricks' brain—that I wanted to ask him about in the dugout. Baseball is a sport that rewards intelligence, sure, but it's also a sport in which overthinking can be anathema; think Nuke LaLoosh's struggles in Bull Durham. I asked Hendricks if he'd ever had a coach who tried to talk him out of his cerebral ways; a coach who perhaps thought Hendricks should breathe through his eyelids more and think less. He didn't think so. In fact, he pointed to one particular coach who'd helped him develop his approach to the game.
"Brad Holman was my pitching coach in High-A [Myrtle Beach, then a Texas Rangers affiliate]," Hendricks told me. "He was probably my first pitching coach that I connected with. We got to the point where were talking about the game in the dugout, you know, during the game, just trying to learn how to pitch different guys in different situations. I just tried to kick it into gear [after that]. I think you can over-analyze things and overthink things, but as far as understanding situations in the game, or how to attack a guy, I don't think you can think too much about that."
It's a good thing Hendricks got the opportunity to work with Holman, because his stuff has never been of the type that he can just blow people away. With the exception of his changeup, which gets whiffs about 25 percent of the time, Hendricks doesn't have any pitches that generate noticeably more whiffs than the league average. He relies on sequencing and a detailed knowledge of hitters' tendencies—gleaned through hours in the video room—to set up hitters in a way that leads to his success.
I asked him when he settled into the type of pitcher he is today, and when he learned that he couldn't blow hitters away any more. His answer was immediate.
"[It was] probably Double-A," Hendricks said. "Double-A, Triple-A. I mean, I felt like I could even maybe overpower a guy late in the count if I set him up for it, but even in Double- or Triple-A I wasn't going to blow guys away consistently."
I haven't asked them individually, of course, but my understanding is that that answer is totally consistent with most pitchers' experiences. There's a widespread feeling that the biggest jump in pure talent is between High-A and Double-A, but the biggest difference in approach is between Double- and Triple-A (the latter of which is often populated with players with big-league experience). As soon as Hendricks hit the former level (which in his case came with the Cubs' Tennessee Smokies), he found that his competition had improved as well.
"Once I realized the caliber of hitter in Double-A and Triple-A, and what I had to do in my game, that's when it [my current profile] started," Hendricks said.
And his current profile has served him pretty well so far, although this season has been a bit of a struggle at times (as my colleague Sahadev Sharma covered late last month). After a superb rookie campaign last year, where he put up a 2.69 ERA and a 75 DRA- over 13 late-season starts, Hendricks has put up a 4.22 ERA and a 94 DRA- so far this season. That's not bad—not at all—but it's also probably not where he'd like to be going forward. His pitch mix hasn't changed at all, but there has been perhaps a little bit of a velocity drop in the latter part of this season: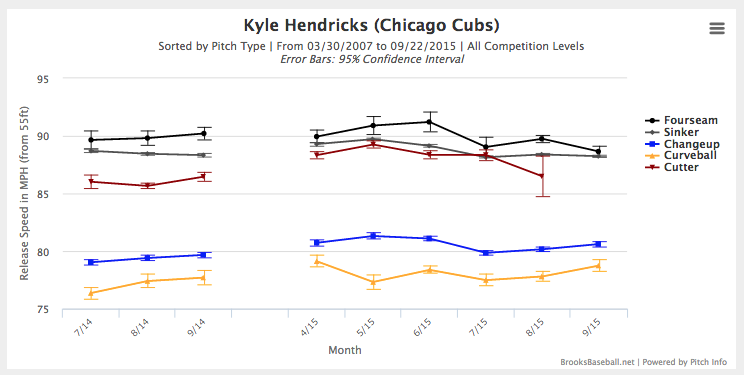 For his part, Hendricks isn't too worried. A lot of that is due to new manager Joe Maddon.
"Joe, I mean, he has confidence in all of his guys," Hendricks shared. "And so, he makes it very noticeable. So for me, I mean, I feel very comfortable going about my business the way I do it, going about my routine the way I do it, because I know that's how Joe is: he's comfortable with how you do your business."
And is Hendricks worried about his position on the playoff roster? Well, he'd like to be there when the bell rings, sure (and he acknowledged that the team hadn't clinched anything yet), but he's ready for whatever may come.
"I'm just hoping to make the playoff roster," a rather frank Hendricks stated. "And if I do, I'll contribute in whatever way I can. If it's going to the bullpen, just gotta be ready to throw and contribute however I can."
Kyle Hendricks, the number four starter on a team that's almost certainly playoff-bound, is ready to go to the bullpen if it helps his team win. You won't hear that kind of selflessness from every player. But with Hendricks, perhaps it should be expected. This is, after all, the same guy who led off with "I'll take care of you, man." That's just the way he is.
Lead photo courtesy Jason Getz—USA Today Sports.