Let's get this out of the way right at the top: putting aside his value as a free agent, Daniel Murphy is already a target (of rather the wrong sort) for Chicago Cubs fans. His offensive exploits for the Mets during the National League Championship Series—a four-game sweep of Chicago, in which he went deep in every contest—and his well-publicized disquiet with respect to the gay "lifestyle" have collectively earned him a level of disrespect Chicago fans usually only accord to Jay Cutler and—sometimes simultaneously—to the Packers. But I'm not here to write about that. I'm here instead to wonder whether Daniel Murphy might presently be the wrong kind of target: a punching bag, rather than a potential free agent acquisition. Welcome to the second in BP Wrigleyville's "Offseason Target" series.
***
How He Fits: Let's first contemplate the type of player Murphy is today. Here are some numbers from his last three big-league seasons:
| | | | | | | | | | | | |
| --- | --- | --- | --- | --- | --- | --- | --- | --- | --- | --- | --- |
| Year | Age | PA | HR | BB% | K% | Contact % | AVG | OBP | SLG | tAV | WARP |
| 2013 | 28 | 697 | 13 | 4.6 | 13.6 | 88.5 | .286 | .319 | .415 | .265 | 2.2 |
| 2014 | 29 | 642 | 9 | 6.1 | 13.4 | 88.2 | .289 | .332 | .403 | .277 | 2.2 |
| 2015 | 30 | 538 | 14 | 5.8 | 7.1 | 92.0 | .281 | .322 | .449 | .283 | 2.1 |
That's what I'd call a consistent profile, though you can call it Al if you'd like. Murphy is a high-contact hitter (that 92 percent mark was the highest in the National League, among qualified batters), he'll give you about 10 homers a year, and a lot of his value is tied up in his batting average and ability to knock the occasional ball out of the ballpark. He won't walk a lot, but he won't strike out a lot either. He also has a tremendous batting eye. Check out his career swing rate: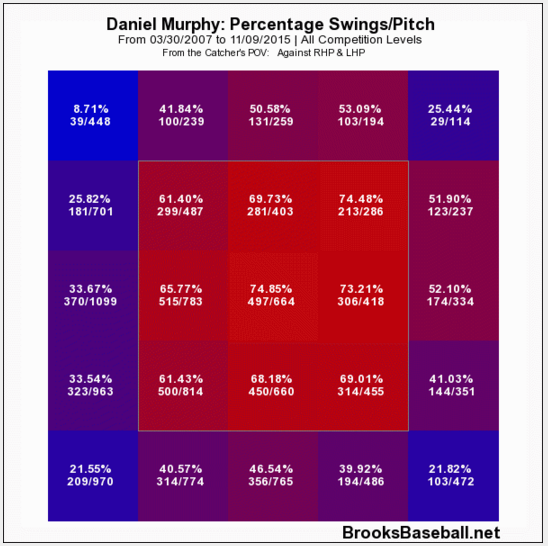 Sort of pretty, isn't it? Murphy knows exactly where the zone is, and puts his elite bat-to-ball skills to good use by making contact with just about everything he swings at. That skill—contact ability—is one the Cubs are looking to add this offseason, and Murphy's proficiency in that respect is the number one reason I started exploring the fit with the Cubs.
We've covered it before (by me, here, and by my colleague Sahadev Sharma, here), but it bears repeating once more: the Cubs don't want to change the hitters they already have—they know Kris Bryant is going to whiff a lot, and have accepted that that's just the price of doing business—but they do want to add hitters who can get on in front of the big boys, and maybe occasionally knock a runner in from third with two outs. Hitters with strong bat-to-ball skills can typically do both. So contact ability, in general, is something the Cubs are looking for in free agent targets this year, and Murphy, in particular, fits the bill in that respect.
But—and this is a big but—contact ability is the answer to only one question: how often does the hitter make contact with the baseball when he swings? That's a useful question to ask if you're trying to find a hitter who'll get the runner in from third base. It's much less useful if you're looking for someone to consistently get on base ahead of hitters like Bryant, Rizzo, and Schwarber. It's easy to fall into the trap of using contact rate as a proxy for on-base ability, yes, but Murphy is a perfect example of why that sort of thinking is dangerous. He's an anomaly: an elite contact hitter but a middling to poor on-base guy. His .322 OBP mark in 2015, for example, was almost identical to the Cubs' team mark of .321—there's not much improvement to be found there.
But hey, on-base ability isn't the end-all, be-all of offensive skills. The Cubs might be willing to bring Murphy on board despite his low OBP if he's able to do damage on the balls he does make contact with. So what's Murphy like when he makes contact? Well, he's a guy who makes his money on the inner half of the plate, pulling balls into the gap and (sometimes) over the fence: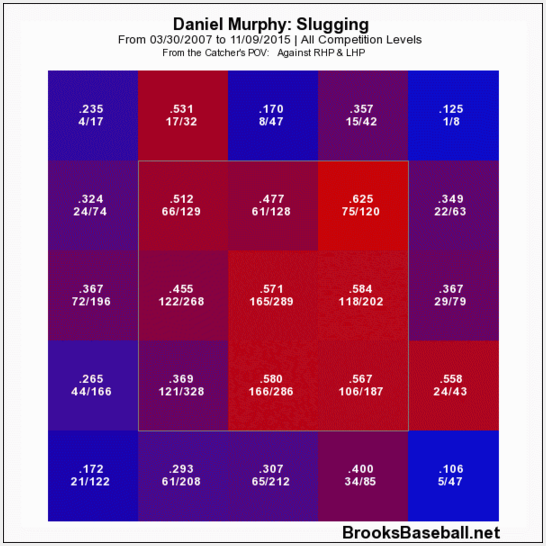 Being a lefty pull hitter with a little bit of pop isn't a terrible thing to be—unless you're also on the wrong side of 30. Murphy's average home run last year flew just 393 feet, which is in the bottom half for players with as many plate appearances, and suggests that as the years progress some of those home runs (and there weren't that many to start with) will turn into doubles or—what's worse—outs.
Even more concerning is that Murphy's pull tendencies have grown dramatically in recent years. After a career-low 28.9 percent pull rate in 2013, his mark jumped to 33.8 percent in 2014 and a whopping 40.7 percent last year. That shift is visible in his spray charts from the last two years (see below), and also in his BABIP, which dropped from its career norm around .320 to just .278 last year.
We've just covered a lot of information all at once. Where does it leave us with Daniel Murphy, big-league hitter? Here's how I'd summarize it: he's an elite contact guy with a good understanding of the strike zone and some pull power; the first two skills are likely to age well, the last is not. For what it's worth, PECOTA agrees. Here's Murphy's projections for the next three years (PECOTA doesn't project contact rate):
| | | | | | | | | | | |
| --- | --- | --- | --- | --- | --- | --- | --- | --- | --- | --- |
| Year | Age | PA | HR | BB% | K% | AVG | OBP | SLG | tAV | WARP |
| 2016 | 31 | 619 | 10 | 5.5 | 12.6 | .283 | .323 | .400 | .268 | 1.6 |
| 2017 | 32 | 575 | 7 | 5.6 | 13.2 | .267 | .308 | .370 | .251 | 0.8 |
| 2018 | 33 | 548 | 7 | 5.3 | 13.3 | .264 | .303 | .367 | .249 | 0.5 |
| 2019 | 34 | 521 | 6 | 5.4 | 12.9 | .259 | .299 | .357 | .245 | 0.2 |
That's … not too great. It's possible to overlook, though, because offense is just one part of Murphy's appeal (or lack thereof). He also, you might have heard, plays defense. And here's what's intriguing: he plays defense all over the field. In 2015, he saw time at first, second and third base, and has 464 2/3 outfield innings under his belt to boot. That's an appealing profile for a team that values versatility as highly as the Cubs do, and which might need to give Kris Bryant (the incumbent third baseman) some outfield starts next year. Having a more experienced backup to Rizzo on the roster wouldn't hurt either, and if Ben Zobrist is out of the Cubs' price range, Murphy might be the player most able to replicate Zobrist's defensive skillset.
And that has value. If you think of Murphy as a starter at any one position, his numbers—and particularly his projections going forward—look weak to poor. But if you think of him as a super-backup, capable of playing at least four positions on a daily basis (albeit, by all accounts, not particularly well), his numbers start to feel a little better. None of his skills are elite, save his contact ability, but none are truly terrible either, and he can play everywhere while taking up just one roster spot. That has huge value in today's game. And when you consider the adjustments Joe Maddon would surely make to put Murphy in a position to succeed (starting him against pitchers who throw off-speed stuff a lot, for example; Murphy has shown a tendency to take those pitches to all fields), Murphy starts looking like a reasonable option on a cheap deal.
Why It Won't Work: But there's the rub: Murphy is unlikely to come on a cheap deal. Believe what you want about narrative and it's role in analysis of the game, but this much is incontrovertibly true: Murphy likely added at least $15-20 million worth of value to his contract by virtue of his postseason performance in 2015 and (given his age and relatively weak career numbers) he's highly unlikely to take anything but the best dollar value he can get. His market is never going to be better than it is right now, and he knows it. Add in the lost draft pick his signing team will have to give up, by virtue of the qualifying offer the Mets gave him last week, and you start to see what might have been a relatively cheap option become expensive fast.
Now, while Cubs' GM Jed Hoyer recently indicated that the team will be prioritizing wins in 2016 over any other consideration, it's hard to imagine the Cubs valuing Murphy, minus the multiple tens of millions he'll be owed, more than the draft pick near the end of the first round they'll lose if they sign him. I'm guessing that they'll kick the tires a little and see where his market is, but I have a hard time seeing them committing more than two years and $35 million or so to Murphy, no matter how well they think his power will age. And Murphy will surely get offers with a higher total and average value than that, and the Cubs might find better uses of the money elsewhere in any case (for example, for the first two years of a Zobrist deal).
Alternatives: Zobrist, Kelly Johnson, Gerardo Parra and David DeJesus are all players who'd fill part of Murphy's skillset. A lot will depend on what the Cubs choose to do in center field; given the flexibility on their roster, that decision will trickle into the infield. That said, I'd summarize the Cubs' possible pursuit of Murphy much as I do their season as a whole (and that of the Mets, come to think of it): close, but no cigar.
Lead photo courtesy Brad Penner—USA today Sports.