Position: Relief Pitcher
2015 Stats: 49 2/3 IP, 3.53 DRA, 1.99 ERA, 32.8 K%, 12.8 BB%, 0.7 WARP
Year In Review: This past summer was Justin Grimm's second full year pitching out of the Cubs' bullpen, and he played a vital part in solidifying what was the eighth-best bullpen in baseball by ERA. Grimm, 27, started 2015 on the disabled list with an inflamed right forearm and didn't make his first appearance until May. But when he returned to replace the struggling Brian Schlitter, he picked up where he left off in 2014 and produced an excellent season ERA of 1.99. Besides a blip in September, he anchored the late-innings out of the 'pen along with fellow righties Pedro Strop and Hector Rondon, and became the Cubs go-to option in the sixth or seventh inning when they needed an out. The results, then, are undeniably good, but let's look at how Grimm got these results, and whether we can expect him to be as good in 2016.
One of the first things I noticed when I started researching this piece was that Grimm pitched only 49 2/3 innings this year. This is significantly fewer than I would have guessed; even though he didn't pitch in April, he still appeared in 62 games this season. This speaks to the role that Grimm took on as the year went along: he only pitched more than an inning three times all year, and he was frequently used in high-leverage situations when the Cubs needed just one or two important outs. This usage pattern is likely due to the type of pitcher that Grimm has become out of the 'pen. He has an extremely high strikeout rate of 32.8 percent, which is unfortunately balanced out by a high walk rate of 12.8 percent. It is a greater advantage to have a high K% with men on base and less than two outs (a time that the batter is looking to put the ball in play), and it is usually less of a disadvantage to issue walks when the other team is trying to make contact. To a large extent, this explains Grimm's high-leverage but short-term usage for this year.
Another reason this type of usage makes sense is that Grimm has evolved more and more into a two-pitch pitcher over time. Here is a graph from BrooksBaseball.net that shows his pitch usage in each month of his career: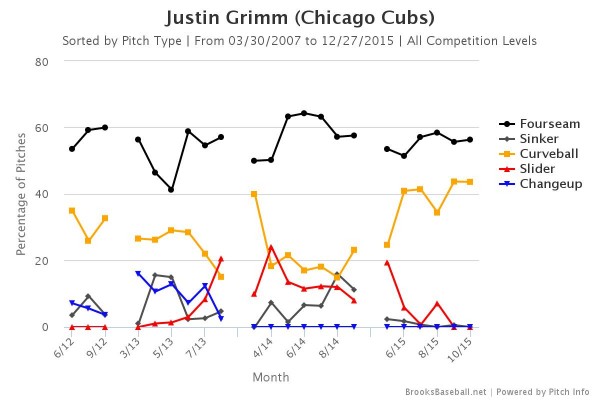 As you can see, the longer Grimm has been in the bullpen—a role he went to permanently when joining the Cubs big-league club in 2014—the less variety he has had in his pitch arsenal. When Grimm was a starting pitcher prospect, he used a four-pitch mix that included a sinker and a slider; he now uses these pitches sparingly, if at all. In the last several months of 2015, this trend became even more clear: he basically threw fastballs and curveballs exclusively.
This two-pitch mix is not necessarily a bad thing; to a large extent, it means that Grimm has honed in on his two most effective pitches. Since switching to the bullpen, Grimm has averaged more than 95 mph on his fastball in every month he's thrown it, often averaging closer to 96 mph. And his curveball is excellent as well; he throws it hard at 84 mph, and it generates an extremely high number of whiffs per swing (52.14 percent in 2015).
The two-pitch mix is a bit limiting, though, in the way Grimm can be used. It is likely why he is used in such short bursts; when there are only two options, it is easier for batters who have seen these pitches to sit on them. This might explain Grimm's usage even further, and it shows again how good Joe Maddon is at maximizing his players' performances.
Another thing I noticed about Grimm during research was the dramatic change he made in his horizontal release point about halfway through 2014: pretty much exactly when he morphed into an excellent bullpen option for the Cubs. Check out this graph from BrooksBaseball: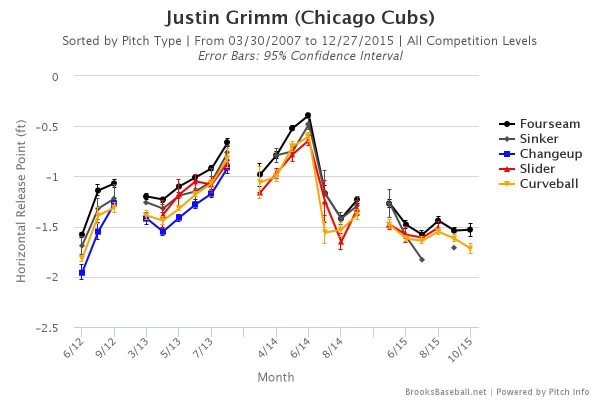 This shows a dramatic drop in horizontal release point, starting in July 2014. What does this release point effect? While presumably many things (you'd have to ask Chris Bosio), but the clearest difference came in the associated vertical location of Grimm's pitches: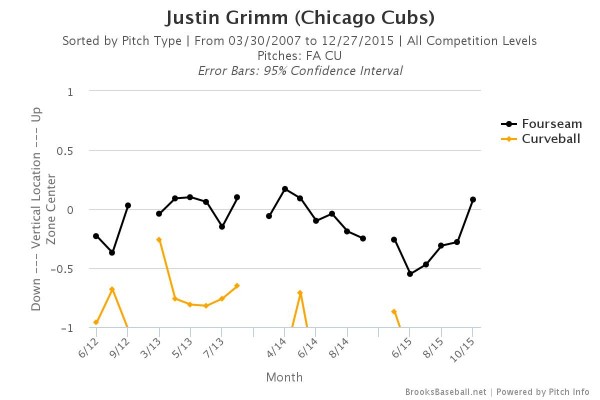 Around the same time Grimm dropped his release point, we also see a drop in the vertical location of Grimm's fastball. This, again, is associated with the time that Grimm's effectiveness out of the bullpen dramatically increased. Grimm also started to throw his curveball lower, but this is hard to see because he throws his curveball so low that it leaves the y-axis of this chart. Grimm's late season struggles this year might also be explained by looking at the rise in vertical location of his fastball in the later part of this season. He has very good stuff, but it's not quite good enough that he can afford to leave it up in the zone.
Looking Ahead:
Grimm is rightfully entrenched as a key part of the Cubs bullpen going forward, but what exactly can we expect from him for 2016 and beyond? His 2015 ERA of 1.99 is probably not a realistic expectation. Grimm posted a good but not great 3.55 DRA in 2015, and this might be a slightly more realistic version of what we can expect going forward. Grimm had a cFIP of 85, too, which means he is projected to be 15 percent better than league average going forward. And with two—but only two—great pitches, this seems like a good marker for what to expect.
This, though, is still the profile of a very valuable relief pitcher, especially when he can be deployed in front of excellent late-inning arms like Strop and Rondon. Maddon has the flexibility to deploy Grimm when his two-pitch mix will be most effective, and therefore Grimm's value will likely continue to be played up in the versatile sort of bullpen the Cubs have constructed. And when the Cubs need an out next year, they should continue to feel very confident that Justin Grimm will get the job done.
Lead photo courtesy of Anthony Gruppuso-USA TODAY Sports