Zounds.
This felt like a matchup between the two best teams in the league, didn't it? If this kind of game happened in the playoffs, this recap would look a lot different because I'd currently be catatonic. Of course, you wouldn't notice because you would be too.
The win probability graph for this one looks like John Goodman's EKG after taking the stairs. I don't know if I have enough words to properly recap this game. I'm not sure Herman Melville would either.
Top Play (WPA): Things looked bleak for the Cubs entering the ninth. In the bottom of the eighth, Chris Bosio held a conference with Pedro Strop before Stephen Drew's pinch hit appearance, wherein he apparently advised to fall behind 2-0 and then throw a fastball Drew can hit out of the ballpark. But with Jonathan Papelbon out with an injury, it was up to Dusty Baker to manage his bullpen carefully to work around the middle of the Cubs' order.
Which explains why Kris Bryant doubled on the first pitch he saw. And then Anthony Rizzo brought Cub fans in DC to their feet with a missile of a two-run homer over the right field fence (+.489).  The Cubs were up 3-2, and all appeared right with the world.
Bottom Play (WPA): But seeing as how this part of the recap took place in the bottom of the twelfth, things took a turn. After Anthony Rendon was called out on a pitch on the low outside corner to start the inning (leading to his ejection), Trevor Cahill hit Danny Espinosa on the thigh, allowed him to steal second, and gave up a game-tying single to Michael A. Taylor.
With Cahill clearly out of gas, Joe Maddon brought in Adam Warren who coaxed a fly ball to left out of Chris Heisey. Unfortunately, he then challenged Screaming Trees cover band frontman Jayson Werth with a 1-0 fastball and Werth narrowly missed hitting it out of the park, settling for a walk-off double off the right center field wall (-.438). I hope that makes him feel better about the 90s being over.
Key Moment: Hey, did you know you can throw four strikes to a batter and still issue a walk?
It happened to Hector Rondon leading off the bottom of the ninth against Bryce Harper. If WGN's graphics department is to be believed, Rondon's 2-2 pitch hit the edge of the low outside corner but was called a ball. As if to top his last trick, Rondon's next pitch hit the edge of the low inside corner and maddeningly resulted in Harper taking his base. The only people who had those pitches as balls were Bob Davidson and the TBS strike zone box.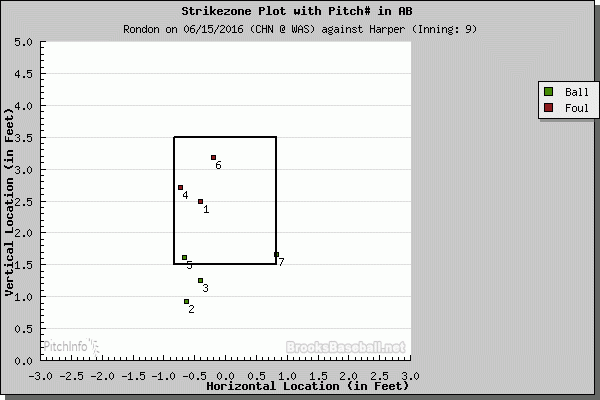 Later in the 12th, a pitch in that same location led to a called strike three and Rendon's ejection. Bob Davidson misses a lot of calls. Such as the one to retire five years ago.
Trend to Watch: Trevor Cahill is an OK pitcher. But Joe Maddon has a faith in his abilities that maybe even his parents don't share. When Addison Russell singled in the go-ahead run in the top of the twelfth (this was the kind of game where I haven't even mentioned that until now) and took second on the throw home, Maddon elected to have Cahill bat for himself so that he could take the mound for the bottom of the inning. Rally over.
Of course, what's more likely is that Adam Warren's recent run of gopher ball-itis has made Maddon extremely cautious about using him in crucial situations like that. And after Werth's at bat, I can kind of understand that.
Up Next: An off day, you say? Yeah, I think that sounds good.
Following that, the Cubs head home to run the NL Central gauntlet with the Pirates and Cardinals. The first game—on Friday at 1:20—features Force of Darkness Francisco Liriano (4.92 ERA/5.55 FIP/5.36 DRA) against Truth, Justice, and Jake Arrieta (1.86/2.60/3.19). The Cubs scored runs off Liriano for what I assume was the first time in history back on May 13 (8 of them, to be precise) so hopefully they can repeat that trick this time.
Lead photo courtesy Geoff Burke—USA Today Sports