The sleeping giant has woken. You can be forgiven if you forgot just how good this team was during a 21-inning scoreless streak. After all, nothing makes a team look flatter than a slumping offense, and there were more than a few folks out there starting to write their "I told you so's" about this team. Then a Ben Zobrist bunt unleashed a flood of Cubs firepower and reminded everyone that this is still the best team in baseball. Unfortunately, that does not guarantee smooth sailing, since… well, you know.
The Cubs find themselves in the same exact position as they were in five nights and four games ago. Well, the location has moved 2000 miles from Saturday night, and it is now a three game series as opposed to a seven game series. But otherwise it is exactly the same situation as when Jon Lester squared off against Kenta Maeda in Game1. The Cubs are hoping for a repeat of the offensive performance against Maeda and friends or Julio Urias and company yesterday.
Whatever pressure might have been on the Cubs is certainly not off at this point. Momentum is the next day's starting pitcher, and the Cubs have a pretty good one in Jon Lester tonight. The "need" to win is increased with Clayton Kershaw and Rich Hill lurk in Game 6 and a potential Game 7. Tonight is the pitching matchup that most favors the Cubs of the next three games and this team is both capable of and needing to taking advantage of this last night on the west coast for the 2016 Cubs.
The Pitching Matchup: Jon Lester vs Kenta Maeda

| | | | | | | | | | | |
| --- | --- | --- | --- | --- | --- | --- | --- | --- | --- | --- |
| Player | IP | BB | K | HR/9 | GB% | OPP TAv | WHIP | cFIP | DRA | WARP |
| Jon Lester | 202.3 | 52 | 197 | 0.9 | 48% | .222 | 1.02 | 90 | 3.10 | 3.10 |
| Kenta Maeda | 175.7 | 50 | 179 | 1.0 | 45% | .239 | 1.14 | 93 | 3.41 | 3.5 |
Not much has changed since Cat Garcia wrote this about these two pitchers before Game 1. Jon Lester was merely pretty good as opposed to the level of really great he showed in the second half of the 2016. Kenta Maeda failed to record an out in the fifth inning for the fourth straight start.
Jon Lester threw way more sinkers against the Dodgers last time out. The Dodgers hit the ball hard against Lester frequently. Dodgers hitters had a 40 percent or higher line drive percentage on balls in play against Lester's four seam fastball, sinker and change. He admitted to struggling with his secondary pitches during his in game interview last night. The fact that he got no whiffs on his curve and change at least lend some credence to that notion. Also here is the location and usage of Lester's sinker.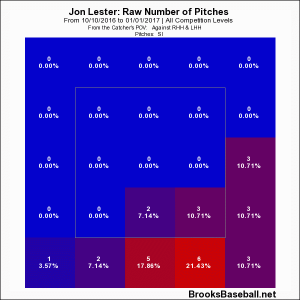 And here is the location and usage of his curve and change in the Dodgers start.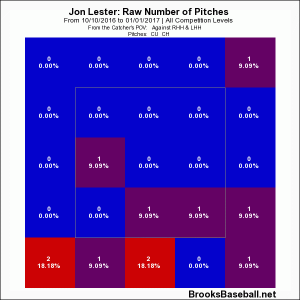 It makes sense that Lester would lean heavily on his sinker given his apparent much better feel for it on Saturday. Lester with a more full arsenal at his disposal should be able to increase the amount of whiffs and decrease the hard contact against him tonight.
It is hard to pinpoint exactly what is wrong with Kenta Maeda. He looked like a rookie of the year candidate early on. Maeda in his first fourteen starts was allowing 2.86 runs per 9 innings, and then from June 25 until the end of the regular season he allowed 4.40 runs per 9 innings. Maeda is throwing strikes at roughly the same rate in these two parts of the season, but teams appear to be hitting the ball much harder as evidenced by a four percent jump in line drive rate and a .011 increase in batting average on balls in play.
Maeda started the year as a four pitch pitcher. He relied on his four seam fastball and slider combination early on, but would regularly throw his sinker, curve, and change roughly 40 percent of the time. In the postseason, Maeda has thrown his four seam fastball and slider combination over 70 percent of the time. The right hander has a heavy platoon split as you can imagine with that pitch selection. Left handed batters have hit a .150 points better in OPS against Maeda than right handed hitters.
What to Watch For
Anthony Rizzo discovered that Matt Szczur's bat was apparently made from a tree limb struck by lightning (no word if Matt Szczur grabbed a large piece of metal and sought shelter under the largest tree he could find during a thunderstorm). Rizzo broke out of his slump going 3-for-3 with a home run after borrowing Szczur's lumber. It will be interesting to see if Rizzo sticks with the same bat tonight because he has an ideal matchup tonight against the Dodgers' lone right hander.
Joe Maddon's lineup decisions will be fascinating. There is really only one question about the starting lineup's constitution, and that is whether or not Jason Heyward will sit against a right handed pitcher. Heyward has played throughout the series due to the philosophy a team cannot lose a game if it doesn't allow a run to score, but the at bats last night were brutal as evidenced by this strikeout against Julio Urias in the third inning.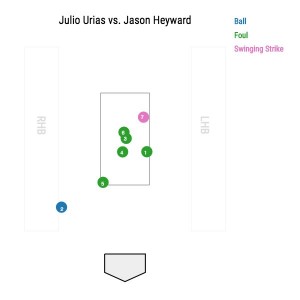 Willson Contreras playing the outfield for the first time could inject some much needed length to a lineup featuring Ross and Lester at the bottom. But we'll see. The specter of Clayton Kershaw looms ever so slightly over this game. It is very doubtful that Roberts would pitch Kershaw tonight, but we've been through that one once before.
Lead photo courtesy Jon Durr—USA Today Sports.