Position: Relief Pitcher
2016 Stats: 52.2 IP, 28.9 K%, 10.2 BB%, 4.10 ERA, 3.52 DRA, 0.9 WARP
Year in Review: Much like the man whom I profiled last week, Pedro Strop, Justin Grimm was pushed out of the Cubs' latter season and postseason bullpen plans due to the acquisition of Aroldis Chapman and the resultant back-end crunch. Most of this was an optical change. Chapman snatched up the ninth inning, and with Hector Rondon and Pedro Strop out at different points of the late season, Grimm stepped into setup roles he was never destined to keep going into the playoffs. It all made his presence seem more fleeting than his usual staunch, middle-innings self.
Don't be mistaken, though: Grimm worked a lot in the last two months of the season, with 12 appearances in August, ten in September, and one in October before the playoffs began. His appearances, by WPA (a gauge of his appearance's leverage), are not significantly more or less important, within the context of the games themselves, than they were earlier in the season. And, overall, Grimm threw just as well as he did in 2016 as he did in 2015.
In terms of performance, Grimm was nails again this past season. His strikeout rate was in line with his averages since he joined the Cubs—a tick down from last year's career high—and his walk rate fell similarly into the normal range, a bit better than last year. Whereas in 2015, his BABIP allowed was miniscule, in 2016, it came back into an expected range, and opponents' batting averages went up a bit accordingly. His TAv allowed bumped up to .256 after sitting in the .230s the past two years, but none of his peripheral stats indicate anything abnormal in his performance. Grimm was simply a very good reliever again, and a key to the Cubs' World Series championship.
The one thing of note, however, is the righty's pitch selection. Over the course of 2015, and continuing in 2016, Grimm eschewed his thence trustworthy slider for a more traditional hard curveball.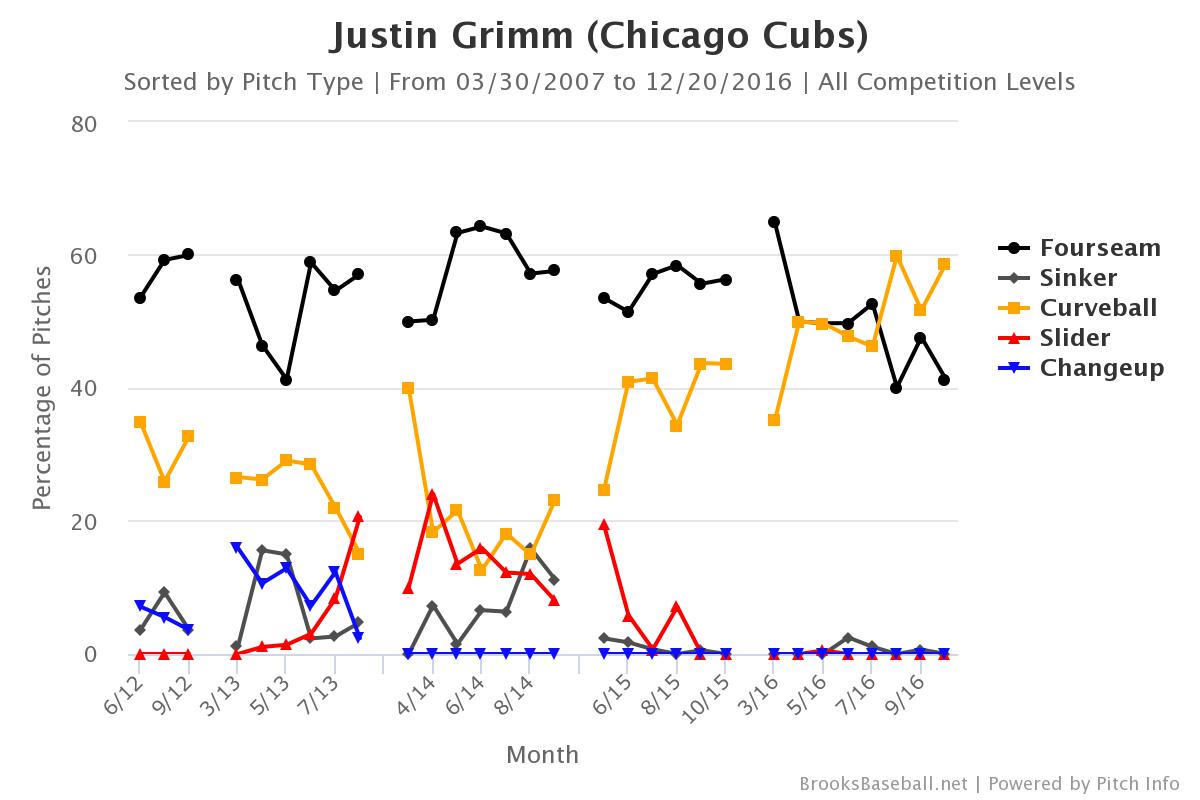 That's a pretty drastic change: while he went to the well for his slider in 2014 about as often as his curve, he amped up curve usage in 2015 and altogether ditched the slider this past season. Some of that is a slight change in his curve's characteristics: it's much harder now than it was in 2014, and its 2016 velocity is close to his slider's previous velocity.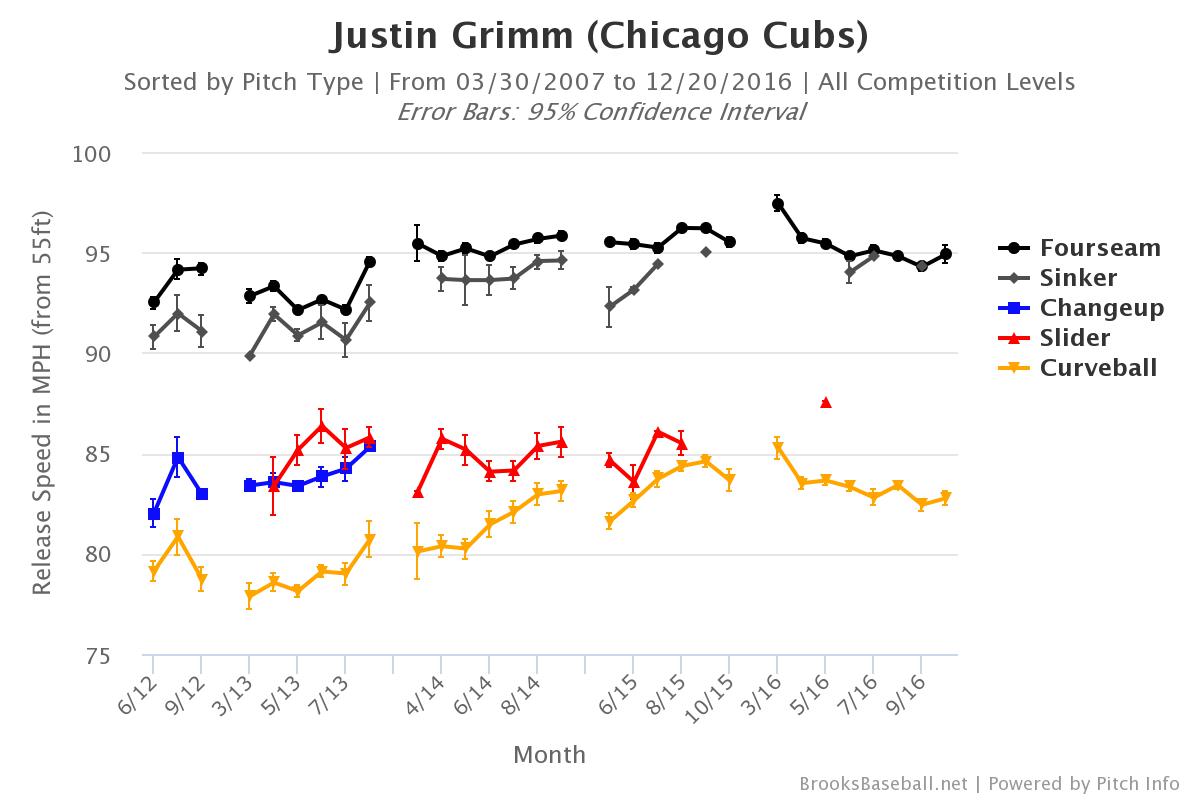 The difference is the depth of the curve's movement; his slider got three-to-five inches of break, while his curve is a six-to-seven inch breaker. At the time of the change, I speculated that Grimm's breaking pitches had all but morphed into one, and that the resultant pitch is a slurvey breaker that manifests as a curve in the data we have available. Grimm is now a two-pitch pitcher, although a very effective one.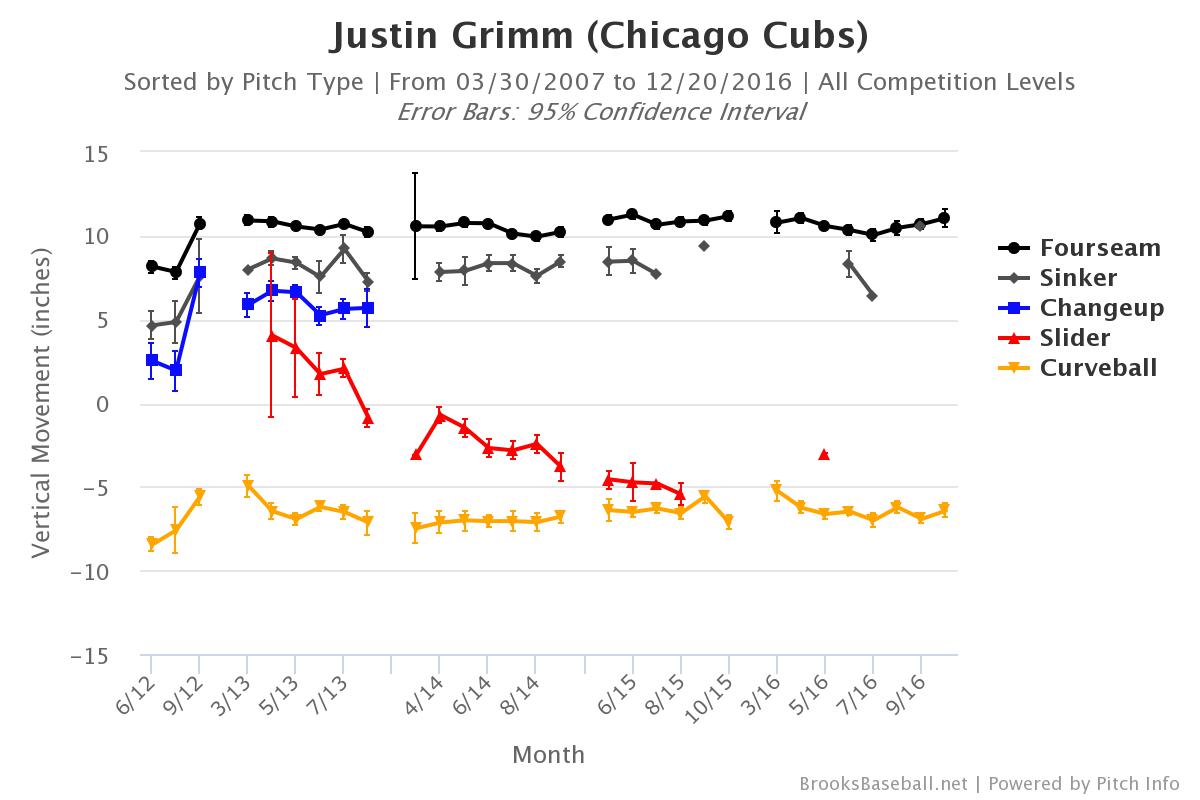 Early in the season, it caused BP Wrigleyville's own Cat Garcia to ponder a return to the slider for Grimm, considering his slow start, but it seems as though the change has paid off. Grimm wasn't an appreciably different pitcher, in terms of results, after he went exclusively to the curveball. Neither his curve, nor his fastball (off of which his curve works), suffered in their ability to induce whiffs over the course of the past two seasons. Grimm's early season struggles can be traced back, mostly, to a lack of success with his fastball. Over the first three months of the season, hitters slugged .769, .615, and .810 against his heater, and those numbers came down drastically in the latter half of the year. His curve saw no such blips.
Looking Ahead: PECOTA likes Grimm quite a bit, and cFIP (a predictor of future performance) has pegged him consistently for performance five- to ten-percent better than league average over the past few seasons, making him a valuable reliever. His performance isn't as much of a question mark as is his role in the drastically altered bullpen.
With the acquisition of Wade Davis and Koji Uehara, in addition to the incumbent setup pitchers Hector Rondon, Carl Edwards, Jr., and Pedro Strop, the 'pen is crowded with good arms to nab high-leverage late-inning innings. Grimm, however, has earned the trust of Joe Maddon, and should figure prominently as a result. The middle innings are his to lose, as Davis slots into the closer role and Edwards, Rondon, and Strop take the other late-inning situations. Grimm's steely performance in the playoffs, including his unforgettable escape in Game Three of the World Series at Wrigley Field, has earned him the privilege of being bullpen fireman.
https://twitter.com/MLB/status/792186033555116032/video/1
Barring a drastic change in the form of a trade or injury, Grimm is poised to be a vital cog in the club's 2017 chances, just as he has been a quietly stoic performer for three-plus seasons on the North Side. Perhaps opposing hitters should start fearing the sweeper.
Lead photo courtesy Jerry Lai—USA Today Sports