What You Need To Know: It was almost a carbon-copy of yesterday, minus the Cubs' battery angry-ing up the blood in the middle of the affair. The Cubs' pitching kept the Cardinals' batters under wraps, and while the Cubs offense looked pretty helpless first time through against Michael Wacha, just as they did against Carlos Martinez, repeated viewings saw them find the key to the safe. While it wasn't the avalanche of runs, the Cubs strung together enough singles to get the only two runs they'd need in the fourth. Albert Almora Jr., who's basically liquid hot magma right now, and Addison Russell in his first game back from injury gave the Cubs a cushion.
Next Level: I probably shouldn't go any further without talking about Kyle Hendricks, who has been excellent of late and today was basically at his wizard-best. I usually wince when he throws his curve on anything other than a first-pitch, but he threw two to Tommy Pham in the first to get him to weakly groundout and showed just how locked in he was. Even a tight and mutating strike zone didn't put Hendricks off, as Carlos Torres behind the plate was even worse than Jordan Baker yesterday. Then again, I feel like you could probably befoul Kyle's apartment in front of him and his expression wouldn't change.
Kyle surrenders six hits in 7.2 innings, which I suppose is just below the "scattered" level. The Cardinals really only had two hard-hit balls against him, neither of which was Matt Carpenter's homer in the eighth to left that knocked Hendricks from the game. He got a big double play from Pham in the third with the bases loaded, which could have made for a very different game.
It's weird to think about in some ways, but right now Hendricks is the pitcher you'd trust most with a postseason start. We don't know what Arrieta is going to do after his injury, and after arm problems, a right hamstring problem for a right-handed pitcher seems like it could be a real problem. Lester is still trying to find it after his injury. Q has been up and down, and everything you need to know about John Lackey happened yesterday.
If Hendricks doesn't take Man of The Match, then Albert Almora would. 3-for-4, two of the Cubs' four extra-base hits, and basically labeled every hit he had. He was leading the charge for getting to Wacha first pitch, because Wacha insisted on pumping first-pitch fastballs. It's a little hard to see if you don't zoom in, but you can see his tendency here: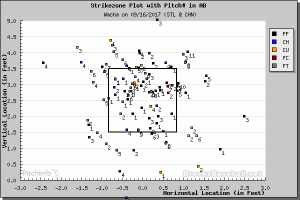 In the decisive fourth, Rizzo, Almora, and Happ were all jumping on the first pitch, all for singles, and the latter two drove in runs. I love it when a plan comes together.
Top WPA Play: Almora's single in the 4th that drove in Rizzo to give the Cubs a 1-0 lead. (+.164)
Bottom WPA Play: Greg Garcia's single in the top of the 3rd that put runners on 1st and 3rd with no out. Hendricks nullified this with the aforementioned double play. (-.101)
Onwards…
Lead photo courtesy Dennis Wierzbicki—USA Today Sports