What You Need To Know: It shaped up as the same formula for so many infuriating Cubs losses this season. It was only a couple things falling short of where you'd want them, but just enough to break your heart. Jose Quintana was really good through five, but then made one bad pitch to almost undo it all. A missed play in the field or two. Some peculiarities in the pen, and most of all not cashing in on a few opportunities to put the game away much earlier. Toss in a pinch of odd managing decisions, and the makings of yet another frustrating sauce was all there.
Except the new dynamic of the Cubs-Cardinals rivalry is the Cubs will find a way to win, and the Cardinals won't. Some double plays from Yadier Molina don't hurt either. So it all turned out to be just enough to win, instead of just enough to lose. The pen held together after Q's rough inning, though they didn't make it easy. The Cubs needed a few attempts with runners on to get it right, but finally did in the seventh. And with it, a sweep that essentially ends the Cardinals season and moves the magic number to a perfect 10.
Next Level: Few things to come through here. Quintana looked as good as he had in a Cubs uniform through the first five. He only surrendered three hits in that time, and the only jam he got into was partially due to a Kris Bryant error, which he quickly extricated himself from with the first of Yadier's GIDP (it's just so funny and feels good to write, so I'm not done with it yet).
Q was a touch unlucky in the sixth. Any left fielder who isn't a danger to himself or others in the field probably catches Matt Carpenter's liner. Sadly, Kyle Schwarber is not that man. And he'd actually already struck out Carpenter, as there was yet another missed call. But yeah, he missed his spot to Fowler by a foot and paid the ultimate price, and then couldn't get out of the inning.
It's still not quite all there for Q, who only walked one and struck out eight. But it's a step in the right direction.
– On a day when the Cubs sweep the Cardinals and Yadier grounds into two big double plays (see?), it would seem petty and cynical to complain about some managerial decisions. But "petty" and "cynical" are generally two things I get labeled with, so let's get to it.
In the sixth, the Cubs had a chance to immediately answer back after the game was tied. Heyward doubles, Russell singled, and that's 1st and 3rd with no out. Maddon sends Jon Jay to hit in the pitcher's spot, and it's not a horrible decision. Except this kind of spot is exactly why Tommy La Stella is here. Jay has been thoroughly underwhelming since Aug 1st, hitting .258. La Stella is hitting .308 and is much more likely to hit something with pop. If we're worried about recency, I get that La Stella hasn't had the best September but he's only had 9 ABs. This will come into play again.
Of course, none of this matters if the top of the lineup can come through after it, and they didn't. Familiar story.
Then we move to the seventh. Rizzo and Baez lead the inning off by getting on, and again the Cubs have two runners on with no one out. Maddon sends Schwarber up against a lefty, and he promptly pops out. That's Schwarber, with the .179 average against lefties. The next hitter, the Cardinals bring in Matt Bowman to face Albert Almora, otherwise known as the Cubs hottest hitter right now. Maddon pinch hits for him with Ian Happ, who grounds out.
Maddon got bailed out when Heyward came up with the game's biggest hit, but that doesn't mean either he or Schwarber should have been batting in that situation. The one hitter who should have was Almora, and he's the one who got subbed. It doesn't add up, and actively made the defense worse when you had to protect a lead after it. What were you saving La Stella for then? What's the formula? Is it recent performance? Year-long? Hunches? I don't like any of these answers.
With the Cubs now looking a surer bet to go to the postseason, the hopes of doing anything there rest on a lot of things going right. And that includes the manager pulling some rabbits out of various hats. This was yet another less-than-encouraging display.
– At least Heyward found the right approach at the right time, finally taking a pitch on the outside corner hard the other way for a single. It's something a lot of us have been screaming for him to do for months, because as you can see by his zone profile this year, a lot of pitches out there are ending up rolled over to second: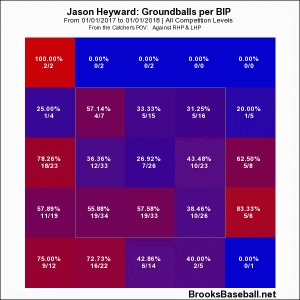 While I'm not sure consistently taking balls the other way will get pitchers to come inside more,  (if they do, that would be a good thing) there's more success to be found in the opposite field for J-Hey for now.
Top WPA Play: Heyward's single in the seventh, duh. Why else would I have talked about it so much. (+.204)
Bottom WPA Play: Fowler's homer in the sixth that tied it, which he pretended to celebrate but we know really hurt him inside. (-.314)
Onwards…
Lead photo courtesy Patrick Gorski—USA Today Sports