BP should always put a disclaimer on anything we write before like, May 1st, that stipulates were dealing with tiny sample sizes when considering the whole of a baseball season. But they don't, so now I've just done that. You've been disclaimed. Or I have. I don't really know who claims the disclaiming but let's just agree I've gotten it out of the way.
It may seem that I've been harping on ol' Jason a bit much. It's my way. I don't mean to. It's just a good study. Especially as I'm the one tweeting about my descent into madness over the at-bats he's getting late in games, especially off lefties, that I feel should go to Almora or really any guy off the street, given what his performance has been. Hell, I wrote a whole post about how it's disingenuous to start him for defense and not start Almora over him for the same reason. But 12 games in (at the time of this brain leak), I forgot to notice something.
Heyward's actually trending up in some ways?
Note the question mark, which is doing a lot of heavy lifting here. He did this last year at the start of the season, and still ended up flopping around like the fish in the video for "Epic." (A dated reference, yes, so if you don't get it, just imagine a fish out of water. And if you still don't get it, go pick up some Faith No More and thank me later). At this point in the season, we can only hope that these are the starts of something bigger and better.
The first thing to point out on the positive side is that his ground-ball rate has dropped from 47.4% last year to 41.7% the one (that's good!). His line-drive rate though has gone from 19.9% to 11.1% (that's bad). The frogurt is also cursed. Still, in this day and age, everyone wants more fly balls and we'll just take his increase in those.
More encouraging, his hard-contact rate overall has jumped from 25.5% to 33.3% (my spidey-sense tells me that's a third). It was 26.4% in his first year in Chicago, and that 33.3 mark would be the highest of his career since his rookie year if it lasted for another five and a half months (yikes).
I'm not sure this is good or bad, but Heyward has also been focused on going up the middle. 41.7% of his contact has basically done that, up from 33.9% last year. And that's come at the expense of his pull rate, which has dropped five points. But hey, staying up the middle means not rolling over as much, and some hitters would tell you that means you're staying inside the ball, which has been my big criticism of Heyward the past two years. He comes out and around the ball on his swing, which is why he's been trying to kill all second basemen through exhaustion.
Look, the numbers still blow chunks. .225/.289/.325 is going to get anyone to write songs, and if it does they'll the kind of songs that people who dress up like The Crow every day will listen to in a very dark room. But the BABIP is at .229, and even if you went up there every AB with a waffle iron, a .229 BABIP would be considered unlucky.
And it's not like he's been just wafting soft fly-balls out there. On flies only he's got a 35% hard-contact rate. For comparison's sake, that's the hard-contact rate on fly balls that Kris Bryant had last year, so you know, that's good. Anthony Rizzo had a 36% hard-contact rate on his flies last year as well. So that's just about where you want to be.
If I can hazard a guess on how he's done this through approach, and again through 12 games, it appears that Heyward is swinging at different pitches. Here's his swing rate/zone profile from last year: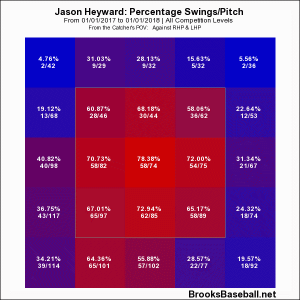 And here it is this year: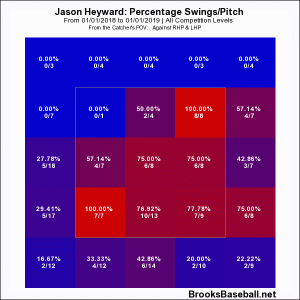 So far Heyward has eschewed the pitches down and outside the zone, ones he was basically rolling over and handing to the second baseman for his first two seasons here. Strangely, he's swinging at slightly fewer pitches outside the zone this year, but he's making contact on 10% more. That should probably stop. But in this fly-ball revolution era, concentrating on pitches higher in the zone and inside is probably the way to go.
Hopefully, Heyward can put a few more line drives together to go with his fly balls and up-the-middle tendencies. Then he might approach… usefulness.
Lead photo courtesy Steve Mitchell—USA Today Sports