What You Need To Know: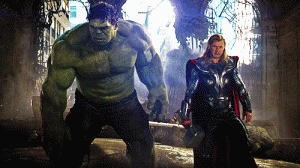 PICTURED: Cubs hitter's today.
Wei-Yin Chen didn't have anything—if he ever had anything—the wind was blowing, out and the Cubs were in the mood. Add it all up and you get an eight-run third inning that confirmed a Cubs sweep. All José Quintana had to do was not set his pitching hand on fire and get the pen some rest, and while it wasn't particularly pretty, he got there. And that my friends, is a sweep and something of a palate-cleanser after the weekend.
Next Level: I'll start with Addison Russell. A certain striking, charming, and gifted writer on this very site pointed out not too long ago that Russell was changing his approach this year, being more up the middle instead of being a touch pull-happy. Well, his double and homer in the third inning extravaganza saw Russell turn on a couple fastballs inside. Ok, Chen isn't exactly throwing Super Mario fireballs in there, but if the goal of Russell's all-field approach was to get more pitches on the inner half that he can turn on, this is a good first step.
Kris Bryant has 100 homers in just about three full seasons. Let's save ourselves the angst and silliness and call him the best Cub ever now and we can all move on with our lives.
Quintana continued his four-seam happy ways that are the big change from last year, but threw just about as many cutters/sinkers/we're not sure what to call it. He still had trouble locating his fastball (the four-seam variety), as only half of them were for strikes. But he danced around hits and walks for six innings to only allow one earned run. I think we can say he "scattered" five hits over six innings and be extra baseball-y.
Contreras busted out a bit with two extra-base hits, though both definitely had some aid from both the wind blowing out and Marlins outfielders performing The Dude's Landlord's Cycle in the outfield. Whatever, it's needed at this point.
Albert Almora continues to blister lefties, to the tune of a .934 OPS. Just let him start every day in center for a couple months and see if he can't replicate some of this against righties. There's nothing to lose here.
Top WPA Play: Bryant's homer in the top of the first, as the Cubs never looked back (+.099).
Bottom WPA Play: A Chen single in the 3rd, mostly because Quintana probably should have fainted due to embarrassment (-.042).
Onwards…
Lead photo courtesy David Banks—USA Today Sports