You can pick any player on the Cubs this year, almost, and there's probably been intense debate about said player in various forums. Addison Russell, Ian Happ, Jason Heyward, Jon Lester, Yu Darvish, Kyle Schwarber, and the list is probably longer. And a lot of these players have swung the majority from one side to the other and back again, given the month, week, plate appearance, or fingernail cleaning they just had. Albert Almora is no different.
There's a section of Cubs fans who clamored for Almora to get every day in center, mostly for the same reasons that Jason Heyward was playing every day in right. That also includes this very charming and easy-on-the-eyes individual. My point was that if defense was the main factor keeping J-Hey in the lineup most days (and aside from June, that's really all it's been), then Almora should benefit from the same theory, as center is a more important defensive position than right.
Then Albert hit everything in sight in May and June, briefly sat atop the NL Batting Average category–which made for some really abstract viewing–and the debate seem to have settled. But much like the Cubs' shortstop Addison Russell (and Heyward, and one or two others honestly), Almora has been face down in the muck since July 1st, and the rabble has swung back to wanting to see Ian Happ thrash about in center to keep his bat in the lineup. So what happened to AA?
Well, the thing is Almora was probably pretty damn lucky to have the May and June that he did. Almora hits far too much on the ground, this is pretty much a given. Only in April did his line-drive rate crack 20 percent. So without that, it's pretty hard to keep a high average, and yet he did it. June saw Almora even hit more than half of his contact on the ground, but his 33 percent hard-contact rate at least kept that grounders humming, if you can cling to that (and that would be quite the crimp).
Somehow in May, Almora had a .415 BABIP on ground-balls. This is just next to insanity. That means just about half his grounders were finding holes, which really isn't a skill so much as Tyche (Greek goddess of luck, and yes I had to look that up good god I'm not that warped) bestowing upon you all her power for a month. It was .290 in June, which is still pretty hight. That's cratered to .200 in July, and you begin to see the problem.
Moreover, in May when Almora hit it on the ground, it was at least hard-contact a third of the time. That sank to 26.8% in June, which is kind of ok but really trying to thread a needle in a rainstorm. It's 16.1% since July 1st, so not only is he still putting most everything on the ground, it's not all that hard so fielders can get to it. Why is this happening? Here's a clue:
The first graph is where pitchers have gone after Almora for the entire season. The second is just in July, where pitchers have stayed low and away. And Albert's opposite-field tendencies dropped in July, just 25% of his balls put in play when he had been over 30% all season. So given that location of pitches and his tendency to try and pull a lot, you can see how everything is ending up on the ground, at a velocity that would be considered "polite," and aimed right at the shortstop and third baseman. And given Almora's speed that is somewhere around "groggy platypus," he's not going to beat out a lot even if it's on the left side.
What's a little frustrating is that Almora does hit for more than just token singles high in the zone. See for yourself: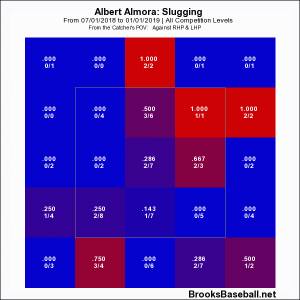 So if he could get pitchers to get the ball up in the zone on him, he could actually—stick with me here—hit something that could be on a line? Maybe even a fly-ball? But until he does that, this might be more the norm than what we saw in May and June.
Lead photo courtesy Jim Young—USA Today Sports