What You Need To Know: The Cubs were mostly helpless against Aaron Nola, who is one of the league's best. They struck out 11 times in five innings plus two outs. But when they weren't flailing away, they made it count, with three solo homers and a triple from Kyle Schwarber to scratch across four runs. Which was more than enough for a game Jon Lester, who didn't give up anything in six innings. And like they've been doing more and more, once the Tomato Can Express comes out of any bullpen, the Cubs eat.
Next Level: The thesis of modern baseball is that it's harder and harder to string together a bunch of hits, given how hard it is to make even contact against some pitchers. Nola is certainly on that list, and there's a reason he's going to be a Cy finalist, if baseball had such a thing. So when you do make contact, you'd better make it count and it had better be loud. Daniel Murphy somehow got on top of this fastball (#6):
…to get things rolling. Anthony Rizzo got on top of a changeup that stayed in the zone. Baez got a fastball in the middle of the plate. Again, Nola's performance was really good, and for the most part, he had the Cubs in a cross-face chicken-wing most of the day. You only get four or five looks against a pitcher like Nola when he starts and is on. The Cubs maximized those looks today as much as possible, and that's why it's in the left column.
-Well, that combined with Lester. He wasn't as dominating as Nola was at times, but he got eight Ks himself, and I'm allowed to say "scattered" eight hits. We commented earlier in the week how Lester had raised his arm angle a bit, and that appears to still be the case today: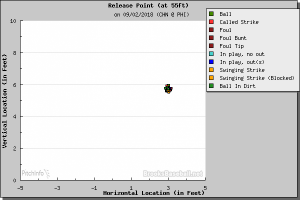 And that helped Lester get to all four quadrants: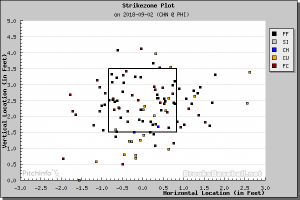 Lester's last four outings have been good to great. Kyle Hendricks has a 2.51 FIP over the last month. You already know about Hamels. Quintana has given up only four earned runs in his last three starts, though admittedly it's only over 15 innings and change. Don't look now, but the rotation might be rounding into shape when it counts most.
- Javy Baez shouldn't be able to amaze after all he's done this season, and yet here we are. A pitcher like Nola is one you fear for him against, and his first two ABs were exactly why. Nola sat him down easily. And then the third AB he gets to this fastball…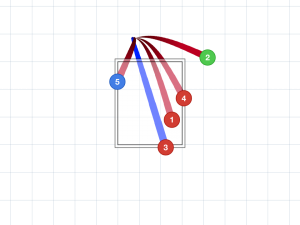 That's not a bad pitch. And yet Baez was able to get the bat around it. He would add a triple of course because that's just how he do. .300 average, 30 homers, 100 RBI, and we're still on Labor Day weekend. He's not going to win the MVP, but he'll get votes, and no one would have predicted that in March. Simply wonderful.
- This win feels good. You worried after Friday's disappointment with Nola waiting on Sunday that the Cubs might not get two of three to keep the train rollin'. You also know that the Brewers and Cardinals had this as a day they were more likely to gain ground. Well, they won't and as I write this the Reds just went up two in the 10th. Another day drops off the calendar, and their morale has to sink a little with it. The Cubs can now put the High-Fly Flow on the Brewers this week and end their interest in the division. So do that.
Top WPA Play: Murphy's homer in the third that set the Cubs on their way. (+.117)
Bottom WPA Play: Kingery's single in the fourth that put two men on for the Phils. (-.048)
Onwards…
Lead photo courtesy Bill Streicher—USA Today Sports