I do not know which to prefer,
The beauty of inflections
Or the beauty of innuendos,
The home run whistling
Or just after.
On Tuesday, August 11th (a date which shall live in infamy) Rian Watt and Zack Moser—both contributors to this site—joined together in the Real World, just north of the Wisconsin border, to take in a clash of titans: the South Bend Cubs, the visitors, and the Beloit Snappers, the home team. They chose to attend this particular matchup not just because of the many talents and attractive qualities of those two fine Base Ball Clubs, but also because the Beloit franchise had chosen that particular Tuesday to sell beer, and lots of it, for $2 a glass. What follows is an account of that game, organized around each beer Messrs. Watt and Moser imbibed*, and with apologies to Mr. Wallace Stevens.
Beer No. 1 — During Which We Walk the Halls Once Hallowed By Chris Bosio
Our first stop upon entering the park—after the concession stand, of course—was the Snappers' Wall of Fame, in which place was displayed, on small faux-wood plastic plaques, the names of all those Snappers who'd later played in the big leagues. It's a list of mostly Brewers and Twins, and we quickly spotted a familiar face: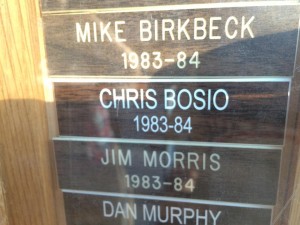 How can one walk quietly in halls hallowed by such legends? Dale Sveum featured as well. —RW
Beer No. 2 — During Which Rian Drinks Something Called the "Snapper Ale"
In addition to crappy $2 beers they served this illustrious Tuesday, the Snappers' home park, Pohlman Field, offers a variety of Wisconsin craft brews, chief of which is the Snapper Ale. Gray's Brewing, from just up the road in Janesville, brews Snapper, and it's only served at Pohlman. I had previously tried the beer at a Snappers-Peoria Chiefs game two weeks ago, so Rian ventured to taste it this time, in a 20 oz. cup for a mere $5.25. It's a tasty amber, malty and a little bit sweet.
My friends have nearly 50 percent of Snapper Ale's check-ins on popular beer app Untappd. —ZM
Beer No. 3 — During Which We Discover A Shared Passion for Miley Cyrus
One of the endearing things about minor-league baseball is that it is particularly subject to those two most-human emotions, Whimsy and Caprice. There are so few people, period, running ballpark operations, that those few that are present have a huge amount of control. After the end of the second inning, the stadium loudspeakers started playing 'Party in the USA' by America's siren, Miley Cyrus. After two verses, someone in the booth decided they needed to get groovy, and noticeably turned up the volume. Zack and I looked at each other and grinned. —RW
Beer No. 4 — During Which We Endure an Impromptu Geography Quiz
We sat in the second row to the right side of home plate for the sparsely attended game (paid attendance: 1,074). In front of us, an older man kept score. Early on, our conversation turned to bar trivia and, specifically, geography trivia, and the man decided to interject.
"What American city lies exactly halfway between the Equator and the North Pole?"
"Which South American capital lies due south of Miami?"
"Which city is farther west, Reno or LA?"**
Clearly this man knew his stuff. We, a group of college graduates and bar trivia veterans, managed a meager one correct answer. The Snappers' Alex Trebek bid a kind farewell at the end of the game. —ZM
Beer No. 5 — During Which We Procure Cheese Curds, And Miss a Home Run
I don't know where you're reading this from. I assume the Midwest, because Cubs, but I remain open to the possibility that you live somewhere that hasn't brought you into close proximity with cheese curds. If so, I weep for you. Sometime in the third inning, Zack and I decided to go purchase a steaming plateful of this delicious delicacy, and in so doing missed one of Beloit's three homers. I'm told it was great. C'est la vie. —RW
Beer No. 6 — During Which Certified Large Man Jeffrey Baez (TM) Shows off Some Wheels
For this site's inaugural Beer List, way back in April, each writer chose a prospect outside of the top 10 in the Cubs' system to watch this year. I chose big man Jeffrey Baez, who proceeded to put up atrocious numbers for the season's first three months, while also landing on the DL. Baez has come back with style, however, hitting .422 with five homers, 10 doubles, and 14 stolen bases. Baez singled twice, scored two runs, and stole two bases in this game, showing impressive speed for a stocky corner outfielder with 60-grade raw power. I am vindicated. —ZM
Beer No. 7 — During Which the South Bend Cubs Engage in a #TeaserRally
One of the big-league Cubs more infuriating tendencies in recent years—not this year, of course—has been their apparent skill at engaging in rallies when the outcome of the game is already decided. They'll be down nine in the ninth, and decide that that is the moment to score five runs and make the game seem close. Then they lose. This is what we call a #TeaserRally. In the top of the sixth inning, down three, the South Bend Cubs engaged in just such a rally, scoring two and bringing the game within one. Obviously, they lost. But it was fun to watch while it happened. —RW
Beer No. 8 — During Which Gleyber Torres Gets Deep in the Hole
Cubs' very good shortstop prospect Gleyber Torres plays for South Bend, and he's hit .307/.365/.399 this season. He showed off impressive range and arm strength in the sixth, dashing deep into the hole toward third, backhanding a grounder, and firing across the diamond to get the runner and end this sixth. Theo and Jed are really good at finding shortstops. —ZM
Beer No. 9 — During Which We Debate the Relative Merits of Jon Lester and Jake Arrieta
By this point in the game, the outcome was pretty much decided. The Cubs had looked good but not great, and Beloit showed no signs of letting them back in the game. Our group therefore got to talking: if the Cubs do end up in a Wild Card game with Pittsburgh, who should start for the Cubs? Zack argued for Arrieta, pointing to his overall better numbers and big-game temperament, but I'd argue for the lefty Lester against a left-handed Pittsburgh lineup. The guy in the seat behind us, for what it's worth, picked Arrieta. —RW
Beer No. 10 — During Which Zack Misses Another Home Run
Having driven, I couldn't indulge in the night's debaucherous promotion, limiting myself to two 12-oz. Miller High Lifes early in the game. However, my mouth was parched following the seventh-inning stretch, so I wandered down to the main concession stand behind home plate for an adult beverage. After exchanging my legal tender for alcoholic goodness ("20 dollars can buy MANY peanuts!"), I walked back up the few steps under the bleachers, discovering that I had missed my second home run of the game. This one, from Snappers' third baseman Jose Brizuela, apparently just missed the large Leinenkugel's Summer Shandy bottle advertisement just to the right of the batter's eye. Oh, Wisconsin, how I love thee. —ZM
Beer No. 11 — During Which Something Called a Hog Call Happens, Apparently
This is not a drill. I promise you that this is a real activity that actually happened. A man stood up down the left-field line, grabbed a microphone, and made two separate "Hog Calls." They are exactly what they sound like: noises a pig would make. He then asked the fans to vote, by applause, for the "better" hog call. I don't possess an aesthetic taste subtle enough to distinguish between better and worse hog calls, so I demurred. The higher-pitched one won. —RW
Beer No. 12 — During Which, Sigh, the Cubs Lose
The South Bend club is currently one game under .500, fifth in the Eastern Division of the Midwest League, despite featuring some of the Cubs' top prospects. The Cubs dropped the game to the Snappers, 7-5. —ZM
Beer No. 13 — During Which We Go to Culvers
After nine innings of hot dogs and peanuts, we were pretty ready for something sweet. We dashed out to the car, rolled down the windows, put the Cubs game on the radio (in the seventh inning, at that point) and made haste to the nearest Culvers (in scenic downtown Beloit). Turned out that good 'ol Wisconsin milkshakes were what hit the spot. They carried us home, back south across the border, and through the Midwestern night. —RW
*We didn't actually drink thirteen beers; we had to drive home, and if we were alcoholics, we wouldn't broadcast it quite so publicly. But it's a nice organizing principle, and we hope you enjoy this little conceit.
**Correct answers: Portland, Oregon; Quito, Ecuador; Reno, Nevada.
Lead photo by Rian Watt, somewhere between beers No. 1 and No. 2.